Kanye West's Influence on Kim Kardashian's Wardrobe Strengthens Julia Fox's Latest Allegations Julia Fox discussed her one-month romance with Kanye West in several interviews leading up to the publication of her biography, Down the Drain. Fox and Ye started dating briefly in early 2022 after first meeting at a New Year's Eve party in 2021. Once she told the Los Angeles Times, "I really understood him on a visceral level; I thought ultimately I'd be helping a precarious situation, but I learned very quickly that I was being weaponized. I just felt like his little puppet." In fact, very few people are aware that the rapper played a pivotal role in Kim Kardashian's style transformation from print-loving reality star to luxury label queen. Kim confessed to CNN that, "I really think that my relationship with my husband Kanye changed everything. I mean, back in the day, I thought I had the best style. I look back at outfits, and I'm, like, mortified."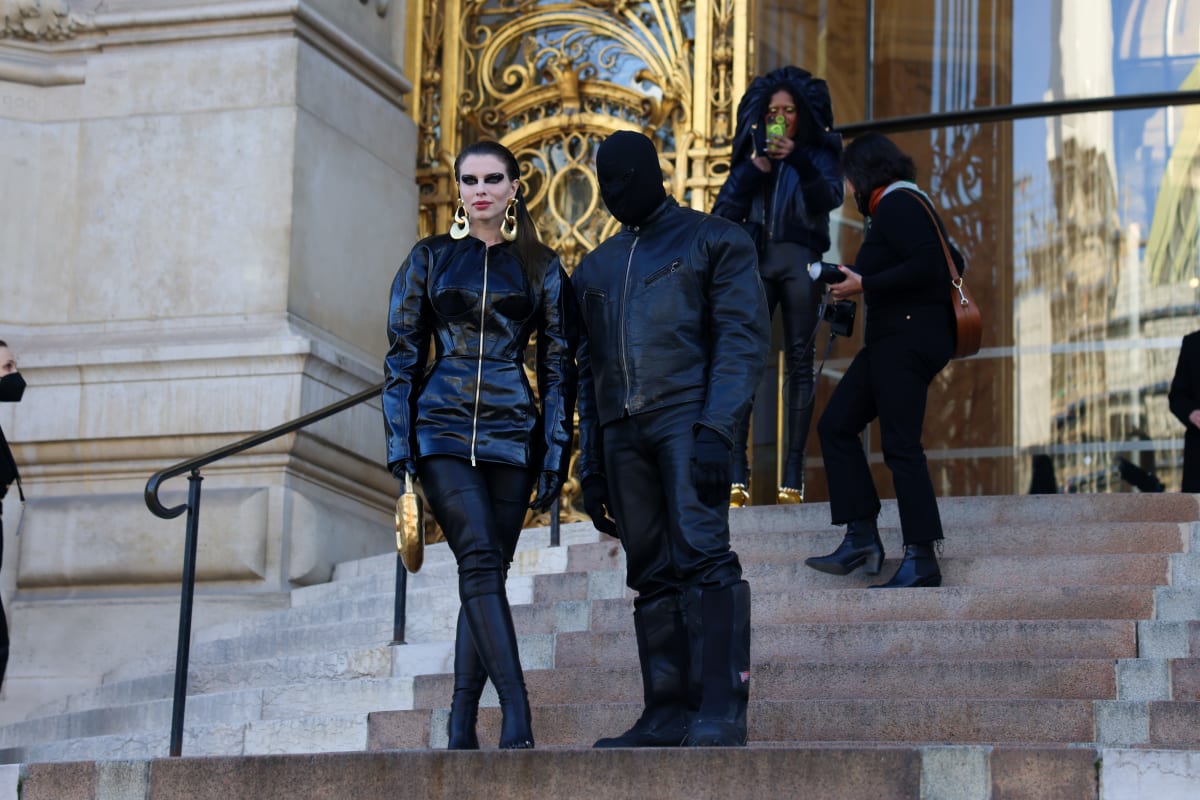 Also Read: Taylor Swift Recalls Kanye West Feud, Slams Kim Kardashian for Taking Her Down 'Psychologically'
On the other hand, when it comes to Ye's impact on Julia's wardrobe, the biography claims that "the artist" made it a point to dictate her outfit choices whenever they were together. According to the reports, after one of their first hangouts, Ye sent Julia a package including several skintight jumpsuits to her hotel room. She alleges he soon after told her he wanted to put up a team to assist with her clothing. Ye urged her to meet her new hairstylist in the ladies' room the next time they went out to eat together. The stylist apparently gave her a large number of options to choose from while dressing her. Having to wear what Ye deemed appropriate clothing made Julia feel like "a show monkey," and she claims Ye allegedly offered to pay for her to undergo a boob job. In a Rolling Stone interview, Fox expressed similar concerns, adding that she thought Ye was "weaponizing me to get back at his ex-wife."
---
Julia Fox admits Kanye West makes her feel like 'Cinderella'

Continue reading, follow thread below 👇

Julia Fox has some strong opinions when it comes to Kanye West in her latest memoir, Down the Drain. In the book, the actress recalled her initial dates with the rapstar wh… pic.twitter.com/6vNxLfuELC

— Updates Plug (@updatesplug247) October 12, 2023
---
In another interview with an outlet, she confessed that she cut ties with him as soon as she saw a "red flag". She said, "I was just going day by day and seeing where it went. It was just like, he still wants to hang out with me today, let's do it. And then real life set in and the lifestyle wasn't sustainable. I couldn't fly away once a week. And I tapped out at the first sign of a red flag." When asked "what, exactly, the red flag was," she replied with a pause, "The unresolved issues that he was dealing with, it just seems like he had a lot to work on, and I just don't have time for it, or energy. I don't have the bandwidth or emotional capacity for it. I'm proud of myself for that. Pre-Valentino Julia would have definitely stuck it out and been there for longer."
---
"I think when I had that realization ... like, I'm being weaponized in a way, I really didn't like that. And I tapped out."

Julia Fox addresses past complicated relationships — including one with Kanye West — her battle with drugs and her hopes for the future in new memoir. pic.twitter.com/ARrlyziuEb

— Good Morning America (@GMA) October 9, 2023
---
Also Read: Kanye West Fights Lawsuit Over Donda Academy's Sushi-Only Menu and Lack of Janitors (Among Other Claims)
She also talked about the "hard-earned lesson" and told the outlet, "Men approach me all the time, like, famous men. And there's something in my head that's like, don't do it. Because there's more for me. If I go down that route, I know where that goes: into submission, into surveillance, into jealousy and insecurity. I want to shine. And I know that most relationships I've gotten into, men have dimmed my shine, big time. I'm so susceptible to that, and I'm old enough now where I cannot repeat my mistakes over and over."
More from Inquisitr
Kanye West 'Delighted' to Reunite With Wife Bianca Censori Who Seemingly Exudes Mixed Emotions
Kanye West's Wife Bianca Censori is Shrouded in Secrecy, Is Hiding a Secret About Their Marriage