Impact Wrestling is hoping to cause a shockwave in the world of professional wrestling. As of now, it looks like the company is a revolving door of talent, still searching for its identity in the wrestling industry. In just three months, the logo has been changed on two occasions. Doing away with the 2016 logo, due to new management, Anthem Sports and Entertainment implemented a logo including the Anthem Owl, which received major backlash from many fans. Just recently, Impact revealed yet another logo with just the Anthem company name on the bottom of the six-sided ring shape.
To add more chaos to Impact, the recent set of tapings showed a litany of questions to be answered. The original Latin American Xchange (LAX) returned, in the form of Konnan and Homicide. Three new members joined the group, which included the tag team of Angel Ortiz and Mike Draztik, along with Angel Rose. The return was prompted due to former TNA executive Bruce Prichard unveiling his Something to Wrestle podcast to Impact Wrestling as a result of the popularity it drew from its listeners, trying to hash out the chaotic state of the tag team division. The titles are now vacated, since the Hardys are gone from the company and never lost them.
Prichard revealed that the name "TNA" is officially gone from the Impact Wrestling company. So, that means that the regime of Dixie Carter is officially over, and the company is geared to head in a new direction – but with old names.
In a recent interview with ESPN, Prichard revealed how Dixie Carter would make the suspension-of-reality aspect of professional wrestling very difficult, as she would be an on-screen character on television, and immediately go back to regular Dixie on social media.
"[Former TNA owner] Dixie Carter would drive me nuts, because she would play a character on TV, and she would play a character on her Twitter account, but then on the same Twitter account in a span of minutes she would go back to being just regular Dixie. It's confusing to whomever it is you are speaking to at the time."
From a decision-making standpoint, Jeff Jarrett and Dutch Mantell have picked up the reins, and are leaving no room for compromise. Already, this is affecting viewers, as six of their top stars – Matt Hardy, Jeff Hardy, Drew Galloway, Jade, Mike Bennett, and Maria Kanellis-Bennett – are now gone. However, the company is looking to replace these names with the returns of LAX and Matt Morgan, along with the acquisition of Alberto El Patron. Interestingly, El Patron was reportedly a last-minute replacement, as negotiations with both Drew Galloway and Bully Ray fell through.
TNA loyals are excited about the direction. When I interviewed Abyss and Al Snow on the Pancakes andPowerslams Show both were looking forward to the new path that Impact is taking, regardless of the massive changes in both management and top talent.
Others, however, are not very optimistic. An inside source has revealed to me that Jarrett is already ruling with an iron fist when it comes to decision-making, which is not creating a warm atmosphere. Moreover, this person stated that the segment where Impact came to Tijuana for the Hardy Boys' Expedition of Gold match against Super Crazy and Psicosis was very bush league, and filmed on a camera with no clearance from the talent involved who worked for major outside promotions. Moreover, Konnan, who represents The Crash Lucha Libre, was able to get a handshake deal from all the chaos, which is a major reason why LAX will be on Impact.
Then, there is Global Force Wrestling. In an attempt to gain television exposure from the product, GFW did an invasion angle with TNA, which was very short-lived. When I interviewed Sonjay Dutt on the Pancakes and Powerslams Show, he was very critical to how it all played out.
"It was what it was. It was very rushed. We jam-packed a lot of stuff into a short amount of time. It was definitely a different TNA than what I was used to."
Both Jeff and Karen Jarrett are still promoting GFW on their Twitter, sliding the handle in with the Impact Wrestling tweets. In talking to Jarrett on many occasions, he was still optimistic about the direction of GFW, even before returning to Impact. Will the two companies now merge? Perhaps. In viewing the Global Force Wrestling website, the company seemed to be landing some beneficial partnerships, including its involvement in the Music City Bowl last December. However, the Live Events section for future events is completely empty.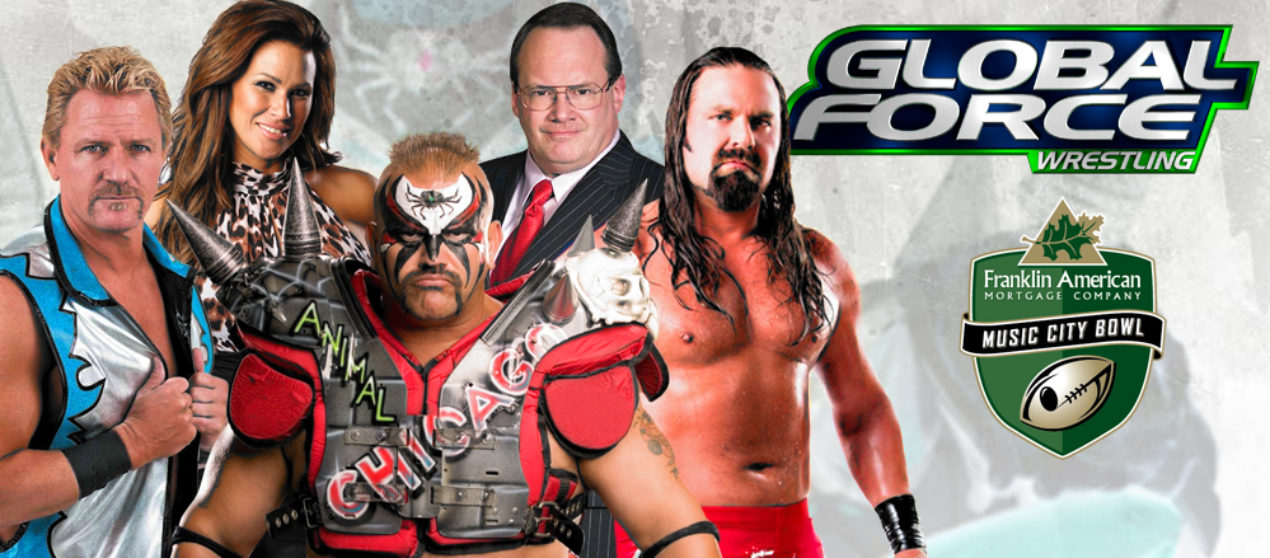 Hopefully, by focusing on Impact Wrestling, GFW does not leave incredibly talented names such as GFW Women's Champion Christina Von Eerie in the cold. Thankfully, when speaking to Von Eerie while she was the guest co-host on the Pancakes and Powerslams Show, she has a number of indy appearances that will surely keep her busy.
It will be very interesting to see how all of this plays out throughout the course of the next few months. In the end, the fans are the most important part of the equation, so decisions should always revolve around what will cause compelling television, as well as retain current viewers and gain new (or regain old) viewers.
[Featured Image by Impact Wrestling]