Hank Azaria Grateful to 'Brother' Matthew Perry for Supporting His Sobriety in His Sad Tribute Hank Azaria feels grateful for the late Friends actor Matthew Perry, whom he calls his "brother," for being there for him during a difficult time.
The actor from Birdcage, who has been clean for 17 years, paid tribute to the popular comedian, acknowledging that Perry was the first to realize he had a problem and helped him join Alcoholics Anonymous (AA), PageSix reported.
Also Read: Taylor Swift Meets Family of Deceased 23-Year-Old Fan and Hosts Them at Sao Paulo Performance
The industry is reeling from the loss of Perry, who was reported dead at 54 on October 28 in an apparent drowning at his house in Los Angeles' Pacific Palisades district, after his assistant discovered him motionless in a jacuzzi.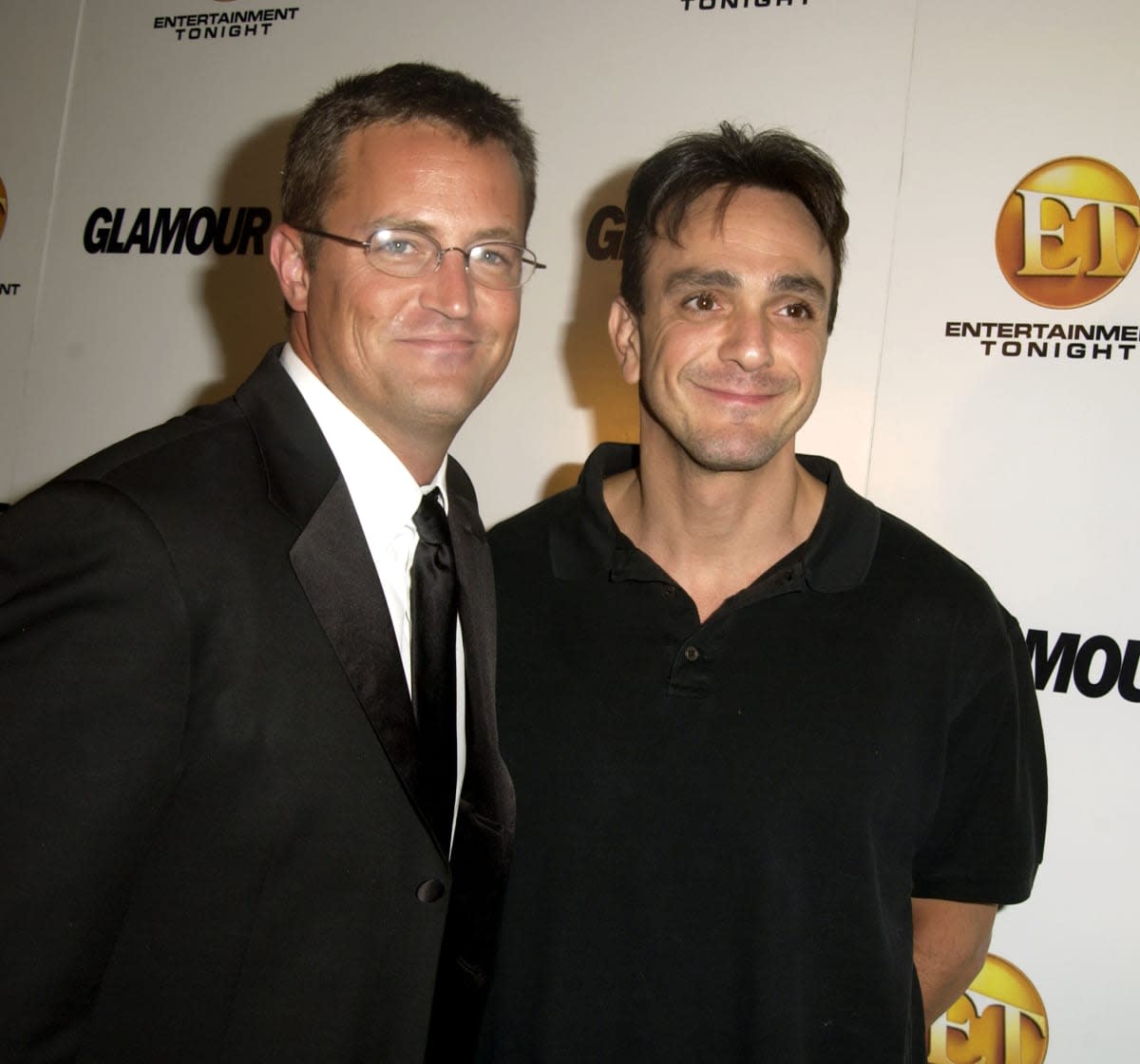 "The whole first year I was sober, we went to meetings together," Azaria remembered in an Instagram video he posted on October 29 after news came out that Perry had died from what appeared to be drowning. "As a sober person, [Perry] was so caring and giving and wise. And he helped me get sober," he continued. "I wish he could have found it in himself to stay with the sober life more consistently," Azaria said of his partner in the 12-step journey.
Azaria, 59, discussed how his friend's struggle with addiction impacted their friendship in his homage to the late actor. "I loved him. A lot of us who were close to him felt like we lost him to drugs and alcohol a long time ago because — as he documented in his autobiography — there was so much suffering," he said, referencing Perry's 2022 memoir, Friends, Lovers, and the Big Terrible Thing.
Also Read: Kylie Jenner and Jordyn Woods 'Stayed In Touch' Following the Tristan Thompson Cheating Scandal
---
View this post on Instagram
---
"It's heartbreaking for those of us who loved him and knew him well personally. We just missed him," the Simpsons star added. "It's one of the terrible things about this disease is it just takes away the person you love."
Also Read: Mauricio Umansky Won't Watch The 'RHOBH' Season 13 Amid Separation: 'It Will Only Create More Noise'
Azaria, who is most known for his memorable recurring role on Friends as Phoebe's romantic interest David, is among the several celebrities mourning Perry's passing on social media. Perry's longstanding co-stars on the cherished comedy, Jennifer Aniston, Courteney Cox, David Schwimmer, Lisa Kudrow, and Matt LeBlanc, are all still "reeling" from the devastating news and are yet to issue a statment, an industry insider informed PageSix. "The cast is reeling from the loss of their brother because that's what Matty was — their brother," the source said. "It's just devastating."
---
I'm heartbroken about the untimely death of my "son", Matthew Perry. The loss of such a brilliant young actor is a shock. I'm sending love & condolences to his friends & family, especially his dad, John Bennett Perry, who I worked with on Flamingo Road & Falcon Crest. #RIPMatthew pic.twitter.com/QWMsBVJEAr

— Morgan Fairchild (@morgfair) October 29, 2023
---
The source further added, "The entire cast is close, they will be devastated because they were together through the best of times and worst of times. And when Matty was sick, they protected him, they looked him after him fiercely."
Perry's family also spoke out after his untimely demise. "We are heartbroken by the tragic loss of our beloved son and brother," the family told PEOPLE. "Matthew brought so much joy to the world, both as an actor and a friend. You all meant so much to him and we appreciate the tremendous outpouring of love," they concluded.
---
After Matthew Perry died on Saturday, his family tells PEOPLE in an exclusive statement that they are "heartbroken" by his "tragic" death.

"We are heartbroken by the tragic loss of our beloved son and brother," Perry's family says. "Matthew brought so much joy to the world, both… pic.twitter.com/YYLDh52fMt

— People (@people) October 29, 2023
---
More from Inquisitr
After Viral Documentary Dig Victoria Beckham Shares a Picture of Her and Her Dad's Rolls Royce
'Teen Mom' Fans Devastated as Farrah Abraham's Daughter, Sophia, Visits Her Father's Grave