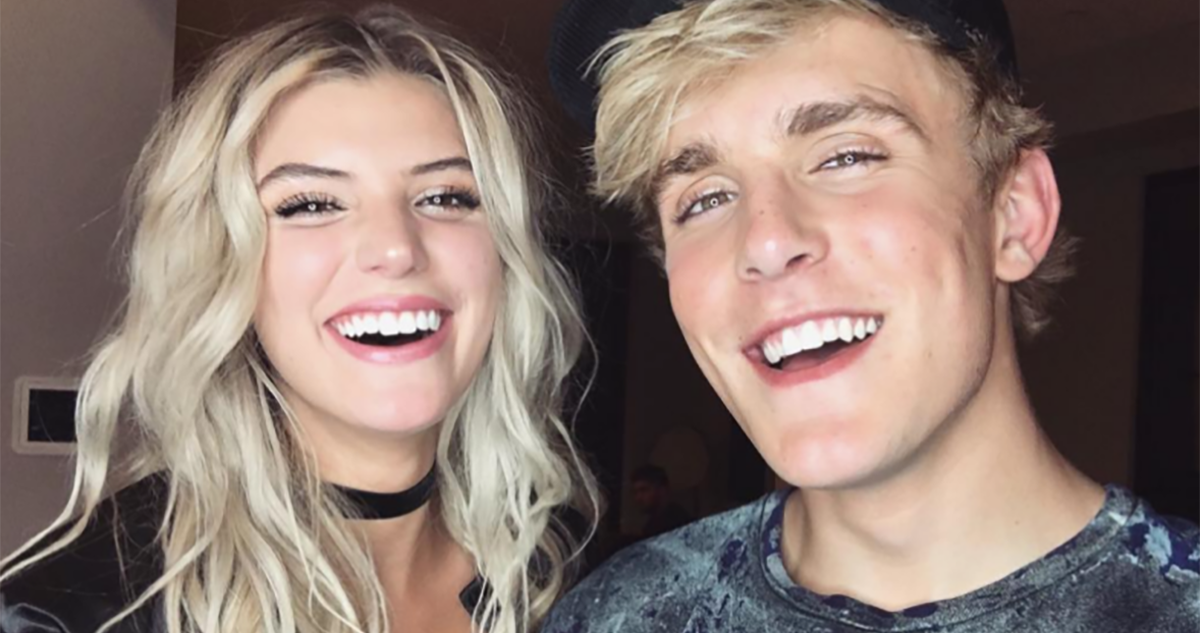 Jake Paul Has a Long and Complicated Dating History, Including Instagram Models
Jake Paul has come a long way since he made a name for himself on the video-sharing platform Vine. With over 20.4 million subscribers, Jake Paul is now one of the faces of YouTube alongside his brother, Logan Paul. He's also known for his controversial antics and complicated personal life, including a long list of relationships that don't seem to last that long.
Here's everything you need to know about Jake Paul's complicated dating history.
Article continues below advertisement
Julia Rose (March, 2020 - Present)
Jake Paul and Julia Rose met in March 2020, with Paul explaining in one of his vlogs: "We met on a set of the music video, then we fell in love. Everything progressed, and we kept on falling in love really fast."
Julia added: "He's crazy. He's psycho, but I like it."
Breakup rumors began to swirl in early 2022 when Jake tweeted: "Alexa, play "I'm Single." Sources told Page Six that Jake was "devastated" over the breakup.
"He would like to get back together with her and maybe they will, but they both need to slow down their lives," the source added.
Article continues below advertisement
However, as of August, the two appear to be back together and might even be planning a baby together.
In an episode of BS With Jake Paul, Jake said: "Julia and I are actually having conversations on like, when to get pregnant."
He went on to add: "She's my support system as well. Like emotional support and all that someone I can lean on and you know we're wanting to start a family but I think behind every great man there's a great woman and behind every great woman is a great man."
Article continues below advertisement
Sky Bri (March, 2022)
Instagram model Sky Bri appears to have briefly had a swing with Jake Paul during his breakup with Julia Rose. In March 2022, a close friend of Sky, Rara Knupps, posted an Instagram story of Sky and Jake being very touchy with each other on a beach. However, a few weeks later, Sky posted to her Instagram stories claiming that she is single and her direct messages are open.
Article continues below advertisement
Tana Mongeau (April, 2019 - January, 2020)
Jake Paul and Tana Mongeau began dating in April 2019. As a gift for her 21st birthday, Jake gave Tana a $124,000 Mercedes G Wagon. But the celebration didn't end there. The pair flew off to Las Vegas to celebrate with friends and Jake ended up proposing to the influencer with a cake that read "will you marry me?".
Article continues below advertisement
Tana took to Twitter to write: "I'm engaged, JAKE JUST PROPOSED." She went on to clarify: "It's not [a joke]. I'm engaged. holy f**k."
However, the engagement doesn't seem to have lasted long and the couple broke up just a few months later. In a TikTok, Jake claimed that he had "fake married a sloth."
Tana replied by stating: "What a sweet thing to say about me :)"
Article continues below advertisement
Erika Costell (April 2018 - November, 2018)
Erika Costell and Jake Paul first got involved when Paul uploaded a video titled "WE ACTUALLY GOT MARRIED" in which the pair appear to gave a legitimate wedding. However, Paul later told The New York Times that the wedding was fake, and he wasn't dating Erika:
"We're not even actually dating. It's like the WWE. People know that's fake, and it's one of the biggest things of entertainment," he said.
Article continues below advertisement
However, the pair did officially become a couple in early 2018, according to Distractify. Jake reportedly asked Erika to be his girlfriend at a Miami Heat basketball game in April 2018.
"I like her, she likes me…she's just like a homie," Jake told PeopleNow at the time. "She makes me laugh and I can be myself around her. She's really attractive, too."
Article continues below advertisement
In a post on Twitter in November 2018, Jake announced that the two had split up, writing: "Sadly, Erika and I broke up a while ago and since then, we have been doing out best to work it out and find a solution.. After many discussions and some serious soul-searching, it became apparent to us weeks ago that we could no longer be boyfriend and girlfriend."
Article continues below advertisement
Tessa Brooks (February, 2017)
While the two never officially dated, Jake appears to have had a brief swing with fellow Team 10 member Tessa Brooks.
Tessa and Jake even released a diss track aimed at Jake's former girlfriend, Alissa Violet. With one of Jake's verses reading: "And you know I kick them out, if they ain't with the crew / Yeah, I'm talking about you, you beggin' for attention talking s*** on Twitter, too."
"But you still hit my phone last night, it was 4:52," he continues. "And I got the text to prove. And all the recordings, too / Don't make me tell the truth."
Article continues below advertisement
Tessa's verses state: "Let me educate you, and I ain't talkin' book / Panera is your home? So stop calling my phone."
"I fly like a drone," Tessa continues. "They buyin' like cologne / Yeah I smell good. Is that your boy's cologne?"
However, Jake and Tessa's relationship doesn't seem to have lasted long. In July 2017, a video emerged of Jake pushing Tessa into a wall. In 2018, Tessa left Team 10, stating: "We just disagree on a lot of things. Things just aren't how they used to be."
Article continues below advertisement
Alissa Violet (2016 - February, 2017)
Alissa Violet and Jake Paul never confirmed they were dating, according to Distractify. Though they did have several collaborations and appeared to have great chemistry. In 2016, the pair moved into the Team 10 house together.
In early 2017, Jake kicked Alissa out of the Team 10 house because Jake was reportedly "treating her like s--t."
Article continues below advertisement
In a now-deleted tweet, Jake appeared to allege that Alissa had gotten together with his brother, Logan Paul.
In the tweet Jake appeared to write, "This time Im not being silent... Alissa f*cked my brother... that's why i kicked her out...oopsie I just told them the truth.... Im done being the 'bad guy'."
Alissa, who had previously accused Jake of cheating on her, replied simple: "Wait what hahahaha."
Article continues below advertisement
Saxon Sharbino (2014)
In a YouTube video titled "A Conversation with My Ex-girlfriend," Jake explained that he had dated actress Saxon Sharbino when he first moved to Los Angeles. The couple were in their teens at the time, and not too much is known about the relationship.
Jake said in the video: "I was like nervous to go to your birthday party. It was literally the first night I lived in Los Angeles ... I remember I was like, 'Oh my god, she's so hot.'"
Article continues below advertisement
To which Saxon replied: "I was impressed with your confidence."
Detailing their breakup, Saxon said: When we broke up I didn't actually think we were going to break up because I texted him something like 'I'm just not the girl for you.' And you were like 'okay.'"
She concluded: "We had a very sweet, innocent relationship."