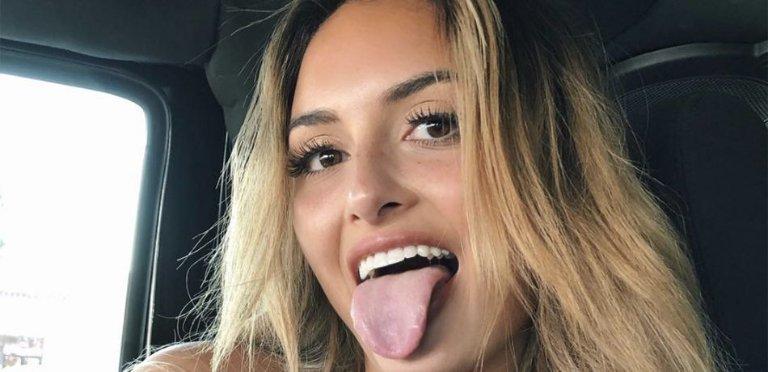 Julia Rose Raises 'Halloween Scandals' In Sheer Underwear
Julia Rose is raising "Halloween scandals" while flaunting her famous figure in see-through underwear. The social media sensation and 2019 World Series flasher, now in the news for her dating boxer and Insta-star Jake Paul, was back to stripped-down undies in a recent Instagram share, one showing off plenty of skin and seemingly impressing controversial beau Jake.
Julia, followed by 732,000 on Instagram, said: "If you know, you know" as she showcased her sizzling lingerie look. See why Jake is topping comments below.
Article continues below advertisement
'If You Know, You Know'
Scroll for the snap, one best kept away from the kiddies. Shagmag founder Julia, best known for lifting her shirt at the World Series and getting banned for life as a result, was proving the haters can hate. The blonde posed in a sexy suspender getup as she stood by a plain wall, popping against it with a golden tan and one revealing display.
Clad in a sheer white bralette with a plunging neckline, Julia also wore matching briefs, suspenders, plus a denim jacket falling off her.
See The Snap Below
The Louisiana native, who was raised in Texas amid a conservative background, reminded her fans that conservative isn't her jam, these days, as she delivered a direct gaze, a bit of a smile, and enough appeal to rake in over 163,000 likes.
Quick to reply was Jake, who told the former Hooters waitress: "Halloween scandals." "Omgggg" was all one fan could manage, though. The post directly follows a massive bathroom PDA from the couple - keep scrolling for it after the shot.
Article continues below advertisement
See The Bathroom PDA
Jake and Julia, sparking August engagement rumors after the model changed her Instagram name to @juliarosepaul, are fresh from a joint update, one bringing some bathroom action and a major PDA.
Julia snapped herself with Jake wrapping his arms around her and kissing her neck, this as she wore unbuttoned white shorts and a bra and held an electric toothbrush to her mouth. "What are the odds that we elope," the star wrote on October 5. And Jake has been opening up on the romance.
Are They Engaged?
Paul, formerly with YouTuber Tana Mongeau, spoke out earlier this year, confirming he isn't engaged to Julia, but there was a maybe.
He said that the two are "not married," but did add he could see marriage "coming for sure."
"I got her a nice promise ring/engagement ring. I plan on proposing sometime soon but we'll see what happens. But yeah, we're in love. It's pretty dope," he added. The couple's last cheeky PDA came with Julia in a thong as she hugged Jake and wrote: "Baby."