Jessica Simpson Faces Backlash In Figure-Flaunting Bodysuit
Jessica Simpson isn't getting much luck as comments to her latest Instagram snap rack up. The 41-year-old actress and fashion mogul looked sensational as she attended son Ace's baseball game recently, with a family-centric snap on her Instagram marking a sunny day out.
Also featuring 8-year-old daughter Maxwell and 3-year-old Birdie Mae, the photo showed the Dukes of Hazzard star in a skin-tight bodysuit and jeans getup, with the look definitely flying the flag for Jessica's sense of style. Fans, however, are honing in on something else.
Article continues below advertisement
Family Day For Mom Of Three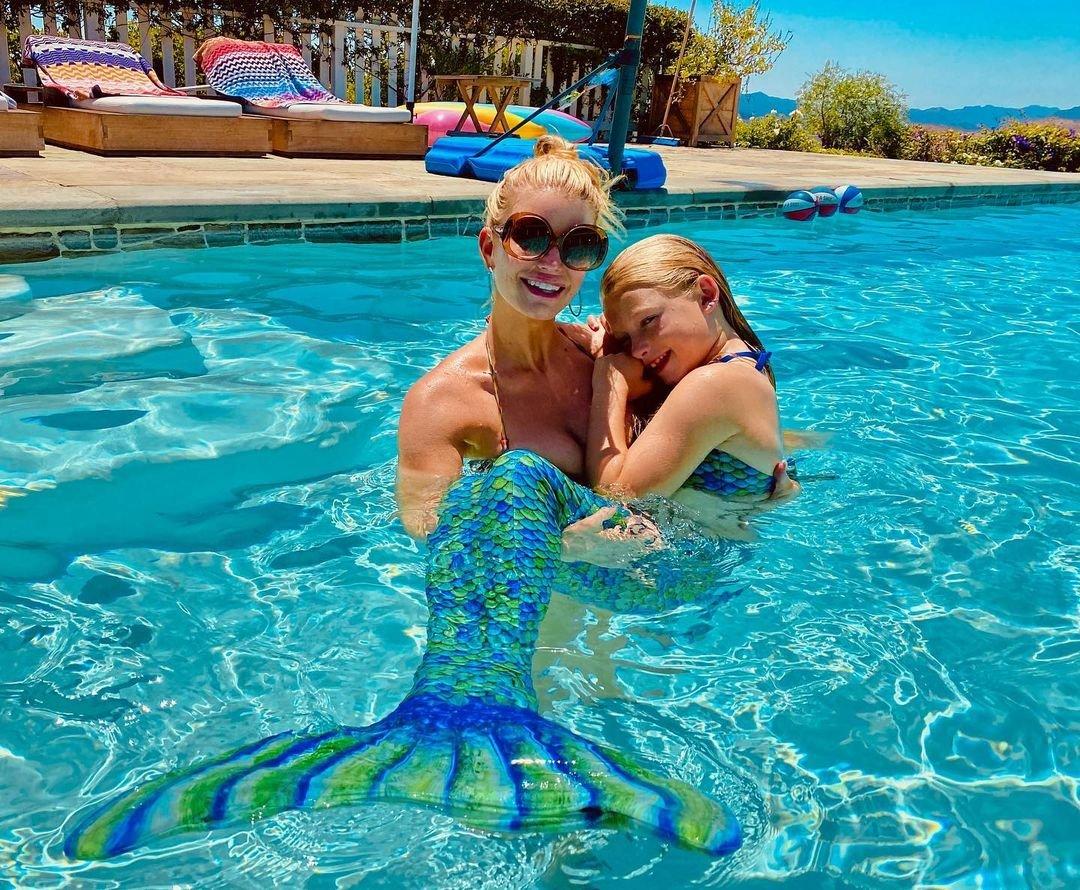 Scroll for the photo. Jessica's snap, outdoors, showed her sandwiching her daughters, with everyone smiling as they showed support for budding baseball face Ace. The Jessica Simpson Style founder, highlighting the 100 pounds she dropped in 2019, had gone bombshell mom in a belted pair of skintight jeans, ones she paired with a rusty-colored and long-sleeved bodysuit.
Also rocking massive square shades, Jessica rocked a cross-body bag as she slightly swung a hip and wrote: "Watchin' Ace pitch wearin' paisleys and grubbin' on pineapple pops #MAXIDREW #BIRDIEMAE."
Fans Are Spotting Something
Jessica's 5.6 million followers, this year alleging she's had lip fillers (last year, they were calling her too skinny), are now commenting as they wonder if the photo is showing reality. A user kicking off the storm dangled Photoshop questions as they wrote:
"Anyone else think this is photo shopped? Right whole@right side seems off and uneven."
-
Over 88 users liked the comment. "Yes, yes, yes," one fan replied, with another saying "Yep" as they agreed. See more photos after the snap.
Article continues below advertisement
Fan Says They Were There
While some told the haters to leave off, one fan claimed to have been there and seen Jessica in the flesh.
"I was there," they wrote, adding: "My son played on her sons team that day as we filled in when their team was short a player. Jessica and family were adorable, super kind, and she is just as gorgeous in person as she is in this photo. This photo is not 100% not photoshopped. Jessica looks super healthy and fit in person, which I'm sure isn't an easy feat after having 3 kids."
Wows After 100-Pound Weight Loss
Jessica may have deemed too "skinny" as she slipped into a 14-year-old pair of True Religion jeans last year - she was kissing her thirties goodbye - but the star is having the last laugh as her 100-pound weight loss continues to make headlines. Jessica, who followed an egg and egg-white heavy diet on her weight loss journey, walked up to 10,000 steps a day to shift the weight, and she's kept it off.
Jessica this year revealed she has no idea what she weighs. She's thrown her scales out and says it's the best decision she ever made.