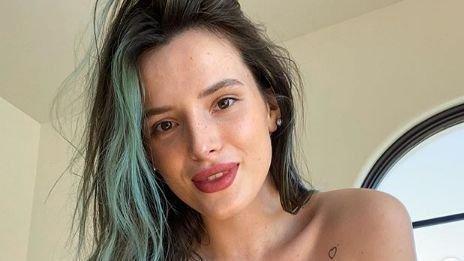 Bella Thorne Needs Opinions In Wet/Dry Bikini
Bella Thorne is up for letting Instagram decide today. The 24-year-old actress and singer was back in her bikini this weekend, posting for her 24.5 million Instagram followers and reminding them she knows the art of social media engagement. Sharing multiple snaps, the former Disney star took fans through a chronological swimwear journey from wet to dry, with the snaps also peeping details of the star's Miami Beach, FL vacation. The newly-engaged star, soon to be Mrs. Benjamin Mascolo, kept the fiancé out of it. Male fans were not complaining.
Article continues below advertisement
Fun Shoot In Miami Beach
Scroll for the photos. They come contrasting some major glam on Bella's Instagram, with the ContentX Studios founder recently rocking full couture Versace for her engagement party to Italian pop star Benjamin Mascolo.
Ditching the crimson and floor-length gown for loud yellows today, Bella shared an image-heavy batch of images. All showed the Shake It Up actress flaunting her curves in a tiny citrus bikini as she both squirted a hose and wound up in her car. The flawless look also came with a fun caption.
See The Photos Below!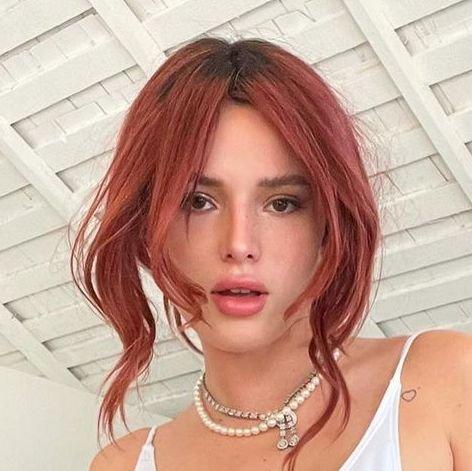 Seemingly prepping herself for either the ocean or the pool, the famous redhead toyed with her fans as she maintained control of the "wet" situation, with the post also including stunning selfies as Bella rocked a smokey eye.
"Getting wet & before getting wet," Bella captioned her shots, adding: "You choose !!
Comment a 😈4 wet or a 👼🏻 for dry."
-
"Getting wet & before getting wet," Bella captioned her shots, adding: "You choose !!
Comment a 😈4 wet or a 👼🏻 for dry."
Swipe below for the full gallery - scroll for more photos.
Article continues below advertisement
Showing The Crown Jewels
Bella is fresh from a shoot for Harper's Bazaar, one bringing the Florida native in a mystical-feel and vintage-effect shoot. Rocking uber-long nails and her signature double wristwatches as she posed in a long-sleeved white top with leather accent shoulder details, Bella wrote:
"Bts from my harpers cover I had so much fun doing this messy eye !!!
Also what's ur fave ring is wearing? Can't decide between the two on my right finger the green baby or the big boy ??"
Swooping Into Her Own Comments
Bella was quick to top her own comments section in likes - what happens when the star takes to her own replies. Swooping in, the actress wrote: "maybe bigger is better.....but i love the tiny guys. now i'm just stuck staring at these trying to decide lmao."
Thorne is, of course, now rocking a very famous ring after beau Mascolo proposed earlier this year. "She said YES!" was the message as the engagement was confirmed. Bella and Ben met at Coachella.