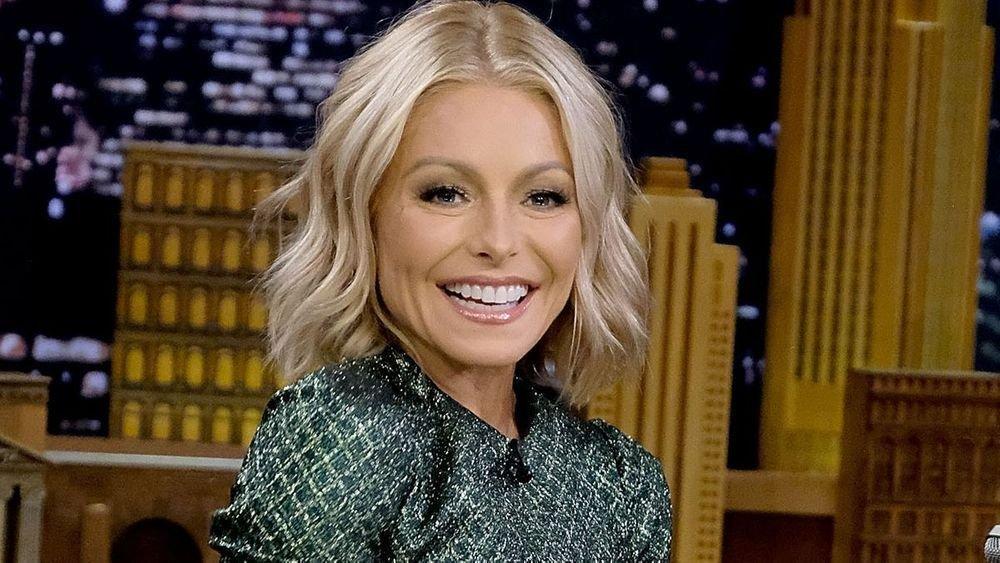 Kelly Ripa Wows In High Heels For Morning Dance Class
Kelly Ripa is dropping jaws while dancing in sky-high stilettos as the syndicated talk show she hosts prepares to go live. On Wednesday, the 50-year-old morning show queen was, alongside 46-year-old co-host Ryan Seacrest, filmed in sneak peek, pre-airing footage on Live! With Kelly and Ryan, with the blonde seen more energetic than ever as she went "kick-ball change" and got her dance on. The video, which encouraged a "dance class first thing in the morning," is getting the mega thumbs-up. See why below.
Article continues below advertisement
Not Her First Dance
Scroll for the video. Kelly, who trained in classical ballet and made 2019 headlines for breaking a Guinness World Record by getting as many ballerinas en pointe at the same time as was physically possible, was today back to reminding the digital space of her skills. The mom of three, showing off her teeny-tiny waist in a short-sleeved and patterned dress, wore her trademark high heels - no sneakers for this star.
See Kelly Dancing Below!
Tons of upbeat music and crew applause built up to it, with Kelly seen announcing the "kick-ball change" Ryan seemed to struggle a little with. Not Kelly. The former sitcom star was seen shaking her hips near the desk, then going right at it as she delivered the tap dancing move super fast. Ryan, who did wear sneakers, did his best, and he wasn't bad.
"Nothing like a dance class first thing in the morning!" the caption read. See more photos and Kelly's actual workout routine after the video.
Article continues below advertisement
Doesn't Sit On The Couch All Day
Kelly, who referred to her body as a "Peter Pan" one in 2019 and last year revealed she's alcohol-free, has opened up on her workout lifestyle, one that sees her enjoying NYC's Central Park and SoulCycle - Kaley Cuoco and Victoria Beckham are also giant fans of the biking classes brand.
"The more you exercise, the healthier it is. And I can be honest: My body looks like Peter Pan no matter what I do," Kelly told The Cut. See more photos below!
Burning Her Calories
Kelly made Christmas 2020 headlines for a naughty McRib during a NYC snowstorm, one she had delivered to her $27 million NYC townhouse. The pint-sized star does not, however, let the calories go to her waistline.
"I like to take AKT — which is cardio-based dance classes — about four to five days a week between 3 and 5 p.m. And I like to do SoulCycle on the weekends. In the summer, I like to run in Central Park because I think it's so gorgeous," she added.