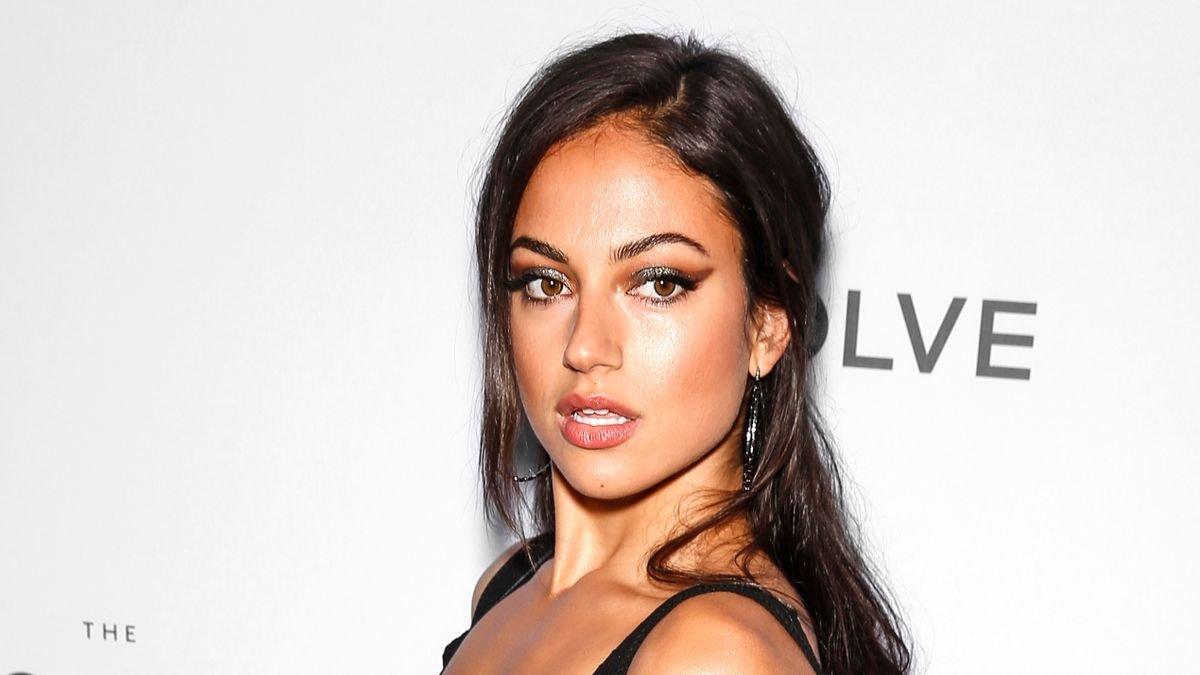 Inanna Sarkis Wants Wings After Victoria's Secret Lingerie Pics
Inanna Sarkis is campaigning for a pair of angel wings after looking devilishly divine in black lingerie. The 27-year-old Canadian actress and YouTuber gained some additional fame when she was cast in the first two After films, which were based on the series of angst-filled young adult romance novels penned by Anna Todd. Now, Inanna is angling for a new gig as a Victoria's Secret Angel, even though L'Officiel has suggested that the lingerie brand's "bombshell beauty standards" are falling out of fashion as women embrace brands that promote inclusivity.
Article continues below advertisement
Brunette Bombshell
Scroll on down to see Inanna proving that she can pose just as perfectly as some of the most popular brunette VS Angels, who include the likes of Bella Hadid, Adriana Lima, Kendall Jenner, and Alessandra Ambrosio.
The Victoria's Secret Fashion Show may be a relic of the past, but in her latest Instagram update, Inanna looked more than ready to rock the runway in the black lingerie set that she had on. She wore a bra with molded cups for flattering shaping. Her matching panties featured rhinestone accents on the side bands, along with branding in bold black lettering.
Sweet & Sour
Inanna added some attitude to her alluring outfit by accessorizing with huge gold hoops and tying a scarf around her head. The accessory was white with a burnt orange seashell print. She wore her dark hair styled in thick, fluffy waves.
Her photoshoot took place outdoors near a lemon tree, and she made use of a few of its sour fruits. They became small props that added a pop of color to her pics as she lounged on a wooden bench. She was also captured having a hearty laugh while flaunting her taut tummy.
"Does this mean I get my wings now?" her caption read.
Article continues below advertisement
The Post-Baby Bounce Back Continues To Amaze
Inanna gave birth to her first child last September, and her Instagram followers continue to be amazed that her body contained a whole other human mere months ago. Many of these fans think that Inanna's rapid bounce back is inspirational.
"The fact that you got your body back so soon motivates me so much!" read one response to her post.
"Didn't you just have a baby? HOW IN THE WORLD DO YOU LOOK LIKE THIS?!" wrote another fan.
"Girl I still cannot believe you have a whole child, you look great!" a third admirer added.
Inanna Gets Spooky With A Top Model
Fans of Inanna might not get to see her and her equally pretty pal Pia Mia in the third installment of the After movie franchise, After We Fell, but her acting career seems to be taking off. According to The Hollywood Reporter, she and British model Suki Waterhouse costar in the upcoming mystery horror movie Séance. They both play students at an all-girl academy who participate in a ritual summoning a dead student. This, of course, results in more death.
Séance will premiere May 21 in theaters. It's also getting an on demand and digital release before becoming available for streaming on Shudder.