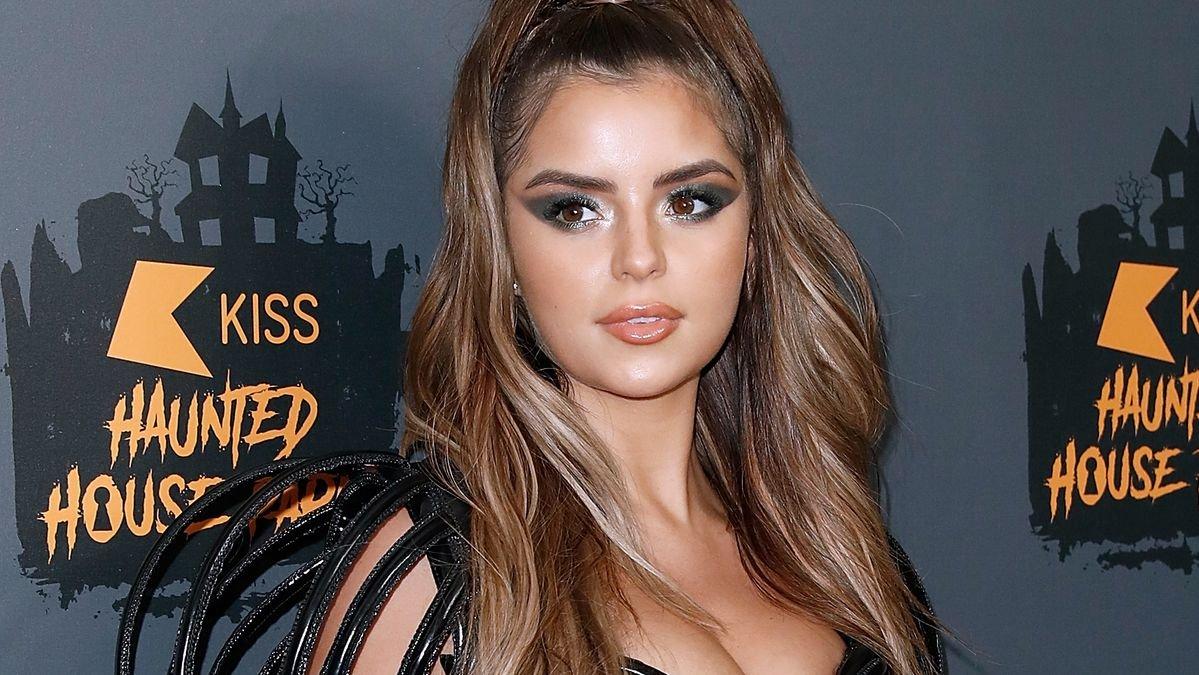 Demi Rose Cradles Bunny On Her Ample Chest: 'Happy Easter Loves'
Demi Rose Mawby has just updated her Instagram page with an adorable new photo in which she wished fans a happy Easter while cradling a white bunny.
The English beauty faced the camera with a warm smile, which was set aglow by the golden sunrays illuminating her face. Her furry companion was nestled comfortably on her ample chest, its long ears and cute whiskers nearly touching her chin.
The lovable share melted fans' hearts, who clicked the "like" button on the post 13,000 times in the first five minutes alone. Check out the charming snap below!
Article continues below advertisement
Pretty In Pink
Snapped outdoors, Demi wore nothing but a revealing bikini top, whose small cups and deep cut caused her abundant curves to spill out on the sides. Although only a portion of her bosom was featured in the snap, leaving the swimsuit's design to the imagination, fans could notice the hot-pink number sported a chic snakeskin print.
Its plunging neckline was also easy to observe, although the bunny obstructed much of the view as it sprawled over her décolletage. It appeared to be sleeping and was perfectly framed within the thin spaghetti straps that went around Demi's neck.
Natural Beauty
The gorgeous model sported a fresh-faced look and didn't seem to be wearing too much makeup. She highlighted her beautiful brown eyes with voluminous lashes and appeared to be sporting winged eyeliner. Her hair was styled in a casual ponytail that spilled down her back, looking tousled and windswept.
Demi coordinated her manicure with her outfit, showing off her bold nails as she snuggled the bunny. She also wore a discrete gold necklace that was barely visible against her bronzed tan.
Article continues below advertisement
Fun Day Out
The 26-year-old seemed to be enjoying a fun day out at the beach. A large expanse of sand was visible in the backdrop, along with a line of towering palm trees.
The street was not empty, as two other silhouettes could be seen in the far background. In her caption, Demi called attention to one of them in particular, a man dressed in a black suit and a white shirt who was standing in a rapture pose with his arms stretched widely to the side.
"Peep the guy in the back," she wrote in parentheses and included two close-up of the character for clarification.
Love Of Animals
Known for her love of animals, Demi has her own fur baby to share her life with. The social media star often posts photos of her dog, Teddy Bear, who even has his own Instagram page.
The model has a fondness for creatures of all sizes, as proven during her recent trip to Kenya. A post shared in mid-December showed her bestowing her affection upon a gentle giraffe while standing on a rope swing in a vaporous animal-print frock. Demi then spent Christmas Eve feeding a pair of giraffes from a balcony, as seen in another captivating share.