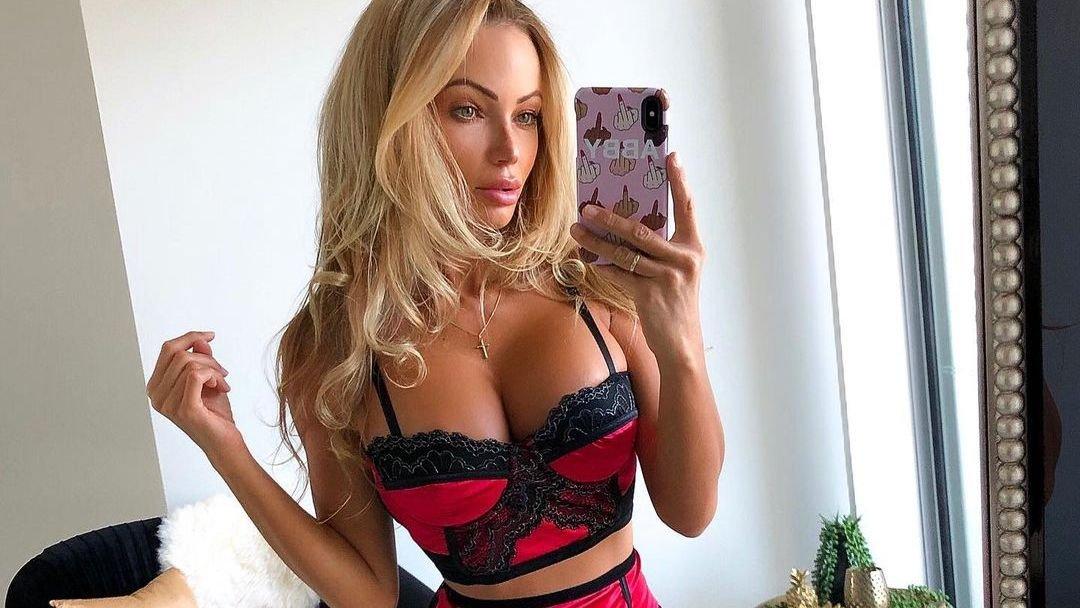 Abby Dowse All 'Eye Contact' In All-Fours Pose With Tulle Lingerie
Blond bombshell Abby Dowse knows how to keep fans on their toes. The Aussie model, who is famous for her gym-honed physique and racy outfits that typically leave very little to the imagination, took to Instagram on Wednesday to deliver yet another ultra-revealing look.
The 31-year-old electrified her already tempting timeline with a scorching lingerie shot wherein she wore next-to-nothing. She posed on the floor, putting on a tempting show as she got down on all fours and opened her thighs.
Article continues below advertisement
Sheer & Sultry
Abby went sheer in a tulle lingerie top that was completely see-through. The off-the-shoulder number certainly pushed the limits of the platform's content guidelines, leaving her perky assets in full view of the camera.
The stunning blonde ensured the photo was Instagram-safe by posing sideways. She angled the camera in a way that her chest was partly covered by her arms, teasing rather than exposing her curves.
The angle also teased her toned posterior, which was bared by a minuscule blue g string. Only the spaghetti side strap was visible in the shot, accentuating Abby's lithe waist and drawing attention to her supple midsection.
Tulle Queen
The scandalous top was crafted out of a blue tulle fabric whose deep, vibrant color looked flattering against Abby's bronzed skin. The transparent number was adorned with delicate ruffled details that decorated the bateau neckline and frill sleeves. It cut off halfway down her midriff and was cinched with a thin ribbon that drew the gaze to her taut tummy. A second ribbon embellished the front, adding chic to the risqué look.
Abby added a few accessories to finish off the smoking-hot ensemble. She wore textured hoop earrings and a layered necklace sporting a double cross-and-heart pendant.
Article continues below advertisement
Eye Contact
The gorgeous blonde exuded sensuality as she peered seductively into the lens. The camera was positioned at floor level, granting her fans a fantastic view of her lean body. Abby arched her back and stuck out her rear end, parting her knees widely. Her long tresses were swept to the side and spilled over her shoulder, adding to her sultry vibe.
The Aussie beauty summarized the tantalizing pose in her caption.
"Eye contact and a lip bite."
-
"Eye contact and a lip bite."
She expressed her love for the look with a blue heart emoji that seemed to mirror the color of her lingerie.
Lingerie Babe
Abby's 3 million followers made quick work of showing their love for the post. The suggestive pic garnered more than 15,400 likes in the first hour, in addition to 325 messages.
The cheeky caption reeled in an excited response from her fans, who flocked to the comments section to compliment her "magical eyes and sweet lips."
"That eye contact [is] always so stunning," wrote another person. "[I could] Get lost in those eyes, they added.
"That blue mesh on you [is] so incredible," read a third message. "Unreal just how gorgeous you are."
"Eyes you can definitely get lost in and lingerie that can just get lost xx," quipped a fourth user.
The steamy upload came just one day after Abby set her page on fire with a sizzling lingerie look courtesy of Fashion Nova. She uploaded several snaps of herself in a lacy pink set, racking up over 40,000 likes with each post.