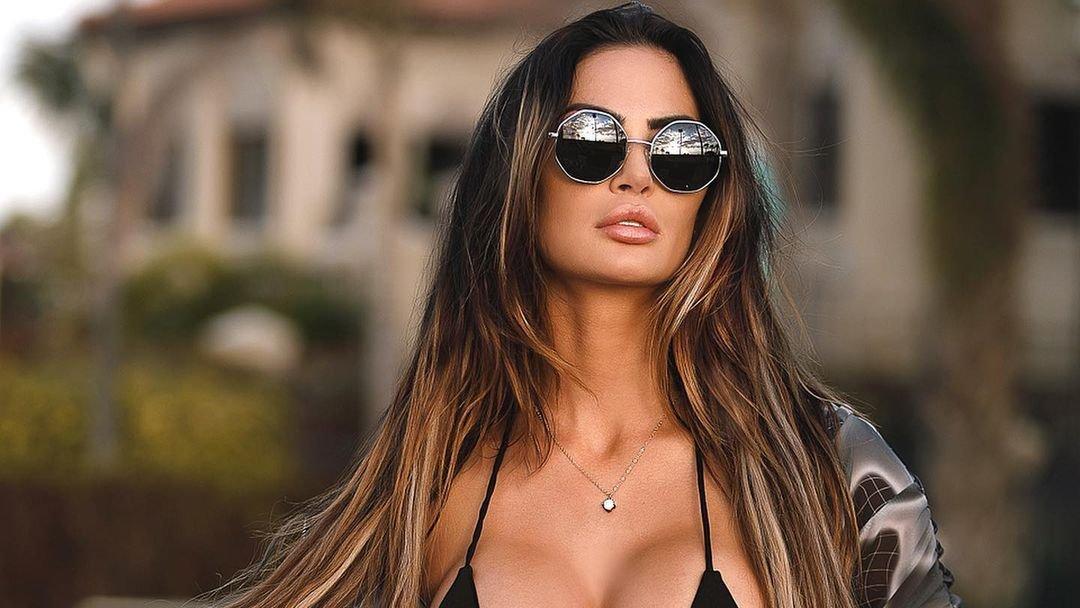 Katelyn Runck Slays In Impossibly Tiny, Frayed Bottoms
Brunette beauty Katelyn Runck stunned her 2.4 million Instagram followers with her latest sizzling share, in which she rocked a colorful printed crop top and impossibly tiny bottoms.
She shared three smoking-hot snaps, all taken by LHGFX Photography, whose Instagram page she tagged in the caption as well as in the first slide.
Katelyn also included the geotag of North Dakota on the post, although the background was blurred so that the focus remained on her flawless physique as she posed for the steamy series of snaps.
Article continues below advertisement
Brunette Bombshell
Katelyn wore a crop top crafted from a vibrant red fabric printed with delicate flowers. The garment had a revealing neckline that showcased a tantalizing amount of cleavage, and it also featured a lace-up detail right in the middle that bared even more skin.
The piece had ruffled straps, but in the first shot they had fallen off her shoulders and hung over her upper arms.
The piece extended about an inch below her breasts, leaving plenty of her chiseled stomach on display in the crop top.
Deliciously Distressed
She paired the sexy top with equally skimpy bottoms, and they dipped dangerously low in the front, putting a serious amount of skin on display.
The bottoms had a row of small buttons going down the front, and horizontal frayed seams stretching across her thighs. The sides were crafted solely of thin white straps that criss-crossed over her shapely hips, and she had her hands positioned on either side, tugging at the bottoms seductively as she posed for the first snap.
Katelyn kept the accessories to a minimum, adding a delicate necklace that drew attention to her chest.
Article continues below advertisement
Strapless & Sexy
Her long brunette locks were styled in a side part, and the silky tresses cascaded down her chest.
In the second image, Katelyn angled her body slightly to the side, showing off her incredible physique. Her sculpted stems were particularly accentuated as she flexed them, flaunting her muscular legs as she tucked some hair behind her ear.
In the third and final share, a radiant smile graced Katelyn's stunning features as she grinned at the camera. She pulled the straps of her crop top up slightly, and had both hands buried in her brunette tresses as she posed.
Flawless Physique
Her fans absolutely loved the update, and it racked up over 22,700 likes within two hours of going live, as well as 760 comments from her eager audience.
"Amazing babe," one fan wrote, followed by a heart eyes emoji.
"Always staying tuned for your amazing content," another commented, including a trio of flame emoji in the remark.
Just a few days ago, as The Inquisitr reported, Katelyn tantalized her audience with a short video clip captured at the gym, in which she got her sweat on and showcased her sculpted figure in a deep cranberry-colored athletic ensemble.