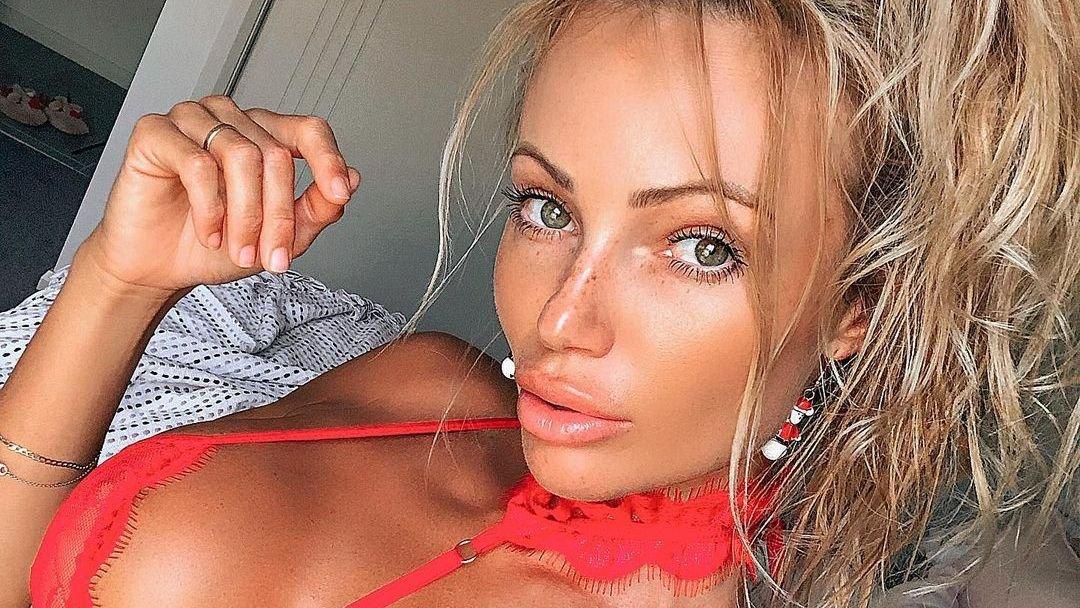 Abby Dowse Meows While Doing Her 'Morning Stretch' In Smoking-Hot Share
Abby Dowse purred like a kitten in a jaw-dropping new Instagram upload that saw her doing her morning stretch while wearing next to nothing. The Aussie model, who is known for her sizzling posts and racy outfits, cranked up the heat on the app by getting down on all fours. She sprawled out on the floor and showed off her tight body, meowing at her fans in the tantalizing pose.
"Damn I just fell out of my chair," one follower commented on the photo, which racked up close to 530 messages from Abby's enamored fans.
Article continues below advertisement
Stunning In Fishnet
Updates featuring Abby's sultry physique in scanty, formfitting duds have been a regular occurrence on her Instagram feed lately. Her latest share was no exception and saw her looking like a total smokeshow in a rainbow fishnet mini dress from Fashion Nova.
The blond bombshell was braless underneath the see-through number, which clung tight to her figure, emphasizing her small waist, curvy hips, and perky chest. As her curves were left well within view of her audience to admire, Abby censored her breast with a tiny x mark to make the shot Instagram-safe.
Stretching Her Flawless Body
The 31-year-old posed sideways for the steamy pic, which was taken from a low angle that offered a great view of her toned body and killer curves. She highlighted her pert posterior by arching her back, leaning on one elbow as she stretched out the other arm in front of her.
The dress featured long, fitted sleeves that accentuated Abby's slender arms and a striped print that flattered her supple figure. Also of note was its daringly short length. It grazed just to the top of her sculpted thighs, exposing her lean legs.
Article continues below advertisement
Cheeky Underwear
Abby paired the dress with a hot-pink thong that was fully visible through the netted fabric. Its bold color complemented the vibrant palette, drawing attention to her chiseled midsection and rounded backside.
The smoking-hot look was complete with white sneakers and chic jewelry, which included large hoop earrings that Abby showed off by pulling up her curls into a messy topknot.
Shared with fans on March 24, the upload amassed more than 37,300 likes in just 16 hours, proving to be a big hit with Abby's followers. Her online admirers flocked to the comments section to compliment her hair, outfit, and fierce physique, telling her she was "as beautiful as a rainbow" and sweet "like candy."
"Do you ever take a bad picture," said one smitten fan.
"The kicks make this shot," chimed in another Instagrammer.
Spoiling Fans
Abby usually shares three separate updates of the outfits she loves most, and such was the case with the fishnet dress. The model debuted the look in a photo posted Wednesday morning, which captured her from the front while going for a dip in the pool.
The babe followed up with a third snap on Thursday morning, wherein she spotlighted her thong-clad derrière while chilling in the pool. She was immersed up to the mid-thigh and looked over her shoulder with a playfully sultry stare. Those uploads revealed the off-the-shoulder design of the dress, which was low-cut both in the front and back.
"Always heard that there was treasure at the end of a rainbow and this is better than I ever could've dreamed of," one admirer commented on the pic, which reeled in 14,100 likes in just three hours of going live on the platform.