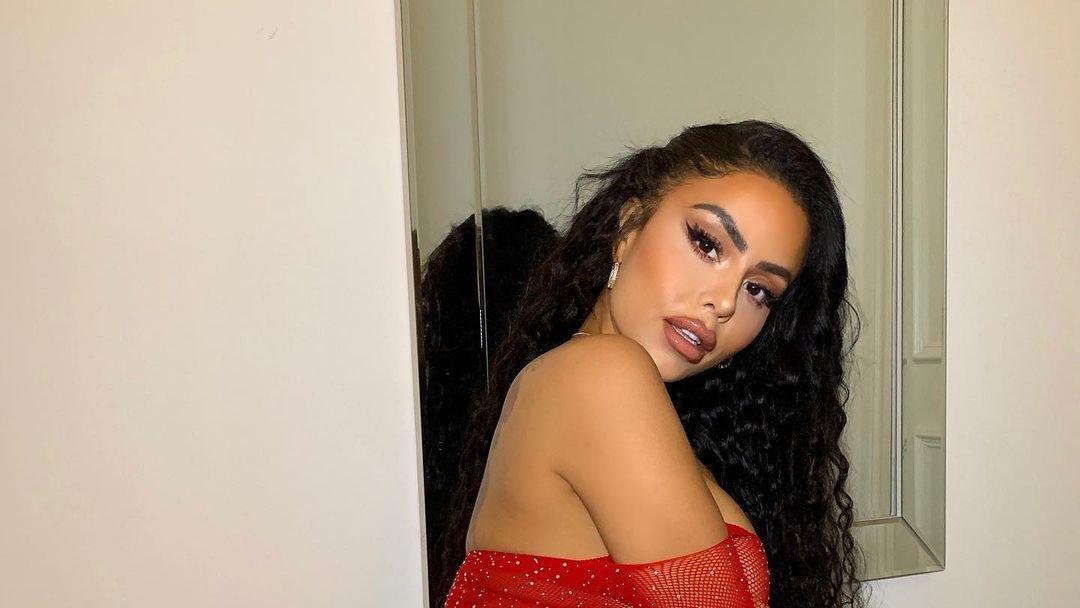 Chloe Saxon Is A Curvy Queen In A Red Matching Set
In her most recent steamy Instagram share, brunette bombshell Chloe Saxon stunned her fans in a sexy two-piece set that showed off her curves to perfection.
The photos were taken in London in the United Kingdom, as the geotag indicated, and Chloe stood on a flight of marble stairs with a wood and intricate wrought-iron railing that added a luxurious vibe to the entire space.
Several large wrought iron panels were visible in the distance, along with towering columns that stretched up multiple stories for a grandiose vibe.
Article continues below advertisement
Brunette Beauty
The look she wore was from the online retailer Fashion Nova, a brand that she frequently wears on her page, to her followers' delight. She tagged the company's own page in the caption of the post, and named the exact look she had on, in case her fans wanted to pick it up.
The top had a very simple silhouette consisting of a band of fabric that stretched horizontally across her ample assets. The garment showcased a tantalizing amount of cleavage, and ended just below her breasts, leaving several inches of her stomach visible as well.
Bombshell Curves
The garment was a red hue that looked gorgeous against her bronzed skin and dark brunette locks, which cascaded down her chest and back in tight curls that reached all the way to her waist.
She paired the simple top with a draped skirt that left little to the imagination. The garment was high-waisted, accentuating her hourglass curves, and the fabric draped over her lower body. The hem was a maxi-length that extended just below her ankles, and there was a scandalously high slit stretching up one side.
Article continues below advertisement
Sinfully Seductive
Chloe placed one hand on the banister behind her and rested the other atop her thigh as her sexy skirt showed off almost her entire leg on one side.
She finished the look with a few accessories, including a bracelet on each wrist, a delicate necklace that nestled between her collar bones, and some earrings.
She paired the colorful look with simple white strappy sandals that had a delicate ankle strap and added a few inches to her height. She struck a trio of poses while in the same spot, each of them flaunting her figure to perfection.
London Lady
Her fans couldn't get enough of the share, and the post racked up over 4,800 likes within just one hour of going live, as well as 130 comments from her audience.
"Gorgeous," one fan wrote, followed by two heart eyes emoji.
"Hot date with a red hot lady!!" another follower chimed in, referencing Chloe's caption.
Chloe loves to tantalize her fans with steamy snaps. Earlier this month, as The Inquisitr reported, she shared a series of shots in which she wore a colorful off-the-shoulder mini dress that showcased her hourglass shape.