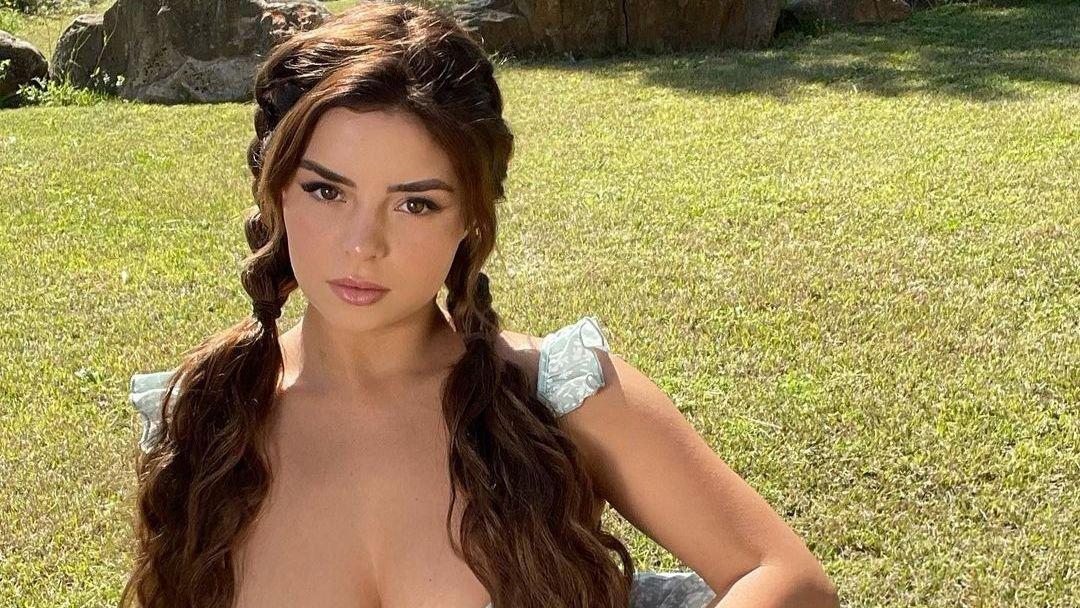 Demi Rose Is A Vision In A White Blouse & Nothing Else
Buxom brunette Demi Rose stunned her 16.1 million Instagram followers with her latest steamy share, in which she rocked a white blouse and nothing else for a daring yet angelic look.
The ensemble she wore was from the retailer PrettyLittleThing, a brand Demi has rocked on her page many times before. She tagged the company's own Instagram page in the picture itself as well as in the caption, in case her fans were inspired to shop the look.
She also made sure to tag hair artist Faye Browne, giving her credit for her simple yet stunning hairstyle.
Article continues below advertisement
Curves In Ibiza
The photo was captured in Ibiza, Spain, which has been the location of many of Demi's recent shares.
She stood on what appeared to be a balcony with a wood railing and wrought-iron sides. The space overlooked a gorgeous outdoor landscape studded with lush green trees and other tropical plants, making it seem like an oasis.
Demi's gaze was focused on something in the distance rather than on the camera, and the pose gave the image a bit of a voyeuristic vibe as she flaunted her curves.
Brunette Bombshell
The blouse she wore had long sleeves with a bit of volume, the delicate fabric draping over her slender arms without clinging too tightly. The sleeves extended all the way to her wrists, finished with a cuff, and had buttons down the front.
However, Demi opted to leave the buttons undone, placing her ample assets on full display.
The garment also had a pocket over one breast with some words written in delicate gray script.
The side angle offered a tantalizing view of her cleavage and underbob, as well as her toned stomach, all visible as the white fabric draped over her curves.
Article continues below advertisement
Sinfully Sexy
The garment extended down beyond her hips, ending partway down her pert posterior. She had one hand by her side, and rested the other on one hip, with the blouse bunching up slightly and showing off more skin in the process.
The photo was cropped just above her thigh, but she didn't appear to be wearing anything beyond the blouse in the steamy share.
Demi's long brunette locks were pulled up in a sleek high ponytail with a wide ribbon tied in a bow. The ends of the ribbon cascaded down her hair, adding a romantic flair to the look.
Stunner In Spain
She kept the rest of her accessories simple, wearing a ring on one finger as the only visible piece of sparkle.
Her fans absolutely loved the share, and the post racked up over 433,000 likes within 17 hours of going live. It also received 2,900 comments from her eager fans.
"I wish you were my girlfriend Demi," one follower wrote.
"Lovely shot," another added.
Just yesterday, as The Inquisitr reported, Demi shared another sultry update from Spain in which she rocked a skimpy printed bikini and matching robe while wandering in the wilderness.