In December of 2015, as the presidential campaign was kicking into gear, Donald Trump attempted to answer concerns about his health — at age 70 he would become the oldest person ever elected to the United States presidency — by obtaining a letter from his Manhattan personal physician, Dr. Harold Bornstein. In the letter, Bornstein claimed not only were Trump's age and seemingly excessive weight simply non-issues, but also that Trump would be "the healthiest individual ever elected to the presidency."
But on Tuesday, Bornstein told CNN in an exclusive interview that he did not actually write the now-infamous Trump health letter but, in fact, Trump wrote it himself — and Bornstein merely signed his name to it.
"He dictated that whole letter. I didn't write that letter," Bornstein revealed to CNN. "I just made it up as I went along."
The letter signed by Bornstein also claimed that Trump's "laboratory test results are astonishingly excellent," and that the then-candidate's "strength and physical stamina are extraordinary." At the time, Trump was regularly attacking his Democratic opponent Hillary Clinton for a purported lack of "stamina."
"I said she doesn't have the stamina. And I don't believe she does have the stamina.  To be president of this country, you need tremendous stamina," Trump said in a September presidential debate against Clinton, echoing a charge he had been leveling against the Democrat for weeks.
Also on Tuesday, Bornstein said that after he publicly revealed that he had prescribed the anti-baldness drug Propecia to Trump, his office was "raided" by Trump's longtime personal security chief Keith Schiller, who confiscated Trump's medical records, including the Propecia prescriptions.
The doctor told CNN that he and his wife were in a car driving through Central Park in Manhattan as Trump was on the phone dictating language to be included in the health letter. Bornstein said that he had to tell Trump that certain claims could not be included in the letter — but that in the end, Bornstein looked at the letter as "humor."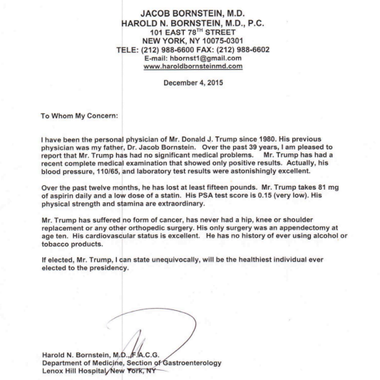 "That's black humor, that letter. That's my sense of humor," he told CNN. "It's like the movie Fargo. It takes the truth and moves it in a different direction."
Following the controversy over the letter, Bornstein in September of 2016 told NBC News that he wrote the letter himself, albeit in only five minutes as he was waiting for a limousine sent by Trump.
"His health is excellent, especially his mental health," Bornstein told NBC in September of 2016. Bornstein said that he had served as Trump's personal physician for 35 years prior to the 2016 presidential campaign.
Bornstein's letter, which he now says was authored by Trump, was the first medical information made public regarding Trump's health prior to the 2016 election. The following month, Trump appeared on the Dr. Oz TV program to discuss his health with the show's host, Mehmet Oz. On that program Trump revealed that he is overweight, and very close to being classified as obese on the Body Mass Index scale.
As the Inquisitr reported in March, however, investigative reporter Kurt Eichenwald obtained medical records for Trump and included them in a 2016 profile of the then-candidate for Newsweek. The records revealed that in 1982, Trump was diagnosed with a "metabolic imbalance" and prescribed the amphetamine-like diet drug Diethylpropion.
Though the drug is known to cause "delusions, paranoia, and hyperactivity" when used excessively, and is supposed to be taken for a period of only a few weeks, Trump stayed on the drug for eight years according to Eichenwald's findings.
But Newsweek for unknown reasons removed the section on Trump's medical records from Eichenwald's article, the journalist said.