The biggest matchup of Week One in the 2017 National Football League Season goes down Sunday afternoon at historic Lambeau Field when the Green Bay Packers host the Seattle Seahawks in a game that will live stream, pitting two of last year's NFC division winners — and possible co-favorites to represent the conference in Super Bowl 52 — head to head in a rematch of last December's Green Bay blowout victory.
The NFC North-winning Packers won that December 16 contest by a lopsided 38-10 tally. The Seahawks — 2016 NFC West champions — have not defeated Green Bay at Lambeau since 1999, suffering seven straight losses at the "frozen tundra" in the interim. In fact, since Pete Carroll took over as Seattle head coach with the 2010 season, the home team has won all five meetings between the two powerhouse franchises, with Seattle winning the first three at CenturyLink Field and Green Bay taking the most recent two games, both at Lambeau.
One of the reasons for the Packers' recent dominance in the Seahawks matchup, other than home field advantage, may be Seattle quarterback Russell Wilson, who shows a puzzling tendency to let Packers defenders pick off his pass attempts. Despite a record with only 45 career interceptions, 10 of those — more than 20 percent — have come against Green Bay in just the last three meetings between the teams.
To find out how to watch a live stream of the Seattle Seahawks Vs. Green Bay Packers Week One NFL showdown, see the streaming information at the bottom of this article. Kickoff is scheduled for 3:25 p.m. Central Daylight Time at Lambeau Field in Green Bay, Wisconsin, on Sunday, September 10 — 4:25 p.m. Eastern Daylight Time and 1:25 p.m. Pacific.
The live stream will be available in most areas of the country, but will be blacked out in certain markets due to conflicts with local NFL telecasts. See the following chart to find out where the the Seattle vs. Green Bay Live stream will be available. Courtesy of 506Sports.com, the map shows where the game will live stream by shading those areas in pink. Areas shaded in purple not be able to access the live stream.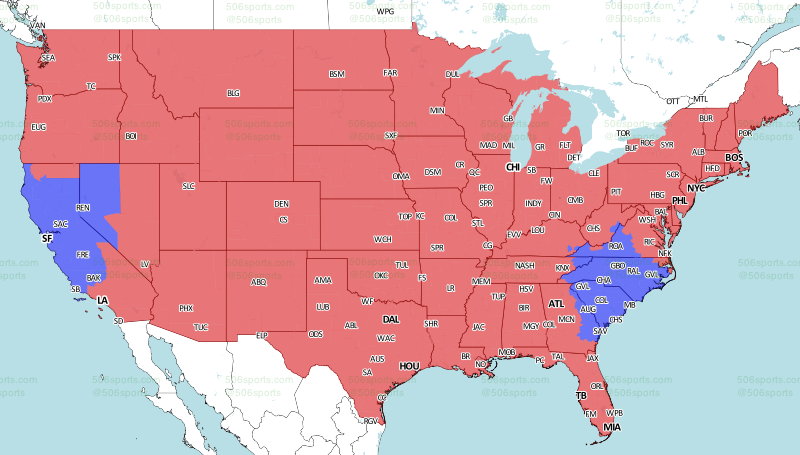 To preview the Seattle Seahawks vs. Green Bay Packers Week One NFL contest, check out the video below.
The game is also intriguing for its matchup of a Seahawks defense, one that many experts consider the NFC's best, against perennial MVP candidate and certain Hall of Fame quarterback Aaron Rodgers of Green Bay. When the teams met last December, Rodgers got the better of that contest, tossing three touchdown passes without an interception as his team cruised.
Can the Seattle Seahawks start their campaign for a third Super Bowl berth with a hard-fought victory when they face future Hall of Famer Aaron Rodgers and the Packers? Or will Green Bay win a third straight matchup with Pete Carroll's team to open their own run toward their first Super Bowl appearance since 2010? To find out, watch the Seattle Seahawks Vs. Green Bay Packers NFL Week One game live stream from the 81,400-seat Lambeau Field in Green Bay, Wisconsin, with streaming video provided by Fox Sports Go at this link, or by downloading the Fox Sports Go app to watch on tablet computers. NFL games on Fox Sports Go are not available to be watched on smartphones due to contractual agreements. Fox Sports Go also streams live on the Amazon Fire TV and Roku set-top streaming devices, allowing fans to watch the Seahawks vs. Packers NFL Week One showdown streaming live to their TV sets.
As an alternative, for fans who are unable to access Fox Sports Go, the Sling TV "Blue" package offers the Fox Network in select markets, including most markets that will carry the Seattle vs. Green Bay game and offers a seven-day free trial. To sign up, visit this link.
To find out which local markets make Fox available via Sling TV, see the chart on the page at this link.
Finally, the NFL Sunday Ticket package, which carries every Sunday afternoon NFL game, is now available to live stream online for a subscription fee of $69.99 per month paid in each of the four months in the 2017 NFL regular season. Check this link to determine eligibility.
[Featured Image by Stacy Revere/Getty Images]