The Electoral College meets on Monday in the only presidential election that actually counts, and live stream coverage from around the country will be available online for the historic vote — which takes place in 51 separate meetings across the country, one in each state and the District of Columbia. In those meetings, either Donald Trump or Hillary Clinton — or in the case of an extremely unlikely turn of events — someone else will be officially elected the 45th President of the United States.
The 538 electors meet, according to federal law, on "the first Monday after the second Wednesday in December" in each presidential election year. In 2016, that date will be December 19. If the electors from each state vote the way voters in their states decided, Trump will win the presidency with 306 electoral votes, to 232 for Clinton. A winning majority is 270 votes.
Hillary Clinton (r) with outgoing Vice President Joe Biden, who will announce the results of the Electoral College vote on January 6. [Image by Mark Wilson/Getty Images]
Though in most election years, the Electoral College vote is a mere formality, simply confirming the results of the election, 2016 has been tied in controversy and several petitions and even a movement among some electors themselves have urged the Electoral College voters committed to Trump to switch their votes — either to Clinton or someone else.
While Trump appears set to win the Electoral College vote, significantly more voters cast their ballots for Clinton than for Trump.
Clinton ended up winning the popular vote by 2,864,978 ballots, or 2.1 percentage points — better than the winning margin of 11 elected presidents. In the 49 elections since the popular vote has been recorded, going back to 1824, only five winners have finished with a lower percentage of the popular vote than Trump, who was the choice of just 46.1 percent of American voters.
The following graphic courtesy of the election site 270toWin.com, shows the start time of each state's Electoral College meeting. All times are expressed as Eastern Standard Time.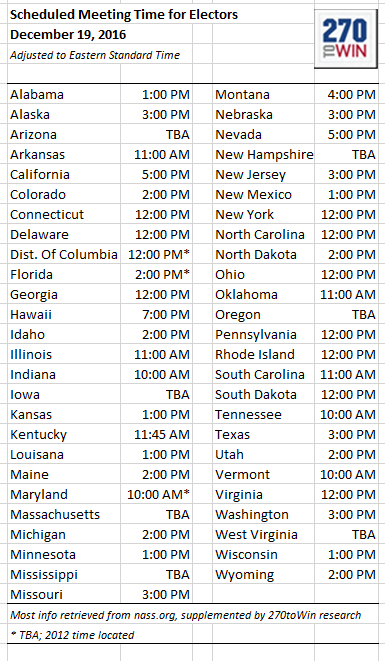 Watch coverage of Monday's Electoral College developments from ABC News in the video below.
A live stream from CNN can be found in the following video.
See the following list for live stream webcasts from each state legislature, where the Electoral College meetings will take place.
•Massachusetts (Tentative)
•Ohio
•Oklahoma (Senate & House)
•Pennsylvania (Pay site, potential free streams via the state House & Senate)
•South Carolina (Senate & House)
•Texas (Tentative)
•Utah
•West Virginia (Senate & House)
President Barack Obama will officially leave office 32 days after the Electoral College vote, on January 20, 2017. [Image By Chip Somodevilla/Getty Images]
Though the Electoral College votes on Monday, the results will not become final until January 6, when outgoing Vice President Joe Biden reads the Electoral College vote count to a joint session of congress.
For live online streaming and coverage of the Electoral College 2016 vote — with no cable login credentials required — check out CBS News at this link, or ABC News Go by clicking on this link.
Live streaming feeds that will offer coverage of Monday's Electoral College meetings from around the country on the three major cable news networks are also available online, although they mostly require cable or satellite provider online login credentials. Find the CNN feed at this link, MSNBC here at this link, and Fox News by clicking here. Or try this alternative link to get live Electoral College voting coverage. For a live stream without the network bells and whistles — or commercials — C-SPAN provides coverage starting at 10:50 a.m. Eastern Time, 7:50 a.m. Pacific, on Monday, December 19, at this link. The C-SPAN stream will cover the Michigan and Pennsylvania Electoral College voting live on Monday.
[Featured Image By Mark Wallheiser/Getty Images]