For the past several months, citizens of many cities have been stricken with fear due to a recent craze that has invaded neighborhoods. A number of sightings have been recorded of people dressed as clowns invoking fear among children and teens, by stalking and trying to lure the youngsters into danger.
The first clown sightings started around June when Gags the Green Bay Clown was seen walking around local neighborhoods during the dark of night. Initially, people were not interpreting this as anything scary, but instead, it was a viral marketing campaign for a movie.
[embed]https://www.facebook.com/gagstheclown/photos/a.1259627350716350.1073741825.1259618147383937/1259627364049682/?type=3[/embed]
This sighting took a turn for the worse a couple months later, when a clown was sighted trying to lure people into the woods. Several reports were also given to police regarding clowns dressing in white face paint trying to entice children with large amounts of money. According to FOX Carolina, these instances drew concern throughout Greenville and Spartanburg counties, causing the property manager of Fleetwood Manor to write a letter to the residents, ensuring that the authorities were aware of the sightings and enforcing the 10 p.m. curfew.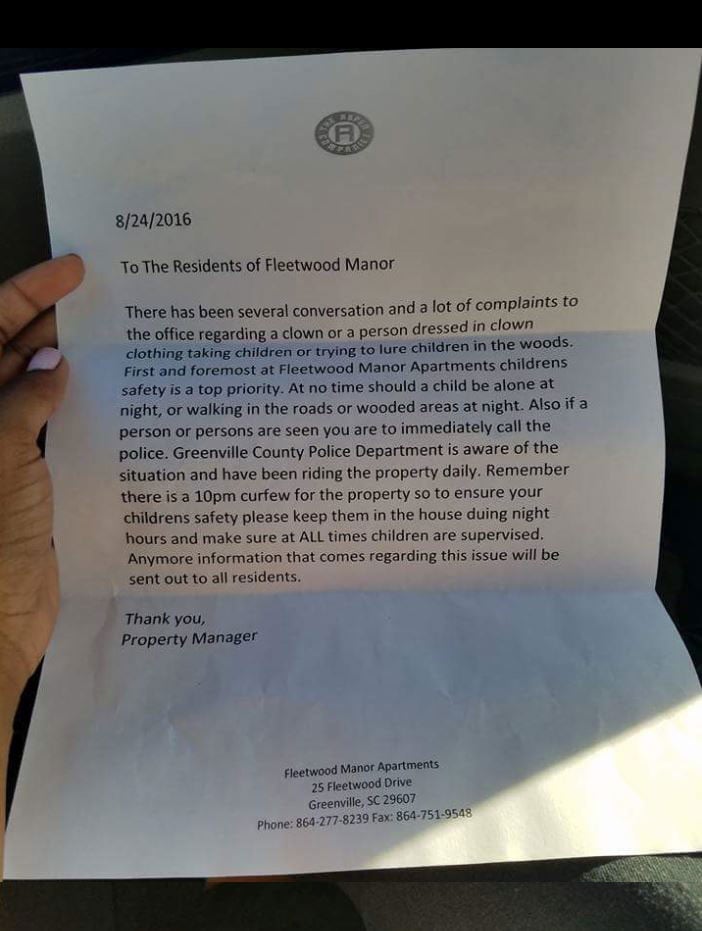 A couple weeks later, KTLA reported that 12-year-old Cameron Frails and his brother were waiting for their school bus to arrive in Macon, Georgia, at approximately 6:30 a.m. when multiple clowns dressed in black with red wigs started coming towards them. They ran, yelled, and screamed, and were able to retreat from the dangerous situation without any physical harm.
Just a week later, yet another clown sighting was reported by Brianne Hawke, according to CBS Pittsburgh.
"A clown started chasing us up here and turned around and went back to the woods. So we thought it was gone. [It] turned around, broke a stick and threw it at us and started calling us, cursing at us and all this other stuff. It was scary."
In late September, the scare tactics took an unfortunate turn when it became physically harmful. In Summitville, Tennessee, according to WKRN, 15-year-old Hunter Tullos reported that she was attacked by a clown around 9 p.m. The clown was dressed in a hooded sweatshirt and a clown mask with green hair. In an attempt to defend herself, she was cut by a knife during the altercation. Tullos reported that she feared for her life and thought she was going to die.
This situation caused the Coffee County Sheriff Department to make stronger restrictions on people wearing masks and dressing up as clowns. Supervisors in Kemper County, Mississippi have also taken this restriction to even a higher degree. While these sightings have influenced the decision, even hoax stories will not sway the temporary implementation of a No Clown Zone.
To increase the safety of residents and especially children, the Board recently passed a ban on people dressing up as clowns during the Halloween season, as reported by the Kemper County Messenger. The ban will be lifted on November 1. Regardless of their age, anyone violating this ban will be subject to a fine of up to $150.
The board wanted to show their seriousness by making sure that clowns are not visible during Halloween, especially after numerous reports of dangerous encounters. While this may not be pleasing to any clown groups or supporters, the county is putting a priority on the residents and their children. Unfortunately, corrupt clowns have tarnished the perception of clowns altogether over the past few months. As a result, there are consequences for these actions.
For example, a restaurant was robbed September by someone wearing a clown mask, according to ABC7. In another incident, 19-year-old William Salazar was arrested earlier this month for using his "Clowner Hoe" Facebook page to issue a threat to Sierra High School, according to Glendora City News.
https://www.facebook.com/sgvcitywatch/photos/a.680566412090983.1073741828.680462088768082/695552653925692/
It would not be surprising if other counties adopted this ban to reduce any fear for children during this season. Either way, clowns are now on high alert, whether a ban is enforced or not.
[Featured Image by Dario Lopez-Mills/AP Images]