The Seattle Seahawks host the new-look San Francisco 49ers in an NFC West showdown that will stream live on Sunday afternoon, in a game that will boost one of the two teams out of the division cellar early in the season. Both teams come in with 1-1 records, needing a victory to get their respective seasons back on track.
Both teams are also coming off of second-week losses. And both have played one of their two opening games against the Los Angeles Rams — with the 49ers crushing the Rams by a score of 28-0.
But the following week saw the Seahawks fly down the coast to play the first regular season NFL game in Los Angeles since 1994 — and lose to the Rams there 46-27.
San Francisco under new Head Coach Chip Kelly is looking to play an uptempo offense and over the first two games has averaged 27.5 points — after ranking dead last in scoring out of the 32 NFL teams in 2015.
That new style for the 49ers may give them an edge over Seattle, who may be missing injured, second year running back Thomas Rawls, who reportedly strained a muscle in his leg in last week's loss to the Rams.
Seahawks Coach Pete Carroll, however, said he was optimistic that Rawls would be available for duty on Sunday.
"He wasn't able to practice Wednesday, Thursday, so we're just hoping by the weekend he'll have a chance to play," Carroll said in a radio interview. "We won't know until then."
Watch Carroll discuss the game against San Francisco, and deliver his opinion on the 49ers new coach, in the video below.
To find out how to watch a live stream of the San Francisco 49ers vs. Seattle Seahawks NFC West rivalry game, see the streaming links at the bottom of this article. Kickoff is scheduled for 1:05 p.m. Pacific Daylight Time on Sunday, September 25, at CenturyLink Field in Seattle, Washington — 4:05 p.m. Eastern.
The San Francisco 49ers vs. Seattle Seahawks game will air on the Fox Network, and the live stream will be available in most of the western part of the 48 states, as well as in Alaska and Hawaii, as well as in a few eastern regions as well.
The areas shaded in purple on the following map, courtesy of 506 Sports, will make the game available to stream live.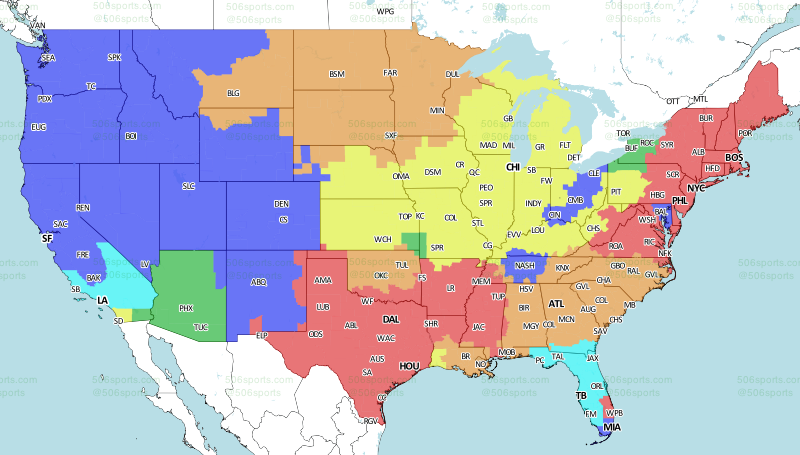 ---
PREVIOUS NFL COVERAGE FROM THE INQUISITR:
San Francisco 49ers Vs. Seattle Seahawks: Bold Predictions For Week 3 Of The 2016 NFL Season
#BoycottNFL Trends On Twitter Amid Sunday's National Anthem Seattle Seahawks Team Protest Rumor
Carolina Panthers Score Huge 46-27 Victory Over San Francisco 49ers
NFL Rumors: San Francisco 49ers Could Trade For Jimmy Garoppolo
Seattle Seahawks Rumors: Marshawn Lynch Could Be Back By October, But Team Will Likely Trade Or Cut Him
---
Can the Seattle Seahawks get back on track for another run to the NFL Playoffs with a Week three win at home? Or can the San Francisco 49ers pull off a huge road upset and let themselves out of the basement in the NFC West? To find out, watch the San Francisco 49ers Vs. Seattle Seahawks NFC West rivalry Week Three game live online from 69,000-seat CenturyLink Field in Seattle, Washington, with streaming video provided by Fox Sports Go at this link, or by downloading the Fox Sports Go app to watch on tablet computers. NFL games on Fox Sports Go are not available to be watched on smartphones, due to contractual agreements. Fox Sports Go also streams live on the Amazon Fire TV and Roku set-top streaming devices, allowing fans to watch the Giants vs. Cowboys NFL opener stream live to their TV sets.
As an alternative, for fans who are unable to access Fox Sports Go, the Sling TV "Blue" package offers the Fox Network in select markets, including most markets that will carry the 49ers vs. Seahawks game, and offers a seven-day free trial. To sign up, visit this link. Finally, the NFL Sunday Ticket package, which carries every Sunday afternoon NFL game, is now available to live stream online for a subscription fee of $49.99 per month for four months. Check this link to determine eligibility.
[Featured Photo by Stephen Brashear/Getty Images]