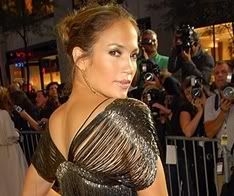 Jennifer Lopez took time out of her schedule to train and complete a triathalon, plan a surprise birthday party for Marc Anthony, and hire a nanny. Moms of twins everywhere rejoiced when they heard she got help:
"I did it for a long time but we started using a nanny a few weeks ago. [Most days] I get up early with them. Then when the nanny comes, I can take a shower and give them their breakfast. She's there to help me get things done."
I'm not sure if a little over six months of child rearing sans nanny can be called a "long time," but I bet it felt like it!