The Bangladesh cricket team will have a chance to win the biggest championship in the country's history, after the Tigers batted away a spirited challenge from upstart Oman on Sunday, easily qualifying for the T20 World Cup Super 10 round, where they next face Pakistan on Wednesday.
In a rain-shortened match, Bangladesh got on the shoulders of opener Tamim Iqbal as he batted his way to a masterful 103 not out, his first century in 49 career T20 matches. Along with 44 from Sabbir Rahman, who also contributed a wicket in his single over with the ball, Tamim propelled Bangladesh a total on 180, topping Oman by a comfortable 54 runs, after the Associate ICC Member side had been set a target of 120 in 12 overs under the Duckworth/Lewis method.
#CricketBuzz ICC World T20 2016: Bangladesh beat Oman via D/L to reach Super 10: Tamim Iqbal scored a century... https://t.co/RWvzDZgprY

— gsv (@blazingBrainz) March 13, 2016
Not only was the century a maiden effort for Tamim, it was the first by any of his countrymen in a T20 match.
"Obviously becoming the first Bangladeshi to score a hundred in T20s is very special and I am very proud," the 26-year-old Chittagong native toldThe Dhaka Tribune after the match.
"I hope there will be many more centuries from Sabbir [Rahman], Mushfiqur [Rahim], Shakib [al Hasan] and the others. It's a proud moment for me to score 1000 runs in T20s and I would have felt better if I was able to do it a few matches before. But this time I did it so it feels really good," he said.
Watch highlights of the Bangladesh vs. Oman match that sent Bangladesh to the T20 World Cup Super 10 in the video below, courtesy of Willow TV.
Now Bangladesh will move from Dharamsala, site of the entire Group A qualifying round, to the iconic Eden Gardens in Kolkata, where the Tigers face their historical rival, Pakistan, on Wednesday — the second time they will have faced Pakistan in a high-stakes T20 match in two weeks.
Bangladesh defeated Pakistan by five wickets in the last group stage match of the Asia Cup on March 2, qualifying the Tigers for the final of that competition.
But in that final, Bangladesh fell to India by eight wickets.
On March 23, the Tigers get another chance to beat India in a rivalry that has grown heated in recent weeks.
Image of Taskin Ahmed carrying @msdhoni's severed head causes outrage on social media https://t.co/I1yywqRKLm pic.twitter.com/dX5WrD0Mut

— HT Sports (@HTSportsNews) March 5, 2016
A controversial
digitally created meme circulated
online showing Bangladesh bowler Taskin Ahmed holding the severed head of India captain M.S. Dhoni. Indian Director of Cricket shrugged off the meme, saying that players simply ignore such distractions.
WATCH: Ravi Shastri on news paper reports on image of Bangladesh's Taskin Ahmed holding severed head of MS Dhonihttps://t.co/ARLMpP0SyZ

— ANI (@ANI_news) March 5, 2016
But among fans, the rivalry has become highly charged and emotional — even leading to
a cyber attack
on Bangladesh government websites by an India-based hacker group calling itself Kerala Cyber Warriors.
The attack altered the home pages of the Bangladesh sites, replacing them with a page of slogans, backed by Hindi victory music, stating, "YOUR CRICKET TEAM IS NOTHING IN FRONT OF US."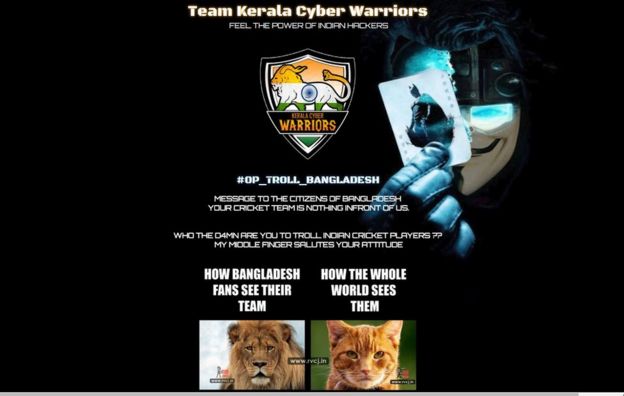 India, however, remains the consensus favorite of cricket fans and experts to win the T20 World Cup. And Bangladesh must first face Pakistan, an always dangerous team — but one that Bangladesh has defeated in the only two T20 matches the two teams have played over the past year.
On April 24 of last year, Pakistan visited Bangladesh for a tour that included just one T20 match, and Bangladesh won that match handily by seven wickets with 22 balls remaining.
The next match was the Asian Cup showdown, in which the Tigers prevailed by five wickets with five balls remaining, after holding the struggling Pakistan batsmen to just 129.
---
RELATED STORIES:Bangladesh Vs. Oman Cricket: Win-Or-Go-Home T20 World Cup Qualifier Match For Both TeamsBangladesh Cricket: World T20 Next As Asia Cup Title Not In Cards, Tigers Fall To Clinical IndiaBangladesh Cricket Team Under Terror Threat At T20 World Cup, Tanks To Guard Stadium During MatchesMustafizur Rahman Sold In IPL Auction For $208K After Injury Keeps Him From PSLBangladesh Cricket News: Mustafizur Rahman Makes History — Named To ICC Team Of YearIndia Vs. Pakistan Cricket: Schedule Of Rivalry Matches Before End Of March As India Top T20 RankingsPakistan Vs. Bangladesh: Changing Of The Guard As Tigers Cruise To Historic Series Win
---
Pakistan last won the T20 cricket World Cup in 2009, and even considering their struggles with the bat lately, the Pakistan side still features the most intimidating pace attack in the tournament.
"You have Mohammad Amir and (Mohammad) Irfan. (Mohammad) Sami is also back and then there is Wahab Riaz. The fast bowling attack overall is very strong. If our batsmen, according to team plans, can give us a defendable total, I'm confident."
The Bangladesh vs. Pakistan
match is set for Wednesday, March 16
, at 3 p.m. India Standard Time, as the Tigers begin their quest to capture what would be a championship for the ages.
[Featured Photo By Ashwini Bhatia / Associated Press]