Chris Simcox is best-known as the co-founder of the Minuteman Project, which has called for thousands of volunteer militia members to patrol the United States-Mexico border to keep out illegal immigrants. He now has some legal problems of his own. In 2013, he was arrested in Phoenix, Arizona, on charges that he sexually assaulted three young girls under the age of 10, including his own daughter.
The counts were soon reduced to two, involving Simcox's six-year-old daughter and five-year-old friend who accused Simcox of molesting them. The trial of the former militia leader, who in 2009 staged a brief run for the Arizona U.S. Senate nomination against John McCain, was just getting underway last week when a judge put the trial on hold, at least for now.
Why? Shortly before the trial, Simcox, who maintains his innocence, told the court that he would act as his own lawyer — so he could personally cross-examine the two little girls he is accused of molesting.
Now, the Arizona Supreme Court is deciding whether to let him do it.
According to allegations in court documents, Simcox — who once called for 30,000 federal troops to deploy to the Mexican border to stop immigrants from crossing illegally — "digitally penetrated his biological daughter's [vagina] on two occasions, penetrated her vagina with an object on [one] occasion and to have fondled the genitals of his daughter's friend on two occasions."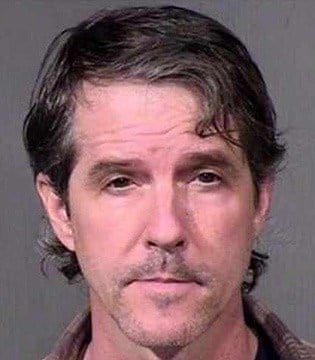 But Simcox — who taught kindergarten for 13 years in Los Angeles before helping to form the right-wing Minuteman Project group — was set to call one of the girls to the witness stand last week, according to a lawyer for one of the alleged victims who filed an emergency request for the state's high court to call a halt to the trial while it worked out whether Simcox should be permitted to grill the girls.
Maricopa Prosecutors earlier tried to get an Appeals Court to delay the trial, to prevent Simcox, 54, from personally quizzing the little girls who accuse him of sexually assaulting him. They asked that the court appoint a lawyer to do the cross-examination of the girls, but the appellate court turned them down.
The problem, child advocate Daphne Young told TV station KPHO — while making clear that she was not referring to Simcox specifically — is that child molesters are highly skilled at manipulating their victims — so skilled that a child abuser can employ his insidious psychological tricks "under the nose of the judges and even experts in the field."
"When a potential predator has the opportunity to cross-examine a child victim of sexual abuse, there's a great risk for intimidation, manipulation and re-victimizing of that young victim… When you consider all the verbal and non-verbal cues that a predator uses to groom a young victim, there's a lot that can happen."
The child molestation accusations are not the first such legal troubles for Chris Simcox, who co-founded the Minuteman Project in 2005. Each of his three wives has made allegations against him, including that he had threatened to kill his family — for which his third wife got a restraining order against Simcox — and that he had attempted to sexually abuse his 14-year-old daughter from his first marriage.
[Image: Joshua Lott/Getty Images]