Comedian Kathy Griffin announced on Thursday that she would not be returning to the set of Fashion Police on the E! Network. This announcement comes just a few weeks after Kelly Osbourne made her decision to leave the show. Griffin made her announcement after just seven episodes, including the controversial episode after the Oscars when Giuliana Rancic made some disparaging remarks about actress Zendaya's dreadlocks. Rancic said Zendaya's dreadlocks made her look as if she smelled "like patchouli oil" or "weed."
Representatives from E! confirmed Griffin's departure in a statement to the Huffington Post.
"We can confirm that Kathy Griffin is leaving E!'s Fashion Police. We wish her all the best and are grateful for her time on the show, as well as the many laughs that she gave us all. Fashion Police will return, as scheduled, on Monday, March 30 at 9 p.m. with our talented Co-Hosts Giuliana Rancic and Brad Goreski and Executive Producer Melissa Rivers. No further information is available at this time."
Kathy Griffin herself made a statement on Twitter to announce her departure, and also to explain her reasons for leaving the show. The Inquisitr previously published this statement and it reads as follows,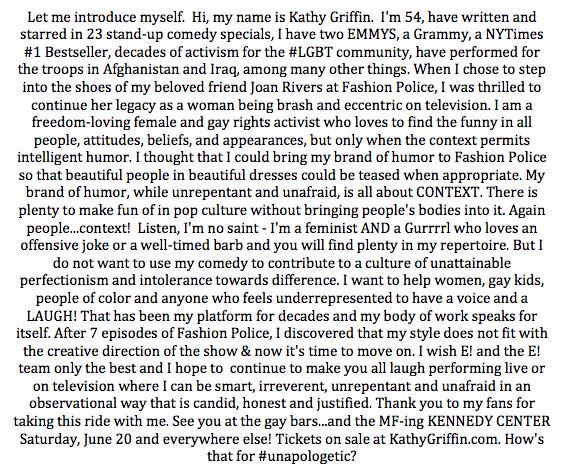 After Griffin announced her departure, ABC News reports that several celebrities showed their support for the comedian's decision via Twitter or Instagram.
"I could not be more proud of you @kathygriffin you have my love and support always!" @KellyOsbourne

"Congrats to my beautiful friend Kathy Griffin for bravely saying enough is enough to intolerance of all kinds on television. She's modeling a better way for the youths (and working those ears.)" -Lena Dunham

@kathygriffin "I adore YOU and all YOU do!! xox" @WendyWilliams

"griffin / odonnell – proud of u!!!@kathygriffin" @Rosie
Griffin, who is a well established comedian that has received several awards, also anticipated having more creative control when it came to her jokes. Us Weekly spoke with an insider that shed some light on the situation.
"She wasn't given the leeway to make it something that she could operate within. She's not Joan Rivers and she knows that. She's Kathy Griffin and her way of comedy wasn't able to operate within the show's structure."
Now that Griffin is gone, Fashion Police is down to just two people to continue with the show. Giuliana Ranic and co-host Brad Goerski will remain with the show, but is the future of Fashion Police in question now? Having lost two people in such a short amount of time, and all of the support they have received from the celebrity community, makes you wonder what is next for the once popular show. Ever since the passing of Joan Rivers, they have seemed to struggle to find a balance between poking fun at celebrities and just being mean. With the departure of Griffin, maybe the Fashion Police should take a look at its content, and consider changing it before the show completely falls apart and goes off the air.
[Photo courtesy of the TVPage]