The brutal winter of 2015 continues into March, as a massive new storm sweeping through the United States south and east regions could blast some areas with up to 10 inches of snow and alter the daily lives of 100 million Americans, according to the weather forecasting service AccuWeather.
"Major travel disruptions are in store, ranging from snow-clogged roads to many flight delays and cancellations," according to AccuWeather meteorologist Alex Sosnowski.
"The flight disruptions will likely extend well beyond areas directly affected by the storm as crews and aircraft are displaced."
The gigantic storm, reaching from Oklahoma and Texas in the west, though Kentucky in the south, all the way through Washington D.C. in the mid-Atlantic region, will stretch as far as Boston, Massachusetts.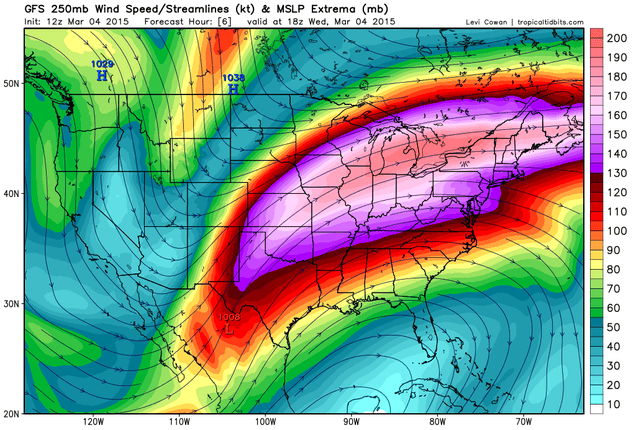 In fact, though Boston is on the outer reaches of the storm, it could receive as much as a two-inch blanketing of the white stuff — setting an all-time record for the city of 108 inches of snow. That's nine feet of snow in a single winter.
The heaviest snowfall is expected to occur in Kentucky and southeastern Ohio, with Louisville and Cincinnati taking the brunt of the storm's impact, with eight to 10 inches of snowfall.
"If predictions hold, we are looking at, perhaps, the most significant winter weather of the season," said Cincinnati City Manager Harry Black. "Our crews will be out there working hard to get the roads cleared."
Through northeastern Texas as well as Arkansas and Tennessee, snow will be light, forecasters predict. But that doesn't mean those areas are off the hook. To the contrary, sleet and freezing rain will render many roads impassable and create hazardous travel conditions throughout that entire region, starting Wednesday and into Thursday.
The northernmost United States also cannot count on escaping this giant weather system either, with frigid temperatures expected in North and South Dakota and Minnesota.
The thermometer is expected to register a paralyzing 40 degrees below zero Fahrenheit — even without wind chill factored in.
While warming somewhat from that arctic chill, the stinging cold front will make its way east on Thursday and into Friday, with record chills recorded in cities across the northeast and upper midwest areas.
The latest devastating winter storm comes just over two weeks away from the official start of spring, which begins with the vernal equinox on March 21.
The new winter storm follows just three days after a storm swept across the northeast earlier this week.
[Image: Chip Somodevilla/Getty Images]