Boxing fans can watch online video live when reigning WBC champion Bermane Stiverne takes on undefeated American Deontay Wilder is what boxing experts say has the potential to be the most action-packed heavyweight championship fight since Lennox Lewis stopped Vitali Klitschko on cuts way back in June of 2003.
Stiverne and Wilder will be fighting for the WBC championship vacated by Klitschko in December 2013 when the champ quit boxing to join pro-Democracy protests in his native Ukraine and went on to be elected mayor of that country's capital city, Kiev.
But in a heavyweight division that had become stale under the domination of Klitschko and his brother Wladimir — who currently holds the other three heavyweight championship belts — the Deontay Wilder Vs. Bermane Stiverne matchup, the boxing press believes, could jolt the division back to life with an all-action fight between two hard-punching, all-heart contenders.
The 29-year-old, 6′ 7″ Wilder, who won a bronze medal for the United States in the 2008 Beijing Olympics, has proven to be the most exciting American heavyweight since Mike Tyson, knocking out every single one of his 36 opponents since turning pro in November of 2008 shortly after his Olympic campaign.
Stiverne, who was born in Haiti and is a citizen of Canada where he fights out of Montreal, did not start boxing until he was 19 and, though he is now 36 years old, has fought 10 times fewer than Wilder as a pro.
But in those 26 fights, the 6′ 2″ heavyweight has scored 21 KO's while losing only one fight, with one draw on his record as well.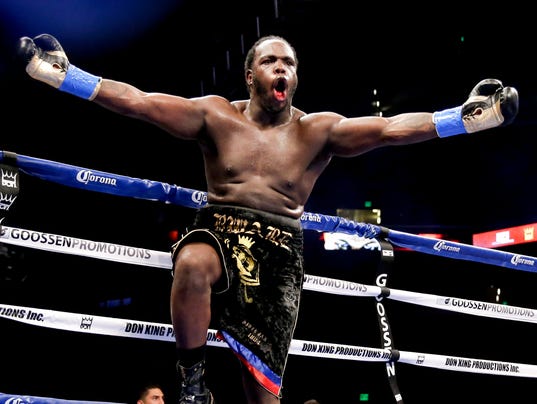 Stiverne won the WBC title in May, knocking out American Chris Arreola in a wild barroom-style brawl.
"He's a clown," Stiverne said of Wilder recently.
"He thinks boxing is wrestling and I will show him just how much it can hurt."
Wilder is known for attacking opponents from the opening bell with wild flurries of devastating punches — an dangerous tactic that nonetheless has worked for him every time.
"Stiverne has been hurt by men that could not punch hard. How will he stay up when I'm hitting him? This will be quick and easy."
"Boxing fans have a traditional love of wild fights and reckless fighters that deliver terrific scraps," wrote ESPN UK boxing analyst Steve Bunce.
"This Saturday they will back Wilder and Stiverne because they know they will see two fighters swinging, hurt, dropped, stunned, reeling and at one point either Stiverne or Wilder will end up in the referee's arms."
The Deontay Wilder vs. Bermane Stiverne fight will be broadcast in the United States on the Showtime premium cable network, live from the MGM Grand in Las Vegas, at 10 p.m. Eastern Time.
Online video will be streamed live via the network's Showtime Anytime service, available by clicking on this link, and logging in with cable subscription credentials valid for a Showtime subscriber. Showtime Anytime is also available on mobile platforms such as the iPhone and many Android devices, as well as on the Xbox game console, and Roku and Apple TV set-top boxes.