A fleet of advanced Russian fighter jets may soon end up in the arsenal of North Korea, if Russian President Vladimir Putin grants a request from his counterpart in the isolated nation, Kim Jong-un. A South Korean news report revealed Friday that a high level North Korean envoy held a secret meeting with Putin to ask for the highly advanced Sukhoi Su-35 jets.
The highly advanced jets, intelligence offcials say, would allow Kim to act on his secret plan to invade South Korea in a lightning assault — a plan revealed recently by a top North Korea defector.
The North Korea envoy sent to Russia, Choe Ryong-hae, was at one time North Korea's second-highest-ranking political official and considered the right-hand-man to Kim Jong-un himself. But sometime in April of 2014, Choe was fired from that post and demoted.
North Korea watchers, however, believed at the time that Choe was not "purged" by Kim Jong-un, but simply moved aside due to health issues. That belief would seem to be correct, as according to a report Friday in the South Korean JoongAng Daily, it was Choe — pictured below, left, with Kim Jong-un — who was entrusted by Kim to deliver a secret letter to Putin in the closed-door meeting on November 18.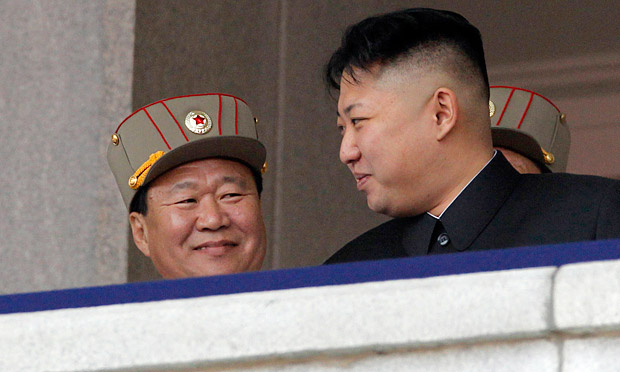 In that letter, Kim informed Putin of his request to buy an unknown number of the powerful Su-35 jets, known to NATO as the "Super Flanker."
"The North produces many weapons systems domestically, but it appears to have sought Russia's help because building fighter jets requires more complex technologies," an unnamed South Korean government official told the JoongAng newspaper.
The previous leader of North Korea, Kim Jong-il — father of the country's current ruler — attempted to buy a fleet of Russian jets back in 2011. Kim Jong-il also tried to buy fighter jets from China the year previous.
The Su-35 was first added to the Soviet Air Force in the 1980s, but has undergone a series of expensive upgrades, making the "Super Flanker," even today, not only the elite model among all Russian fighter jets, but one of the most powerful military jets in the world.
What is Kim Jong-un planning to do with the planes if Russian leader Putin agrees to sell him the Su-35 fighter jets?
Military intelligence officials in South Korea say that they now know that in August of 2012, Kim approved a new North Korean military directive.
The new war plan would allow North Korea to invade the South and conquer the country within one week, using advanced weaponry — including nuclear weapons.
A North Korean military officer who recently defected to the South provided a copy of the frightening plan, the JoongAng paper reported.
The Russian Su-35 jets would give North Korea an aerial advantage that would be difficult to match in a sudden strike, one that could certainly set off World War 3.