Bess Myerson, the first and to date only Jewish woman ever to win the Miss America pageant — but who later became better known as a prominent New York political figure and allegedly, a "beard" for New York City Mayor Ed Koch — has died at age 90 in Santa Monica, California.
After losing her career and her public standing in a highly publicized 1980s New York City scandal, Myerson lived out her remaining years largely in obscurity. Her death, which reportedly occurred on December 14, was not publicly announced. News organizations confirmed that Myerson had passed away from public records at the Los Angeles County Coroner's office.
Despite the ignominious end to her public career, Myerson was well ahead of her time in numerous ways. As the 1945 winner of the Miss America beauty pageant — an event that was more prestigious and taken far more seriously by the public in that era as compared to today — Bess Myerson was a figure of pride for American Jews.
"The Jews said, 'She's got to win in order to show that we're not just nameless victims,'" Myerson's daughter, screenwriter Barra Grant, once said. "When my mother walked down the runway, the Jews in the audience broke into a cheer. My mother looked out at them and saw them hug each other, and said to herself, 'This victory is theirs.'"
But at a time when open anti-Semitism was still widely accepted in America, Myerson found herself unable to complete the publicity tour celebrating her Miss America victory, because many venues where she was scheduled to appear banned Jews.
Disappointed but undeterred, Myerson established a television career that lasted throughout the 1950s and into the 1960s. Among many other television jobs, she spent nine years as a regular panelist on the then-popular game show I've Got A Secret.
Myerson, who was married twice in her lifetime, switched careers again in 1969 when New York's Mayor John Lindsay named her the city's consumer affairs commissioner. Defying critics who said she was mere "window dressing," Myerson became a visible and active consumer advocate. In 1980, she ran in the state's Democratic primary for United States Senate, but lost.
In 1977, as Ed Koch ran for Mayor and was forced to fend off allegations that he was gay, Myerson was often seen in public with Koch, as the supposed couple held hands and occasionally kissed.
Koch's opponent, Mario Cuomo, benefited from a series of attack ad posters bearing the slogan, "Vote For Cuomo, Not The Homo." The posters were allegedly the brainchild of Cuomo's son, Andrew, now governor of New York, who always denied any involvement.
While the relationship between Bess Meyerson and Ed Koch was suspected of being nothing but a show for the cameras and Myerson simply a "beard" to cover Koch's alleged homosexuality, Myerson was nonetheless credited with saving Koch's campaign, and Koch rewarded her by naming her New York's cultural affairs commissioner.
But about 10 years later, it all came crashing down for Bess Myerson in a scandal that became known as "The Bess Mess," in which she was accused for bribing a judge in the divorce case of a wealthy sewer contractor with whom Myerson had an affair.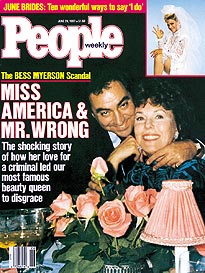 Myerson gave the judge's daughter a job in her cultural affairs office, but was acquitted of all charges in a 1988 trial.
Even with the acquittal, Bess Myerson — who had already survived a stroke and a bout with ovarian cabcer — was forced to resign and never held a public office again.