Rumors are circling around the Boston Red Sox and free agent pitcher Jon Lester as the Major League Baseball annual winter meetings get underway Monday in San Diego. The top free agent pitcher on the market, Lester has received advances from several suitors, but according one prominent baseball reporter, the Red Sox are "favored" to obtain Lester's services — even though their financial offer to him is rumored to be lower than competing clubs.
as of yest. heard lester had multiple bids in 130-140M range. favored red sox seen as maybe a bit lower. bids may rise tho.

— Jon Heyman (@JonHeymanCBS) December 6, 2014
UPDATE 6:30 pm EST: Earlier in the day, Fox Sports reporter Ken Rosenthal said his sources told him Lester had ruled out a return to the Red Sox, and the pitcher's choices were narrowed to the Cubs and Giants. But Lester's agent declared the report "absolutely untrue," and Red Sox beat writer Sean McAdam of Comcast Sports Net reports that Lester's agents have scheduled a meeting with Red Sox brass for Monday evening.
Another rumor claims that Lester will make his final decision, committing to the club that will be his home for, in all likelihood, the remainder of his career — or at least the next four to six years — no later than Tuesday.
That report comes from veteran ESPN baseball reporter Buster Olney, who said that the final four in the Jon Lester sweepstakes appear to be the Los Angeles Dodgers, World Series Champion San Francisco Giants, Chicago Cubs — whose front office is now helmed by former Boston General Manager Theo Epstein — and of course, the Red Sox.
As Red Sox Nation is well aware, Boston dealt the 30-year-old Jon Lester, the team's second-round draft pick in 2002, to the Oakland A's at the 2014 trade deadline, after failing to reach a deal on contract extension earlier in the season.
The southpaw shined down the stretch for Oakland, posting a 2.35 ERA in 11 starts, as he helped lead the A's to a Wild Card playoff spot. But facing the Kansas City Royals in the one-game Wild Card playoff, Lester was the losing pitcher, surrendering six earned runs on eight hits over 7 1/3 innings.
Lester's price tag was always going to be too high for the perennially cash-strapped Oakland organization to meet, so that playoff game was Lester's last in an A's uniform. As soon as free agency opened following the World Series, other teams came calling.
According to rumors, Lester — who was paid $13 million in the final year of his Red Sox contract in 2014 — has received offers in the range of $130 million to $140 million.
One report had Epstein and the Cubs wooing Lester with a $135 million deal, for a staggering six years, meaning Lester would be 37-years-old by the time the contract ran out. That type of long-term, big money deal was exactly what led to the end of Epstein's term as Red Sox GM, but apparently, he is poised to take the same route with the Cubs.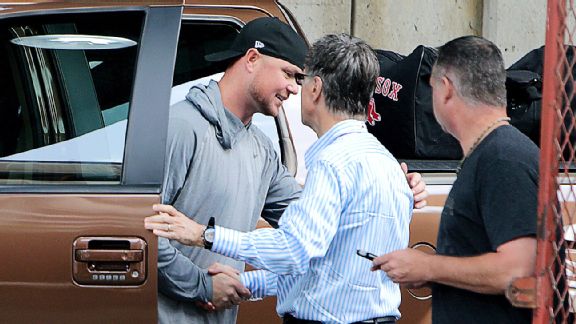 But Boston owner John Henry personally flew to Atlanta to meet face-to-face with Lester on Friday, and the free agent ace has always said he remained favorably inclined toward a Red Sox reunion, and that his decision will not be based solely on whichever team offers him the most money.