Perhaps, the second time is not a charm after all -- for Rosie O'Donnell, that is. According to super-secret production sources connected with The View, the daytime talk show co-host is causing so much turbulence and division on the show that producers are considering parting company with Rosie. It seems O'Donnell's rude attitude and toxic behavior are more than show executives -- and supposedly, her View chat-fest colleagues -- can bear, according to a TMZ report.
The gossip site says it has credible information from insiders that believe Rosie's days with the show are numbered, largely due to her return to basics. Allegedly, one production source, who wished not to be identified, says Rosie is a "malcontent," and her interaction -- or the lack thereof -- with her co-hosts is dragging down TV ratings. It's their belief the writing is on the wall about Rosie getting the ax.
At the center of her supposed grumpy behavior is View moderator, Whoopi Goldberg. Evidently, Rosie O'Donnell returned to the show with the belief she would helm the show and assume the role Whoopi has occupied since 2007. Previously, Inquisitr reported O'Donnell's return hinges on her pal not being the moderator -- at least in her mind. But the decision apparently is not in her hands.
Now that it is clear she is not the chief chat queen, sources say she is retaliating by shutting down and stirring up commotion, on and off the camera. As a consequence, execs want her gone prior to the end of the season before she drags the show down even further. And on her return next season, that option is supposedly off the table, as the rumor goes.
From the first day of Rosie's return after a seven-year absence, the comedienne ruffled collars. It all began when O'Donnell bared her feet, put her newly-pedicured toes on display and sat cross-legged in her chair.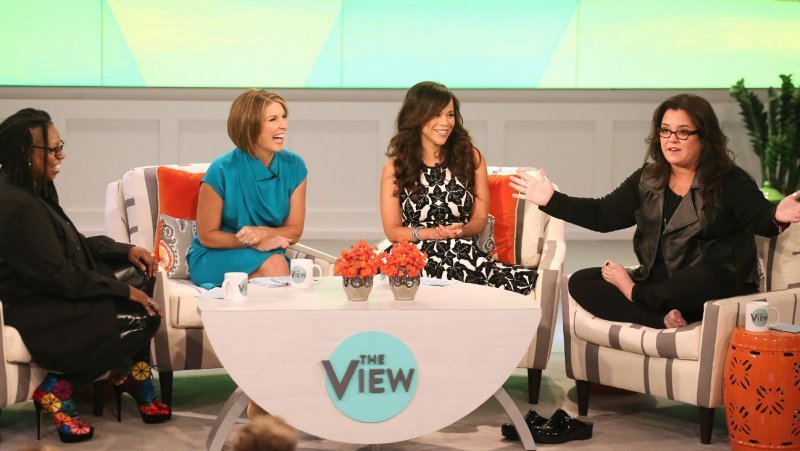 'The View' co-hosts
"I'm trying to stretch my leg 'cause it hurts. So you're going to see toes. I had them pedicured yesterday. Of course, I didn't want them to be gross," she explained to her audience during the premiere.
Despite her sciatica flareup, apparently producers were not at all pleased by her antics. Early on, it was a sign that Rosie O'Donnell had not changed much from her old shenanigans. It's this type of rogue behavior that is rumored to be partly behind her ouster in 2007. However, Rosie has a litany of other things that rubbed many the wrong way, according to RadarOnline.
Who can forget her blowup with former View co-host, Elisabeth Hasselbeck, who recently said the tension between them has not been addressed and still remains? That alone was a distraction for the show, and O'Donnell's infamous rants continued with a verbal brouhaha with Donald Trump.
Apparently, the tension extends beyond Rosie and Whoopi; O'Donnell is allegedly rubbing newbies, Rosie Perez and Nicolle Wallace, the wrong way as well. On a recent View episode when the ladies chatted about the allegations surrounding Bill Cosby, O'Donnell challenged all three co-hosts in what some said was "just because" and for the sake of being condescending.
Despite TMZ's claims from its inside sources, O'Donnell's rep dismissed the rumors about her potential ouster.
"This is yet another in a long line of fabricated stories. Reports of Rosie leaving are false. Whoopi is the moderator and has been since she was hired in 2007. Rosie O'Donnell knew that before she took the job."
Should Rosie remain on the show, despite her abrasive behavior? Is it time Joy Behar returned? Can we all just get along?
[Image via: RadarOnline, AceShowBiz]