The Mega Millions Black Friday drawing proved bleak for the owners of the nearly 16 million tickets sold for the lottery game. The 95th Mega Millions drawing of the year not only saw no winner of the $61 million jackpot, but no one won the second prize of $1 million either.
In fact, the largest prize won in the November 28 Mega Millions drawing was a paltry $5,565. Can you even buy a decent used car for that amount anymore? And only three lottery players even won that amount, the drawing's third-prize, awarded for matching four of the first five numbers plus the Mega Ball.
But wait — the only reason those three lucky winners will see even that much pre-tax prize money is that all three bought their tickets in California. That state is the only one of the 46 Mega Millions states and territories that pays out non-jackpot prizes on a pari-mutual basis.
In other words, the prizes depend on how many tickets are purchased in the state, with a pool of money then split among winners. Other states offer flat sums for all Mega Millions payouts. The third-prize winnings are an even $5,000 in every other Mega Millions jurisdiction, an amount won by 24 tickets on Black Friday.
So Black Friday was just sad for Mega Millions players, with barely more than $2 million in prize money total for the drawing — but it often is. Looking back over the month of November, thanks to this chart created by Philly.com, we see that after a whopping $321 million jackpot won on November 4 by a single player in Middletown, New York, Mega Millions has produced sorry-looking top prizes all month long.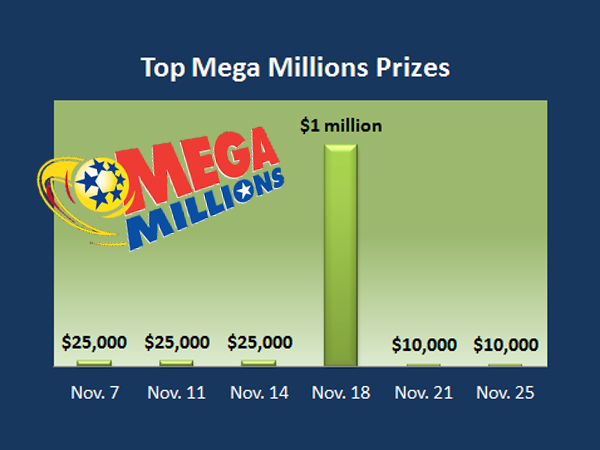 Only one drawing, on November 18, even produced a "Match Five" $1 million winner. In other drawings, players who paid an an extra buck to activate the Megaplier option on their tickets turned the third-prize into five-figure sums.
But none of the Black Friday Mega Millions third-prize winners had the Megaplier activated, resulting in a top Mega "Millions" prize in the mid-four figure range.
The odds of winning the Mega Millions third prize are 739,688 to one. The odds of winning the Mega Millions jackpot, and million-dollar second prize, are about 259 million to one, and 18.5 million to one respectively. Which explains why the lottery game often produces no big winners. Winning is hard.
The Black Friday drawing was the seventh straight with no jackpot winner, and that means the jackpot offered by Tuesday's drawing sits at $70 million.
Did you win anything in the Black Friday Mega Millions game? Check your ticket against these numbers, drawn at 10:59 pm in Atlanta, Georgia.
8 — 26 — 29 — 36 — 47 Mega Ball 10
The cash value of Tuesday's Mega Millions jackpot, if a winner wants the money in a single payment, is estimated at $43 million.