Kim Kardashian got romanced in style on Valentine's Day by her husband-to-be Kanye West. But she also recently received a tongue-lashing from the "Yeezus" rapper about her "acting" on her family's long-running reality show, Keeping Up With The Kardashians, according to one source.
On Valentine's Day, Kim flew 3,000 miles to see Kanye put on his show at the Baltimore Arena in Baltimore, Maryland. When she got there, she found what she said were 1,000 roses waiting for her backstage. She posted proof to the Kim Kardashian Instagram account.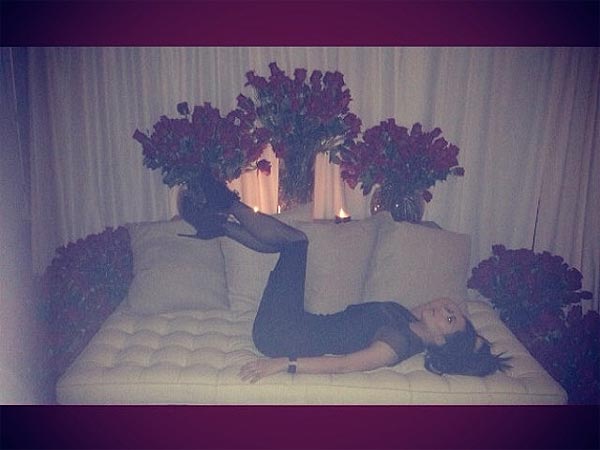 She stuck around to watch the show. Even with all of the wedding plans, Kanye West is still finding time to earn his keep, maintaining a busy schedule of tour dates. And now, as they head toward a Paris wedding reportedly set for May, it looks as if Kanye will be headed to Australia just a few weeks earlier for a series of concerts that will extend into the following month.
So perhaps the reports of Kanye West micro-managing the couple's wedding plans aren't entirely accurate. Or maybe he just has his people on it. Who knows?
But apparently, after taking a break from his busy performance schedule to catch up on his viewing of Keeping Up With The Kardashians, Kanye wasn't too happy with the way Kim Kardashian presented herself to the public, according to a report on the gossip site Radar Online.
After viewing an episode in which Kim Kardashian takes over her mother's house, even monopolizing the bathroom — as if they have only one bathroom in that place — to painstakingly apply her makeup to perfection, Kanye West realized that his bride-to-be was coming across as "a materialistic, judgmental monster."
When she explained to him that the whole "Kim takes over the house" episode was just a contrived plotline cooked up to add some zing to the show, Kanye West reportedly instructed Kim to "stop acting!"
Because why would anyone ever think of Kim Kardashian as materialistic?
Kanye West, according to Radar, delivered a lecture to Kim Kardashian, reminding her that "she would never do that in real life! Kim wouldn't just go into her mom's bathroom and make changes at the house. She respects Kris' house, and has gone out of her way to NOT get in the way," the site's source said.
In reality, Kanye knows Kim Kardashian as "a totally different person off camera, very sweet and thoughtful," the source said. He just wants the rest of the world to see her the same way.