Lena Dunham is a particularly uninhibited TV actress, on her HBO sitcom Girls. She appears stark naked in every episode — at least it feels like every episode — and she makes no apologies for her physique, which in the world of Hollywood is highly unconventional, though in the real world, it's pretty typical.
That's Dunham's whole point. She calls the presentation of her nude body on the show, "a realistic expression of what it's like to be alive." She is attempting to present herself as a woman who doesn't have to be shaped like a supermodel to feel comfortable looking at herself naked.
So why, wonders the New York-based web site Jezebel.com, did Vogue Magazine, which features Lena Dunham in its February issue, feel the need to digitally retouch its photos of the actress-writer to make her look more like, well, all of the other women who appear in the pages of Vogue?
"Our desire to see these images pre-Photoshop is not about seeing what Dunham herself "really" looks like; we can see that every Sunday night," wrote Jezebel.com. "This is about Vogue, and what Vogue decides to do with a specific woman who has very publicly stated that she's fine just the way she is, and the world needs to get on board with that."
The site, which is part of the Gawker network of web sites, apparently couldn't dig up the unretouched photos on its own. So if you have them, you are in luck. Jezebel is staking a $10,000 bounty for the Photoshop-free photos. The site even extended the offer to Lena Dunham herself, in case she has copies and wants to send them along.
The photos in Vogue, while none of them are nude, make Lena Dunham appear noticeably slimmer, both in her body and her face, than she appears on Girls, the new season of which premiered this past Sunday, January 12.
Here are is one example: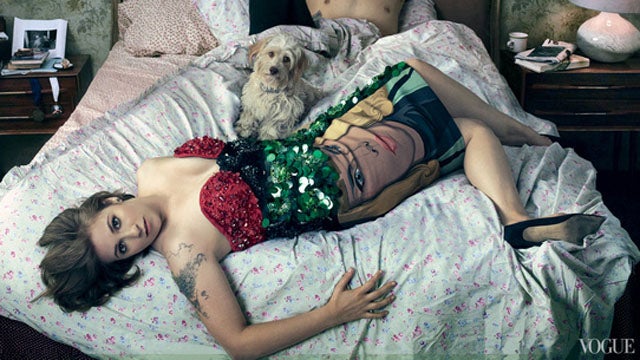 And another:
Jezebel's bounty offer has provoked a wide range of reactions. For example, the online magazine Salon.com dismissed the Lena Dunham photo bounty offer as, "a play for traffic…cynical capitalism — nothing more, nothing less."
Slate.com on the other hand applauded the Jezebel offer.
"Dunham is a great subject for this stunt!" Slate writer Katy Waldman exclaimed. The web site, she said, is "continuing its crusade against the fashion magazines that make us all feel like crap and have, in many ways, contributed to a pop culture in which Dunham's perfectly lovely physique is so outside the norm."
Jezebel.com first offered a $10,000 reward for an unretouched Vogue photo in 2007, turning up a shot of country music star Faith Hill, which "revealed" Hill to be just as beautiful as in the Vogue Photoshopped version, but with slightly less-toned arms and a few more creases around her eyes.
If you want to find out what the unretouched Lena Dunham photos will reveal, you don't have to wait for Jezebel. Simply compare the magazine's photos of Lena Dunham with the Lena Dunham you see this coming Sunday night on HBO.