If they were — and Kate Upton denied it at the time — they broke up quickly. But now the pair have been spotted together in public once again. So, are they back together? Or just good friends?
Check out the commercial that may or may not have started their romance above.
An observant hockey fan saw the two sitting together in a box seat Saturday, January 11, at the Philadelphia Flyers vs. Tampa Bay Lightning NHL hockey game. The fan even posted a photo on Twitter, confirming that the two people he sighted were indeed Kate Upton and Justin Verlander, The New York Daily News reported.
Here's the fan photo: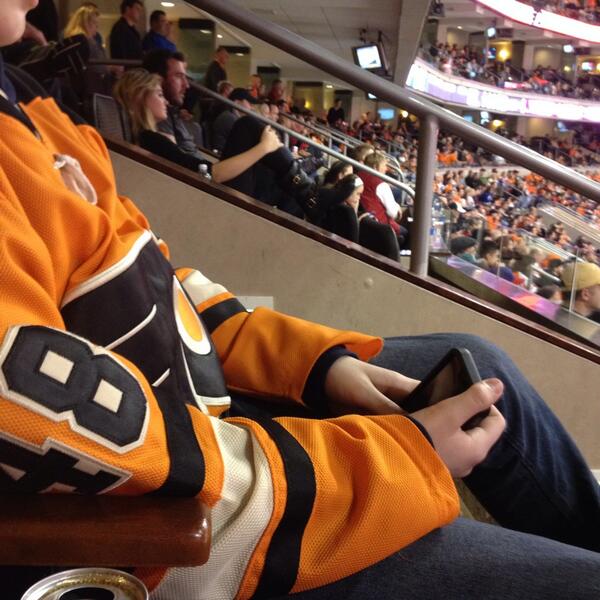 The initial rumors that the busty model and the fireballing Major League hurler were "involved" surfaced after they took what is described as a romantic vacation together between the 2012 and 2013 baseball seasons, The Huffington Post reported.
But as the Starpulse web site noted, the romance, if indeed there was one ended in a hurry. The 21-year-old Kate Upton never publicly acknowledged that she was in a relationship with the 30-year-old Justin Verlander. Then, in June of 2013, the Other Woman star sent a birthday message to Verlander's friend and former big League pitcher Frank Viola.
The message read, "Happy birthday to a friend of a friend who I now like more than the original friend." The line was seen as a swipe at Verlander.
Kate Upton then began dating dancer Maksim Chmerkovskiy, but that relationship ended in November. So is she ready to return the boyfriend she insists never was?
Sorry. Doesn't look that way.
As it turns out, Verlander underwent muscular surgery just two days earlier to repair an injury he suffered during his offseason training program. After the Tigers narrowly missed going to the World Series in 2013, losing the American League Championship Series in six games to the Boston Red Sox, the prospect of heading into 2014 with an injury must have been disheartening for Verlander.
And Kate Upton?
"She wanted to be there for him," said a source close to the blonde bombshell, as quoted by E! Online. "Kate and Justin are not back together."
Verlander was recuperating in a Philadelphia hospital when he and Kate Upton decided to take in a friendly Flyers game together.