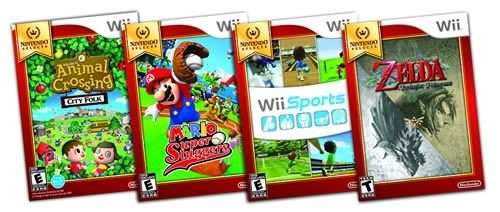 Now every over-65 in the northern hemisphere owns a Wii, Nintendo needs a new way to sell its previously best-selling console.
Cue the Wii Select line, a range of budget-priced first-party Wii games that have appeared on a retailer price list, and which will sell for a bargain $19.99. Every console gets a budget games line eventually, but it seems Nintendo has been able to hold off longer than normal, due to the Wii's success.
Mario Super Sluggers, The Legend of Zelda: Twilight Princess and Super Smash Bros. Brawl will be the first titles to have their price tags snipped later this month. The image above shows others will follow however, including Animal Crossing: City Folk and the evergreen Wii Sports. Those boxarts are pretty butt, but if you can live with that, then twenty bucks for any of those titles is worth it.
Seems everything Wii is getting a price cut nowadays! It couldn't possibly be down to this, could it?
[Via Nintendo World Report]