Want Nicolas Cage all over your Instagram time-line? It's actually possible if you're 'feeling Cagey.' Veteran actor, Nicolas Cage, can indeed take over your entire Instagram feed to the point where its absolutely creepy. Not only will the Face Off actor appear on your Instagram time-line, but he'll replace the face of every "selfie" you have if you let him! A little bizarre, right? Well, the world has London creative developer, Josh McMillan, to thank for the quirky application. While the app has a relatively simple concept, it is a methodical design that actually required intricate effort to execute.
According to McMillan's Reddit post, the app 'pulls in Instagram 'selfies' in real time.' The app is designed with a facial detention component that cancels out the original facial image, superimposing Cage's face. So, in a nutshell, when you visit feelingcagey.com, you'll see a collage of 'selfies' that have been altered to appear with Cage's face.
However, what you won't notice is that his face is actually just a real-time illusion. If you click on one of the pictures, then copy and paste the URL for the image with Cage's face, you'll only see the face of the person from the original picture. Kinda creepy! Coined with the witty name, Feeling Cagey, the app has surprisingly been relatively popular among Nicolas Cage fans. According to McMillan's Twitter feed, the comedic app actually made the front page of Reddit, and is slowly going viral.
With approximately 80,000 views in an hour, a number of Instagram fans will have Nicolas Cage taking over their feed. The Feeling Cagey thread has actually received more than 200 comments and laudable reviews on the Reddit site.
Just woken up to find out Feeling Cagey ended up on the reddit frontpage last night. 80k visitors in an hour.

— Josh McMillan (@jshmc) November 22, 2013
Feeling Cagey has also been a relatively popular trending topic on Twitter, with users posting their comments on the app, along with mobile screen-shots of their own Instagram feeds. Nicolas Cage is everywhere!
The Huffington Post reports that even celebrities have the 'Nicolas Cage bug'. Keeping Up with the Kardashians stars, Kendall and Kylie Jenner posted themselves transformed into Nicolas Cage.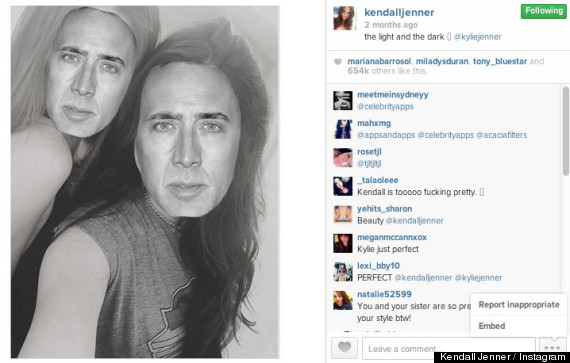 So, whether you find it absolutely intriguing or downright creepy, FeelingCagey.com is definitely 'all things Nicolas Cage.' If you're like any other Cage fan, you may find yourself catching the wave, wanting to see what the buzz is all about!