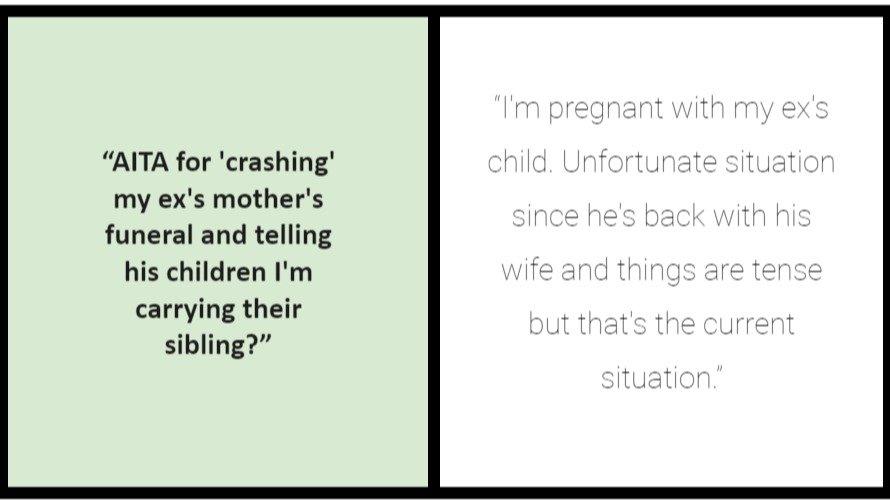 Woman Sparks Debate After Sharing She Told Her Ex's Kids She's Pregnant With Their Sibling While At His Mother's Funeral
Being able to maintain calm during conflict resolution is quite a skill, especially in a situation where one is constantly goaded or provoked. However, with a little more push, things could get out of hand. In cases like this, the provoked often gets the brunt, and one would need to ask if they were really at fault. A Reddit user who found herself in a similar situation tabled her issue before the AITA community after an encounter with her ex and his family members.
It had been at her ex's mom's funeral, and while her aim was to express her sympathy and pay her last respect to the deceased, things pretty much escalated after an exchange of words.
Article continues below advertisement
The Redditor Had A Good Relationship With The Deceased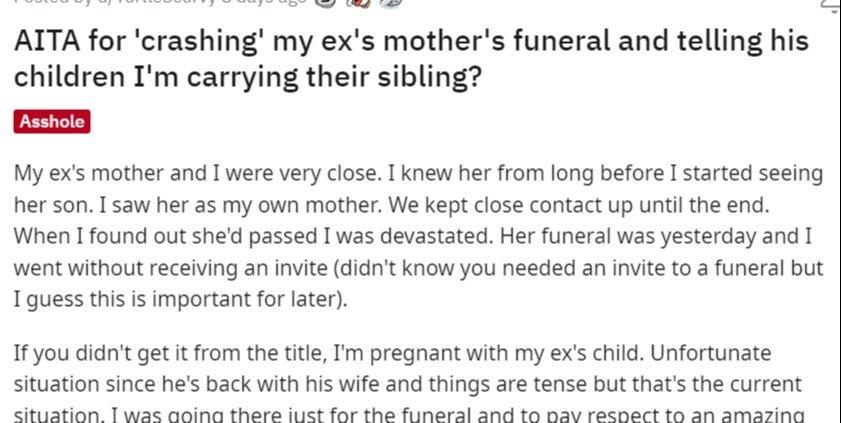 She Would Later Find Out She Wasn't Invited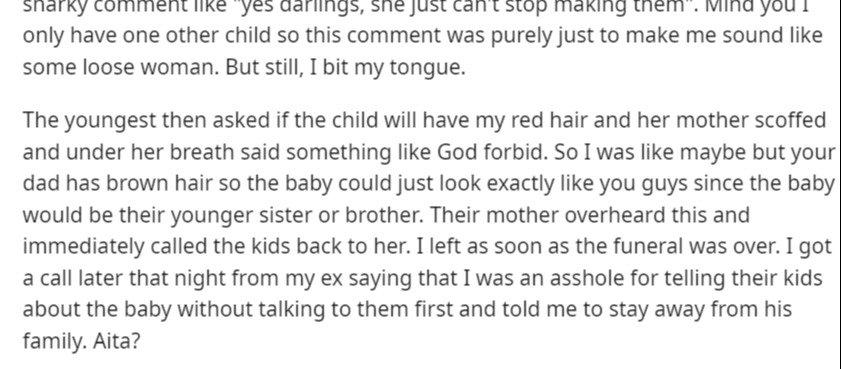 Article continues below advertisement
Her Ex Was Not Having It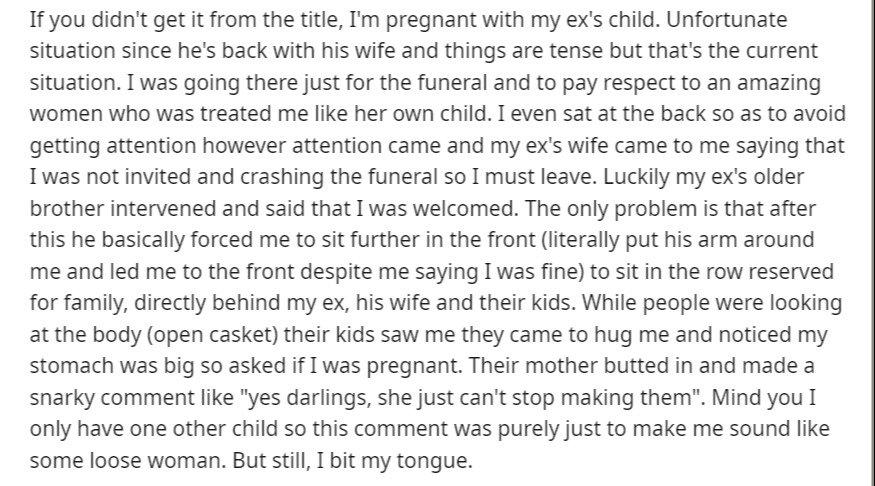 Things Got Out Of Hand In No Time
The Reddit user gave some context noting that despite how she and her ex had fallen out, she remained good friends with his mother until she passed on. So to her, it only felt right that she attended the funeral. Knowing full well that things might become weird, she sat in the back row, but that wasn't enough to keep her out of trouble. The original poster (OP) noted that there was trouble as her ex's wife came over to let her know she wasn't invited. She also accused the OP of crashing her mother-in-law's funeral. Her ex's older brother came to her rescue and even took her to a seat in the front rows, where other family members sat.
The Redditor's write-up included a quick backstory showing her complicated situation. She relayed that she was pregnant and already showing, noting that the baby belonged to her ex. Apparently, the pair were in a relationship after her ex and his wife got separated, and weeks after the duo got back together, she discovered she was pregnant.
The narrator relayed that she kept her cool while the ceremony continued. Things came to a head when her ex's kids sighted her and ran over to hug her. The children noticed her belly and became curious. One had asked if the baby would have their red hair, of which her ex's wife muttered, "God forbid." The Redditor share that this prompted her to reply:
"So I was like maybe but your dad has brown hair so the baby could just look exactly like you guys since the baby would be their younger sister or brother."
According to the narrator, her ex would call her later that night, calling her an AH for breaking the news to his kids, without prior knowledge. She noted that her ex and his wife already knew she was expecting, but the kids were not aware.
Many Redditors in the AITA group weighed in on the situation and these were their deductions.
Article continues below advertisement
She Was Labeled YTA For 'Dumping Drama'

ESH- Everyone Played A Part And Had A Fault

The Redditor Was Treated Unfairly