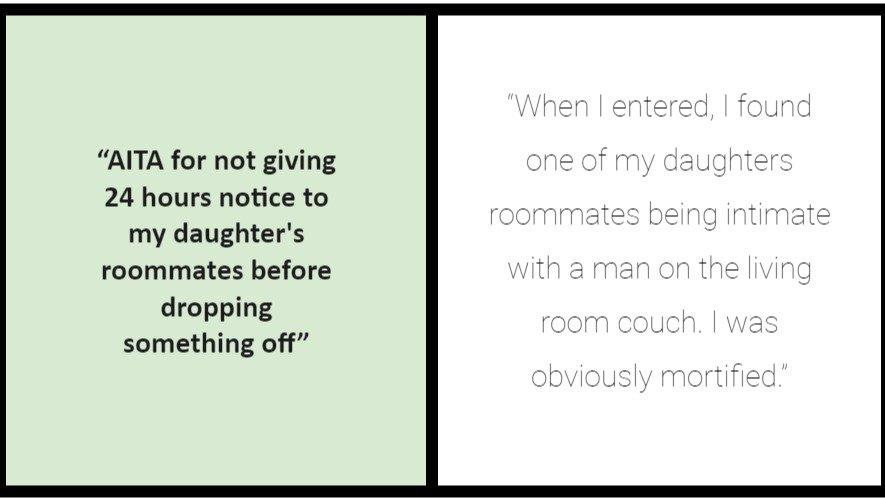 Mother Walks In On Daughter's Roommate Being Intimate In The Living Room, Then Gets An Angry Email From The Roommate's Parents!
Being a landlord to teenagers can be stressful, but when the tenants are your daughter's friends, it can be even more complicated. This is what one mother realized when she had her daughter rent out their condo.
A Reddit user known as OccasionWilling4170 shared her story on the platform. She starts out by explaining the living arrangement of her 20-year-old daughter and two roommates in their condo, a property owned by the family that she inherited from her parents, and will soon be passed down to her daughter. The roommates, who are friends of her daughter, are paying below-the-market rent price.
Article continues below advertisement
During an errand trip to the unit, the mom had the bad luck of walking in on one of her daughter's roommates while being intimate with a man. Drama ensued afterward and now the mom is asking the community:
"AITA for not giving 24 hours' notice to my daughter's roommates before dropping something off"
Scroll down to see more of her story.
This Mom Walked In On Her Daughter's Roommate Having Sex On The Couch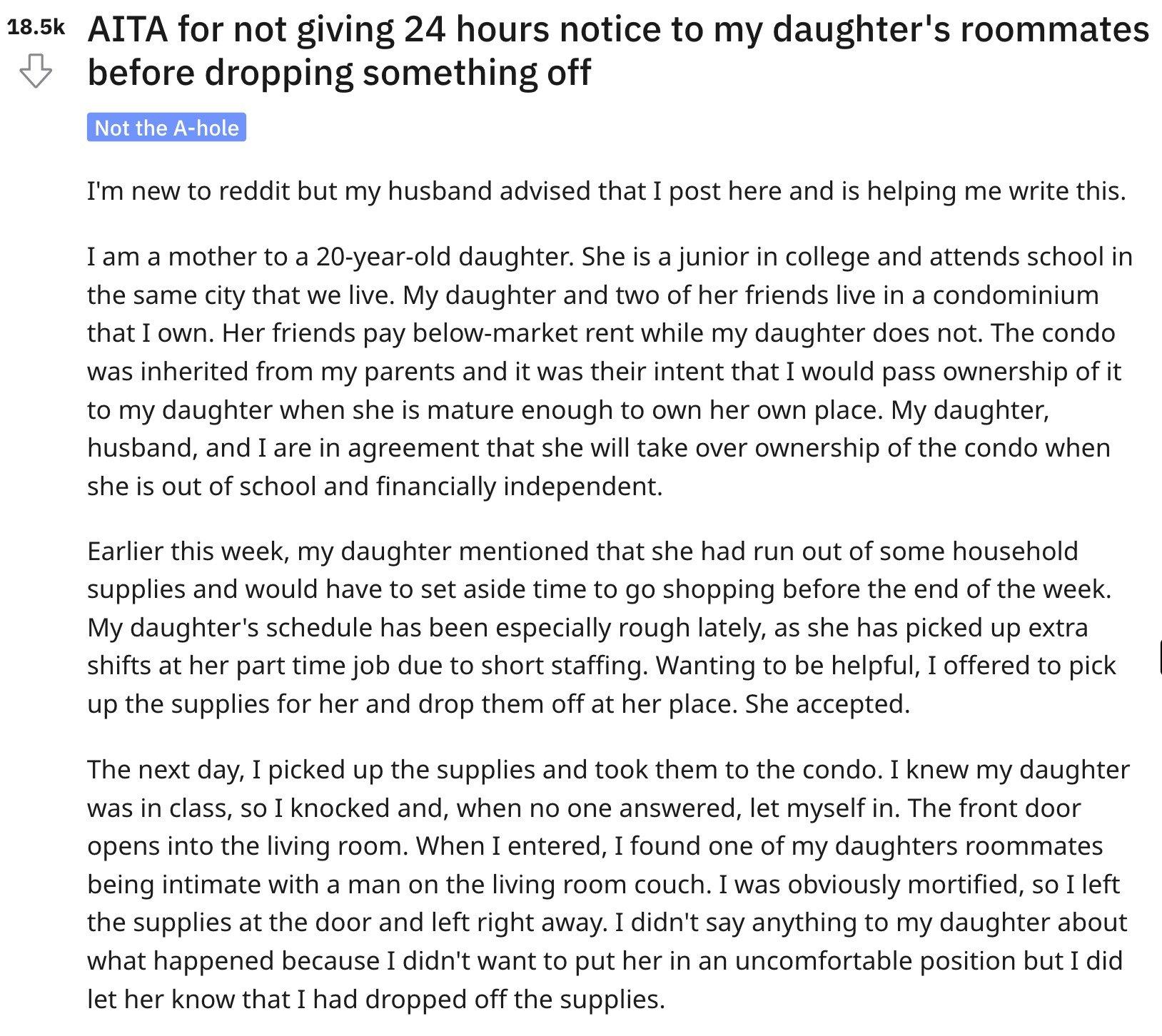 Article continues below advertisement
The Roommate's Parents Threatened To Take Legal Action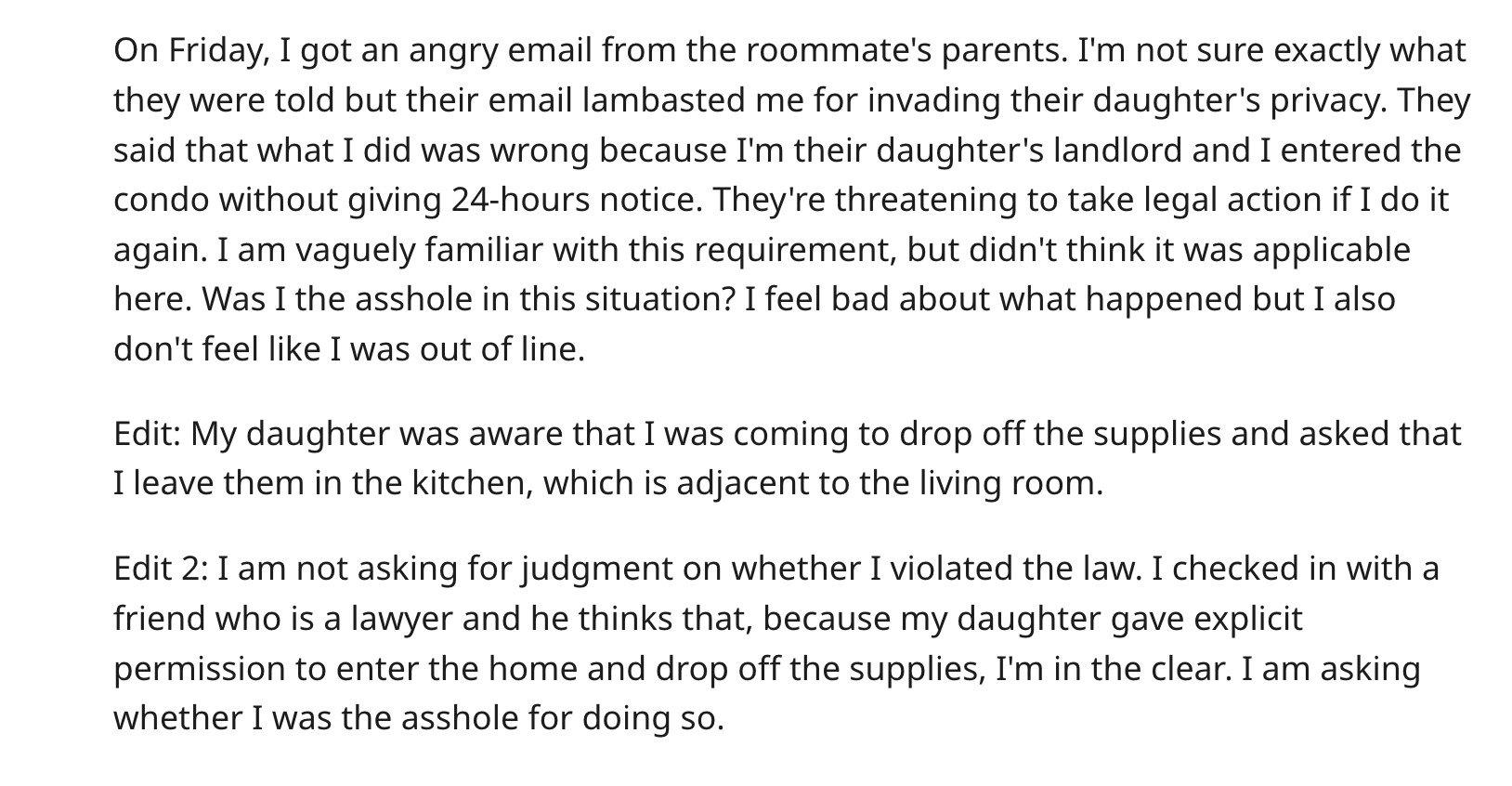 The Drama Exposed That There Was Cheating Going On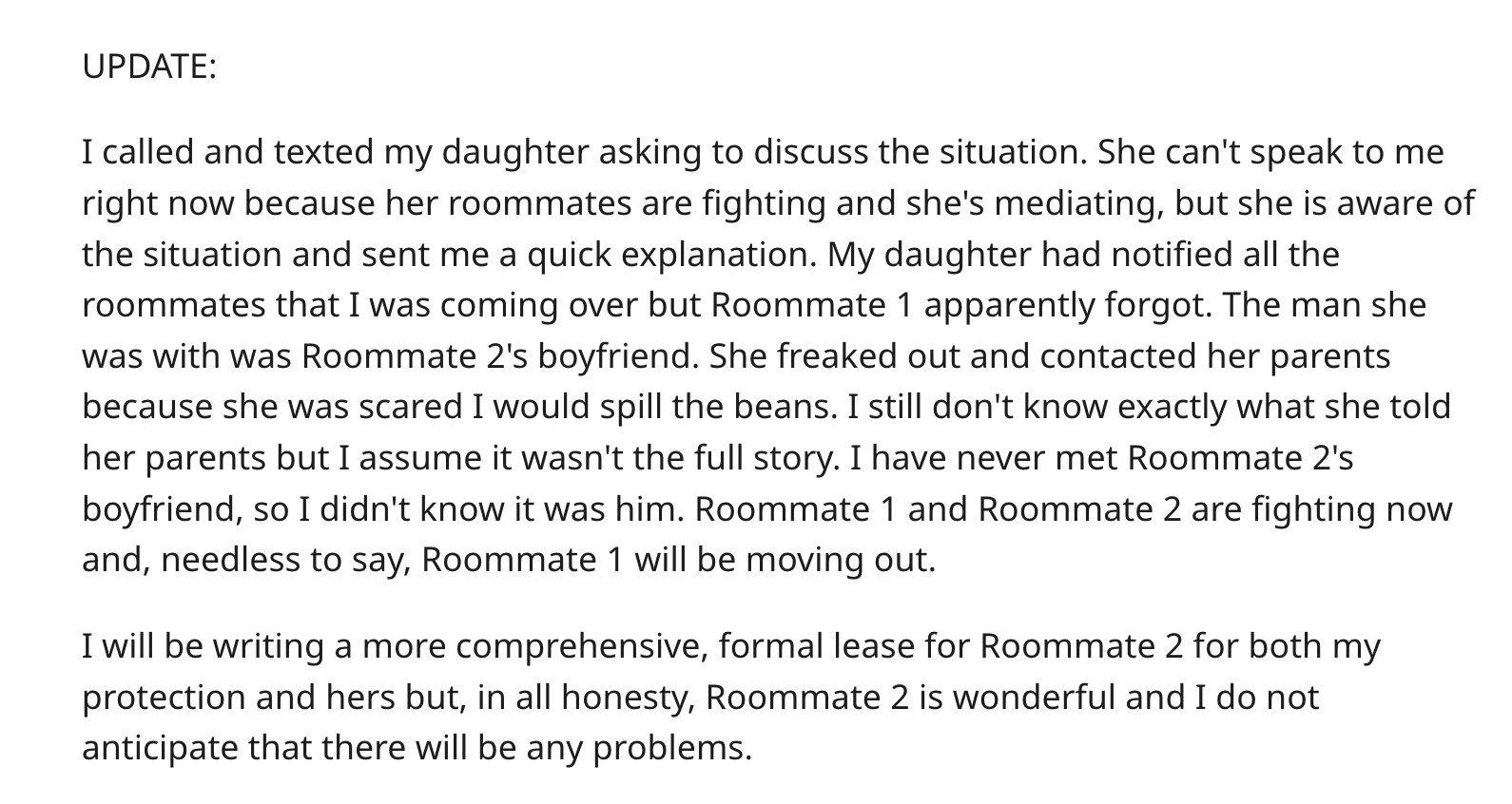 Article continues below advertisement
Did She Violate Her Tenant's Privacy?
To protect the tenant's privacy, the law prohibits landlords from entering the rented property without giving 24-hour notice. This is one of the things landlords can't do, reports Investopedia. Even if the property technically belongs to the landlord, they can't just enter whenever they want.
There are certain instances, like an emergency, when landlords can be allowed to enter without notice. Specific rules may differ depending on the state.
In this case, however, the landlord's daughter gave her permission to enter the property and drop off the supplies, so she didn't break the rule. As explained in her post, the daughter also informed all the roommates that her mom would be dropping by but they forgot about it.
The mom later wrote an update on her post, shedding light on why the roommate threatened to take legal action. As it turns out, the guy she was hooking up with is the boyfriend of another roommate. This has caused the girls to fight and her daughter had to mediate between her friends. Due to the drama, the roommate who was caught cheating will be moving out.
This Redditor Points Out That The Mom Was Given Permission To Enter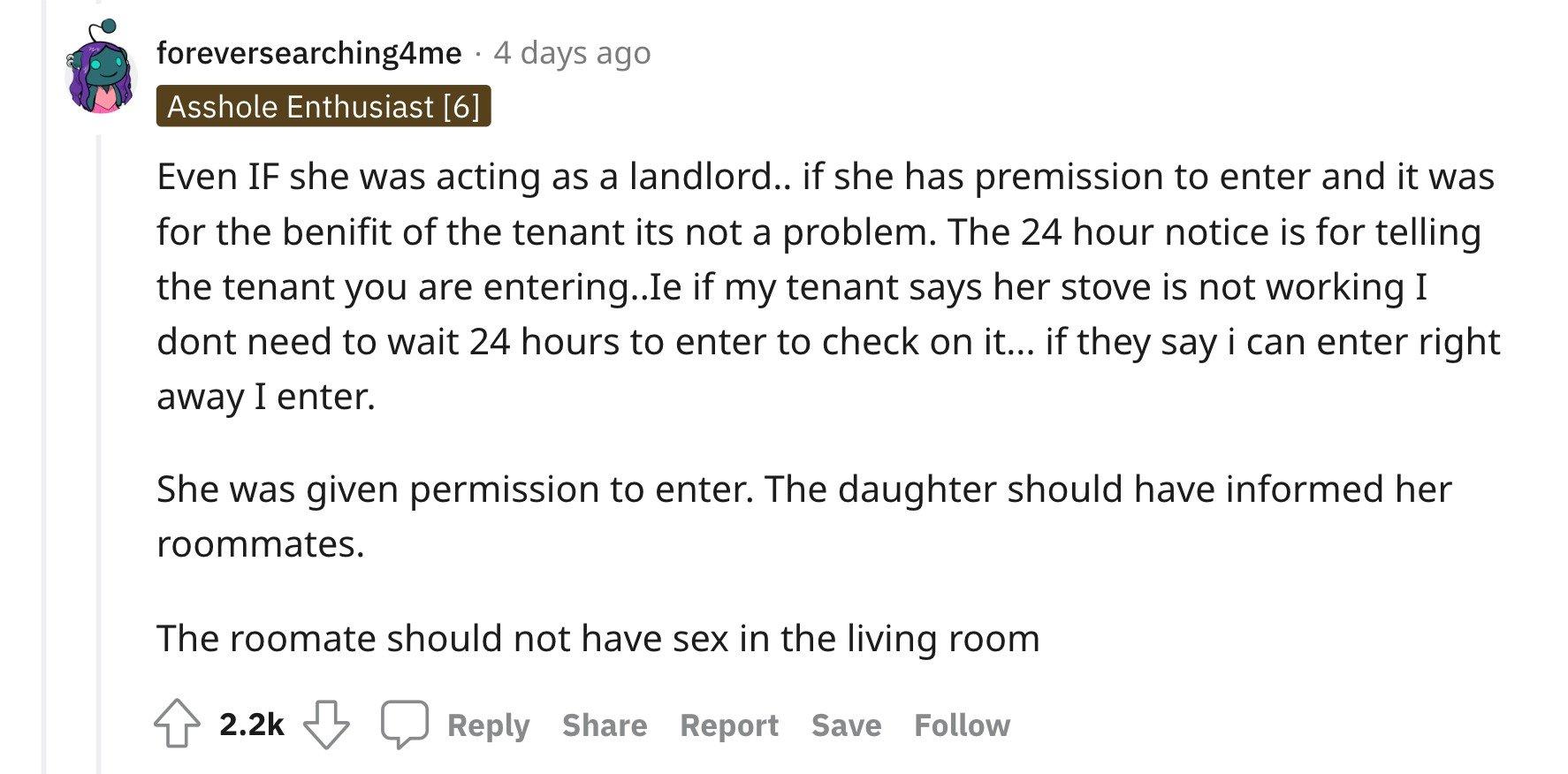 Article continues below advertisement
Many Said That The Girl Probably Told A Different Story To Her Parents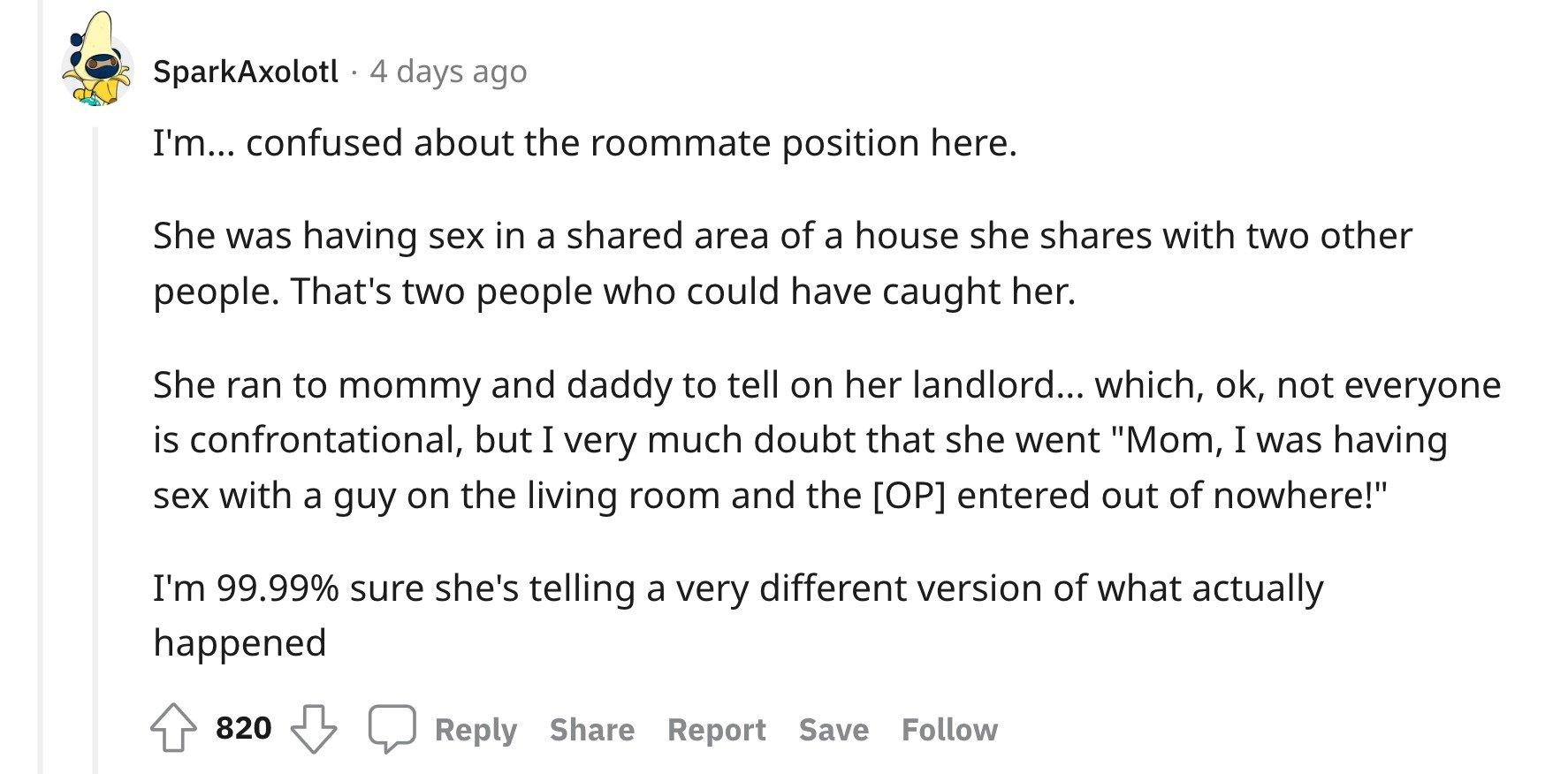 This Commenter Explains That There Are No Grounds For Legal Action