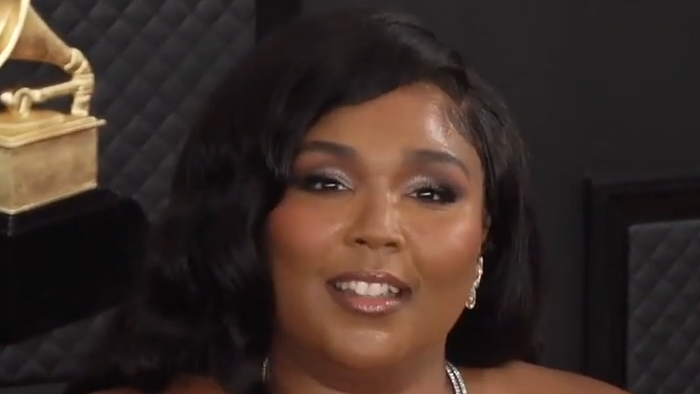 Lizzo Sends 2022 Emmy Dress On Request From A TikTok User
Being a celebrity comes with upsides and downsides. For the latter, famous individuals have to deal with their business being broadcast, hence depriving them of a certain level of privacy. On the other hand, being a celebrity comes with having so many fans, who are supportive and encouraging. Some of these fans go as far as keeping up with their favorite stars' day to day activities.
To repay these supporters for their love and consistency, some celebrities surprise the fans with visits, gifts, etc. Recently, American singer and rapper Lizzo, joined the list of such celebrities after she gifted a TikToker the designer dress she wore to one of her biggest events.
Here are the details of what happened.
Article continues below advertisement
TikTok User Addresses Lizzo In A Video
In October 2022, TikTok user Aurielle Marie took to the app to reveal that she landed a spot on Out Magazine's Out 100 List, which honors change makers in the LGBTQIA+ community. However, since getting the big news, the author explained to her followers that it had been difficult to find a look for the upcoming Out 100 gala that was "big b***h and red carpet ready."
As a result, Aurielle decided to address Lizzo, who knew the feeling of being plus-sized like her. In the clip, she revealed:
I know you know how it feels to be the biggest b***h in the room and all the scrutiny and hyper-visibility that comes with that because I've watched you talk about it. But the longer I go without something to wear, the less I want to be there.
-
Aurielle Requests For Lizzo's Dress
After addressing Lizzo and trying to make the singer understand her plight, Aurielle made a request. She asked the three-time Grammy Award winner for the Giambattisa Valli Haute Couture Gown she wore on the red carpet during the 2022 Emmy Award night. In her words:
So I said, let me make a little TikTok because you never know what can happen. Can I please, please, please, wear your dress from the 2022 Emmys, please, which is my favorite?!
-
Article continues below advertisement
Lizzo Grants Aurielle's Request
On November 15, Aurielle took to TikTok with a follow-up video revealing that Lizzo sent her a beautiful dress. However, rather than gift Aurielle the designer dress she wore to the Emmys, Lizzo gave the TikToker the very Dauxilly dress she wore on stage while performing at the 2019 AMAs.
In the clip, the author couldn't contain her joy, as she jumped around in the pink designer gown, which was a perfect fit, before bursting into tears. The video was accompanied by a caption which partly read:
Words don't suffice, and thank you isn't enough. But THANK YOU! I'm speechless.
-
Fans' Reactions To Aurielle's Gift
Since sharing the update, Aurielle's video has gone viral with over a million views and 200,000 likes. Thousands of netizens have marched to the comments section to share in her joy. One TikTok user noted that Lizzo was amazingly kind, adding that Aurielle was gorgeous. Another user wrote:
"Wow! You wanted something and you went for it. what an inspiration 👏🏾."
Overall, it's been an amazing experience for Aurielle and a dream come true.