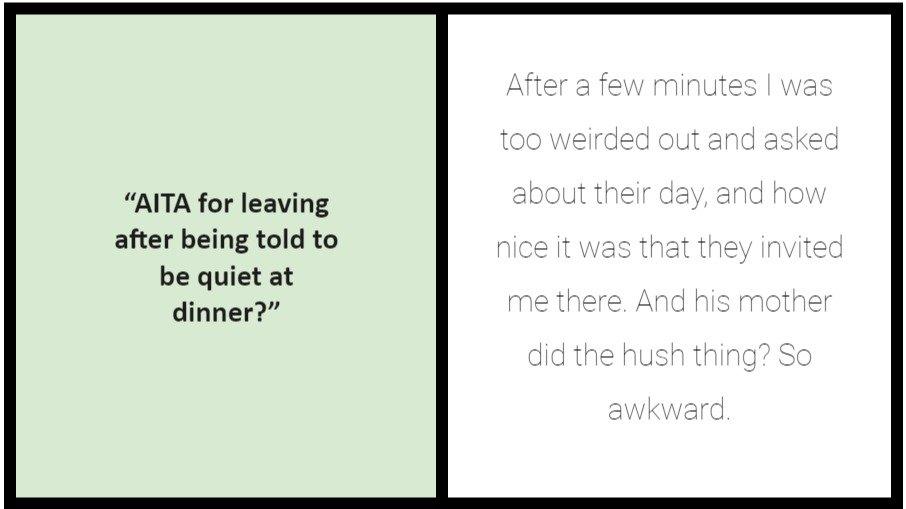 Redditor Is Taken Aback When Boyfriend's Parents Ask Her To Be Completely Quiet At Dinner
Dinner guests are expected to follow a certain table etiquette to pay respect to their hosts, but, when the host's rules aren't clear or are just downright strange, are you still expected to go along with everyone else?
A 21-year-old female, who is known as Euphoric_Rabbit7706, shared her odd dinner experience with her boyfriend's family on Reddit. According to her, she was shushed at the dinner table after making small talk because the family doesn't talk at all while dining - a family tradition that she knew nothing about.
Feeling disrespected, she ended up leaving and just staying at a hotel. Now, she is asking the community if it was wrong for her to take off:
"AITA for leaving after being told to be quiet at dinner?"
Article continues below advertisement
She Gets Invited To Dinner By Boyfriend's Conservative Family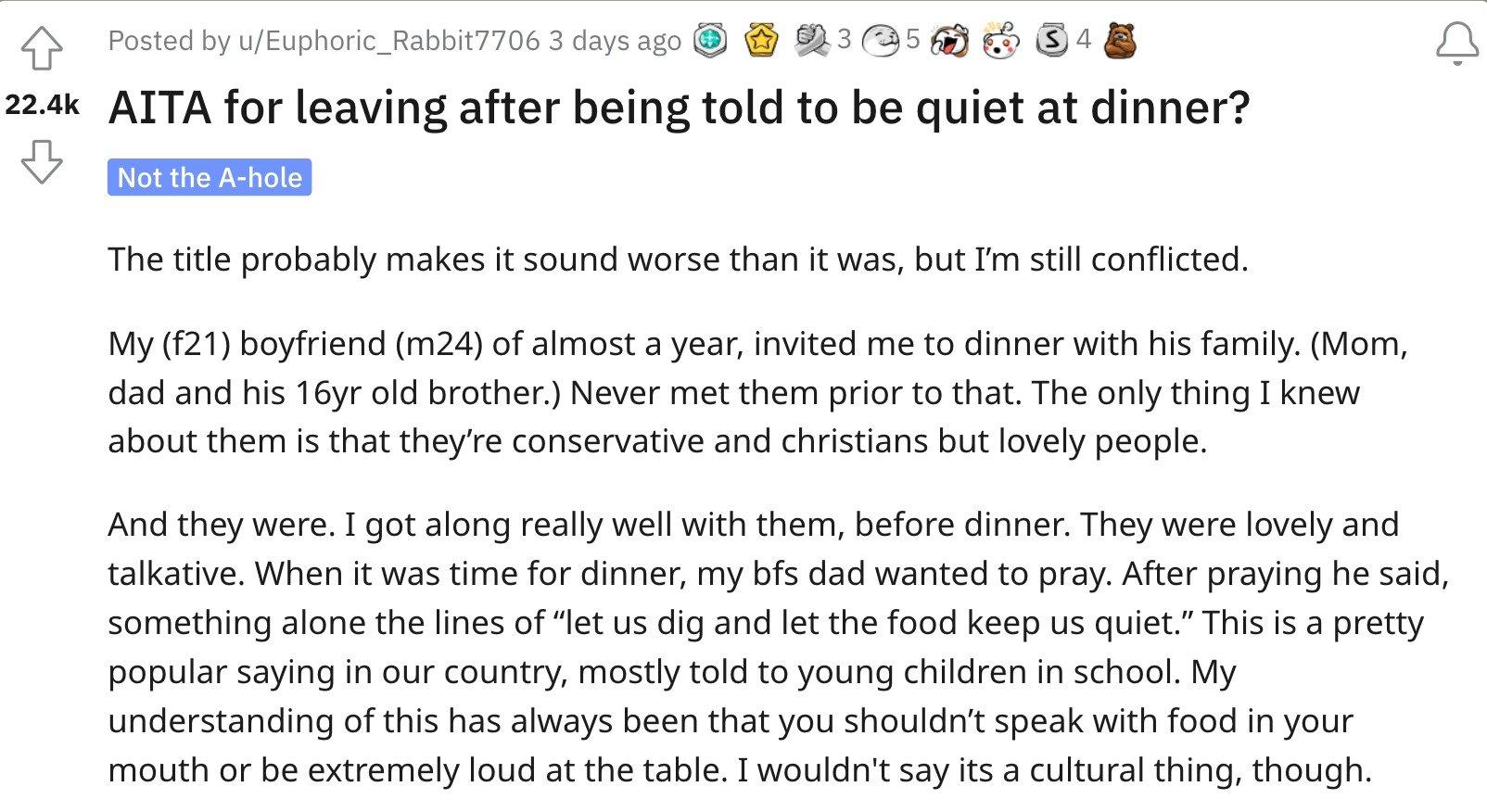 The Parents Shushed Her For Making Small Talk While Dining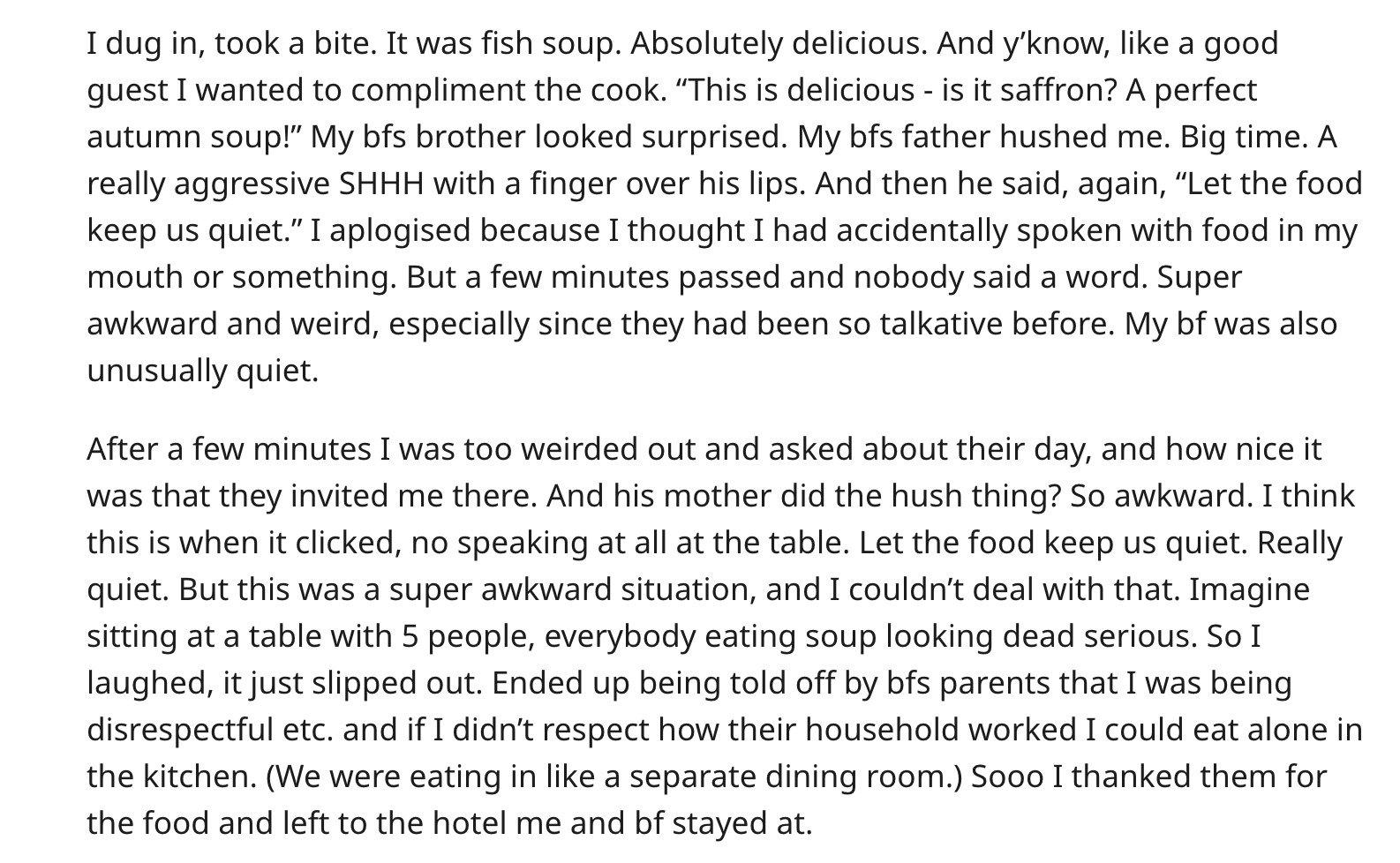 Article continues below advertisement
Her Boyfriend Got Mad That She Left And Broke Their Family Rule

Table Manners Are Important
It is pretty common for families to have their own specific dining traditions and rules in their households. These may be influenced by their culture and religion. Following the host's rules when you are a guest in their home is a sign of respect, but, hosts also have a responsibility to make their guests feel welcome.
Etiquette expert Lizzie Post shared some of the most important dining etiquette tips with HuffPost:
"The most important purpose of etiquette is really to make the people you're with feel comfortable and at ease." According to Post, chewing with the mouth closed is a fundamental rule when eating anywhere. "We want them to enjoy our company and our conversation, and when we're seeing masticated food, that's not going to happen."
While chewing with the mouth closed is a general rule, this wasn't really the case for the Redditor's dining experience, where talking was absolutely not allowed. In one of her comment replies, she explained that she was from Sweden, where it was customary for them to say "let us dig and let the food keep us quiet." However, she wasn't forewarned by her boyfriend that his family took this saying to heart, leaving her completely clueless about what to expect. She also said that most Swedish people take this saying to mean "don't talk with your mouth full."
People in the subreddit took to the comment section to discuss. Many agree that the original poster wasn't at fault in this case, as the family's "no talking" rule was totally unusual.
Article continues below advertisement
This Commenter Said That It Should've Been Explained Calmly So She Would Understand

Swedish Redditors Confirm That This Wasn't A Cultural Thing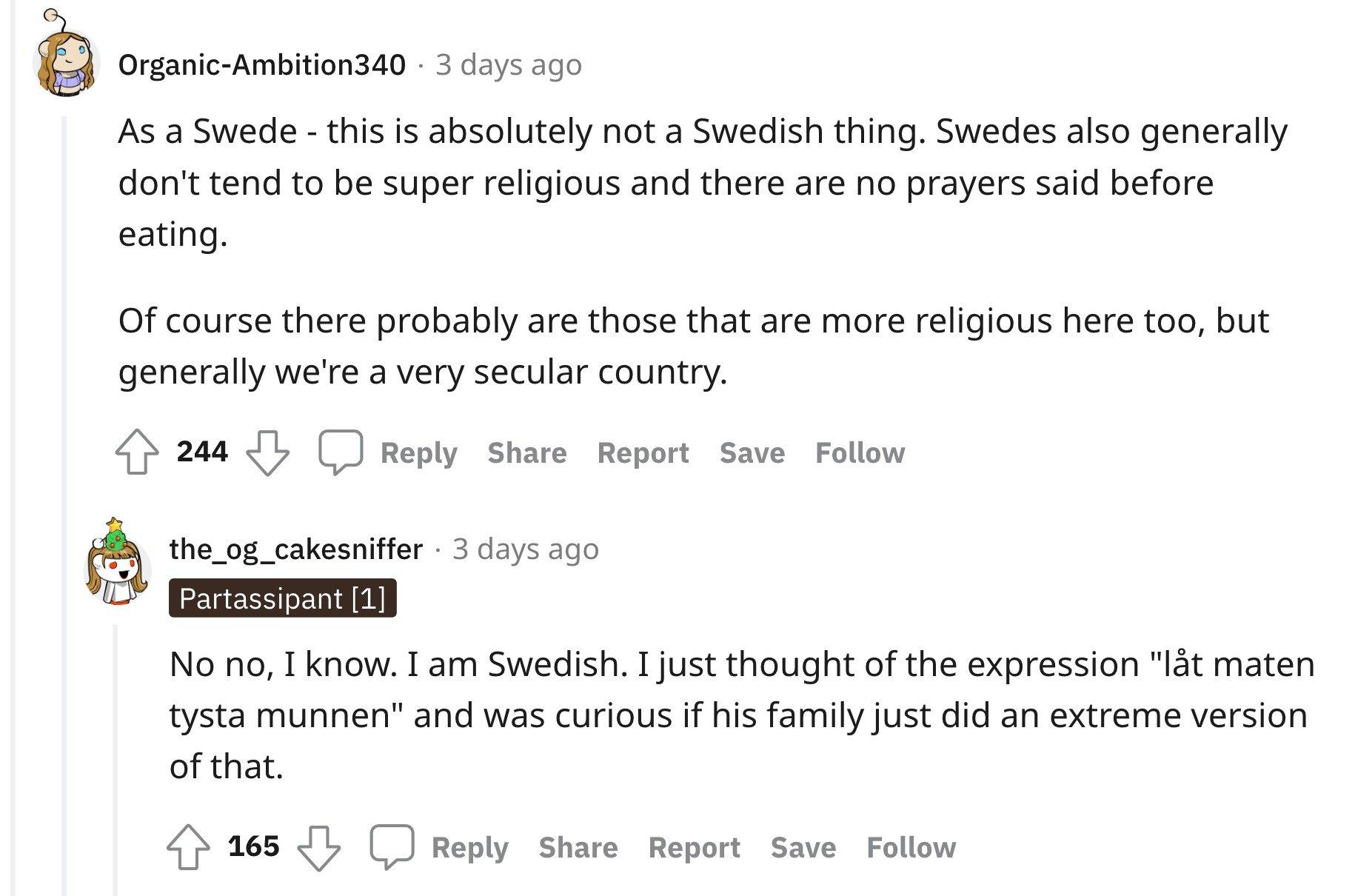 Many Pointed Out That It Wasn't Just Weird, It Was Also Controlling