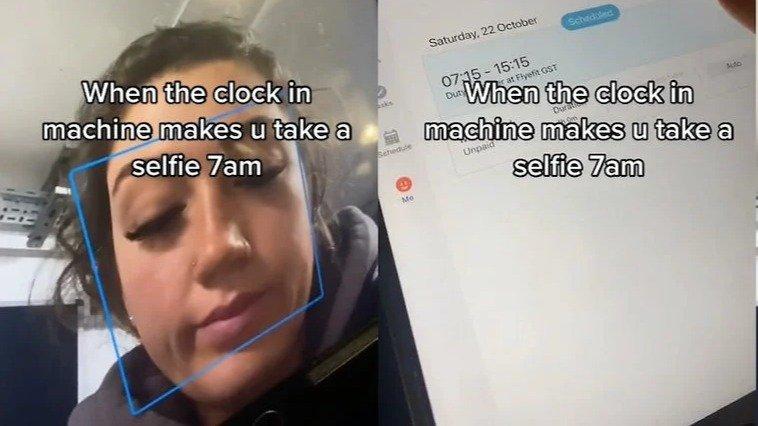 Employee Is Shocked She Has To Take A Selfie To Clock In
The present world is filled with different fields of study, companies, and industries. As the diversity of industries keeps increasing, so is the work ethic.
A TikTok user got many people talking after posting a video about how she clocks in at 7 am at the company where she works. Here is the detail about the rules and regulations which sparked debate.
Article continues below advertisement
How A TikToker Shared Her Clock-in Method At Work
According to a TikTok user named Gemma Dixon, she has to take a selfie when clocking in at 7 am at her workplace. She shared how she started her shift in a video posted on October 23.
In the video, which captured many viewers' attention, Dixon clicked on a start shift button that directed her to a camera screen where she was required to take a selfie. The TikTok user then smiled slightly as she posed for the photo.
The overlay text in the video read:
When the clock in the machine makes you take a selfie [at] 7 am.
-
Some Viewers' Suggestions
Dixon's work ethics clip has gone viral, with over 3.5 million views. As the video continued to trend, other TikTokers took to the comments to share their opinions.
Some users who claimed to recognize the Deputy system said it is an Australian-based time clock with facial recognition services. Many others joked about the clock-in concept.
Article continues below advertisement
People's Comments On The Situation
There have been countless opinions from people since Dixon's video went viral. As the comments kept rolling in, a user joked about being a manager and seeing the deputy clock in/out pictures at the end of the week.
Another user pointed out: "Damn it's like a work BeReal." BeReal is a French app that takes selfies and photos simultaneously at random times each day.
Some People Disagreed With The System
While some users found the sign-in system funny, others bashed the setup. One commenter joked about raising the middle finger at the camera every day. Another person believed the best thing to do was to quit.
As others condemned the system, a third person simply did not understand the need for facial recognition in a company. Facial recognition devices are designed to identify or confirm an individual's identity using their face. These systems can be used to identify people through photos, videos, or in real-time.
It is a model of biometric security. Other forms of biometric software include voice recognition, fingerprint recognition, and eye retina or iris recognition. The technology is mostly used for security, and many companies and industries have adopted the system over time.