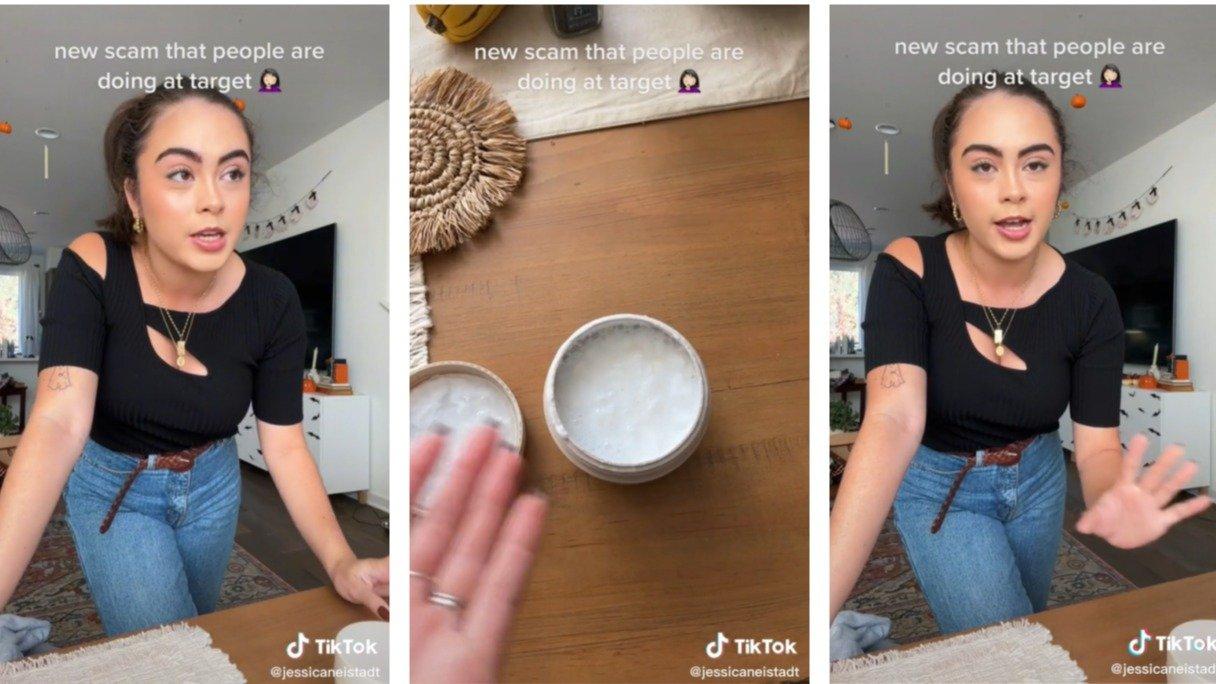 Customer Exposes Shocking Product Scam At Target
Target is one of the most popular shopping destinations in the country. As a one-stop shop for everything from home goods to groceries, it's not surprising why the retail store climbed up to being the 7th largest retailer in the world.
But, while the store is considered a shopper's haven, it is far from perfect. One shopper shared her unfortunate experience of discovering a "scam" in her Target branch. Jessica (@jessicaneistadt) posted the story on TikTok, warning other shoppers to be more aware of the products they pick up in the store.
According to Jessica, the hair mask she bought was tampered with. "If you guys have ever tried a hair mask, you know it's a cream product," she detailed in the clip. "Tell me why I pulled this up and it sloshed."
Scroll down for more of her story.
Article continues below advertisement
TikToker Discovers Hair Mask She Bought At Target Has Been Tampered With
"So, I just got finessed by someone's Target scam and I wanna tell you guys about it so you do not fall for the same scam. Because this is the second time that something like this happened and it's so dumb..." Jessica starts off in the viral TikTok.
She says she was excited to try out the OAUI hair mask she bought from the store but was shocked at what she found out. Before even opening the product, it already felt weird because she could hear a "sloshing" sound when she picked it up. Upon further inspection, she realized that the hair mask had been tampered with.
"Someone scooped out all the product and mixed it with water so it would FEEL like it was still in there but it wasn't. It was water. They scooped out the product to take the good product and replaced it with water."
She pointed the camera at the open container and showed a mushy, watery hair mask that was obviously watered down.
She Posted An Update Saying She Found Another Scam Product
After some time, Jessica posted an update about her story. She took the product back to customer service and asked for a replacement. While she was getting her replacement, she made sure to double-check the products. But she was flabbergasted to find another one that was watered down with shampoo.
The customer service lady was equally dumbfounded and said she had no idea this scam was happening in their store. Jessica was assured that they would make changes to better secure the products.
Article continues below advertisement
TikTokers React To Her Story
People took to the comment section to share their reactions. Many were shocked to hear that this was happening in several other stores.
"I had this happen with conditioner at Walmart a while back. Luckily they took it back. But now I always check before buying. I wish it was all sealed," someone shared.
"I had a similar thing happen with an expensive cream from target. they used it all up and returned it. I bought it without knowing," another one said.
Even Target Employees Chimed In On The Discussion
"As an ex guest service employee at target I can 100% confirm ppl do this but my store always said it's policy to never put beauty products back on….," one ex-employee said.
"I used to work in customer service and i knew stuff like this was going to happen the second they installed the new ultas. Shoplifting is very common."