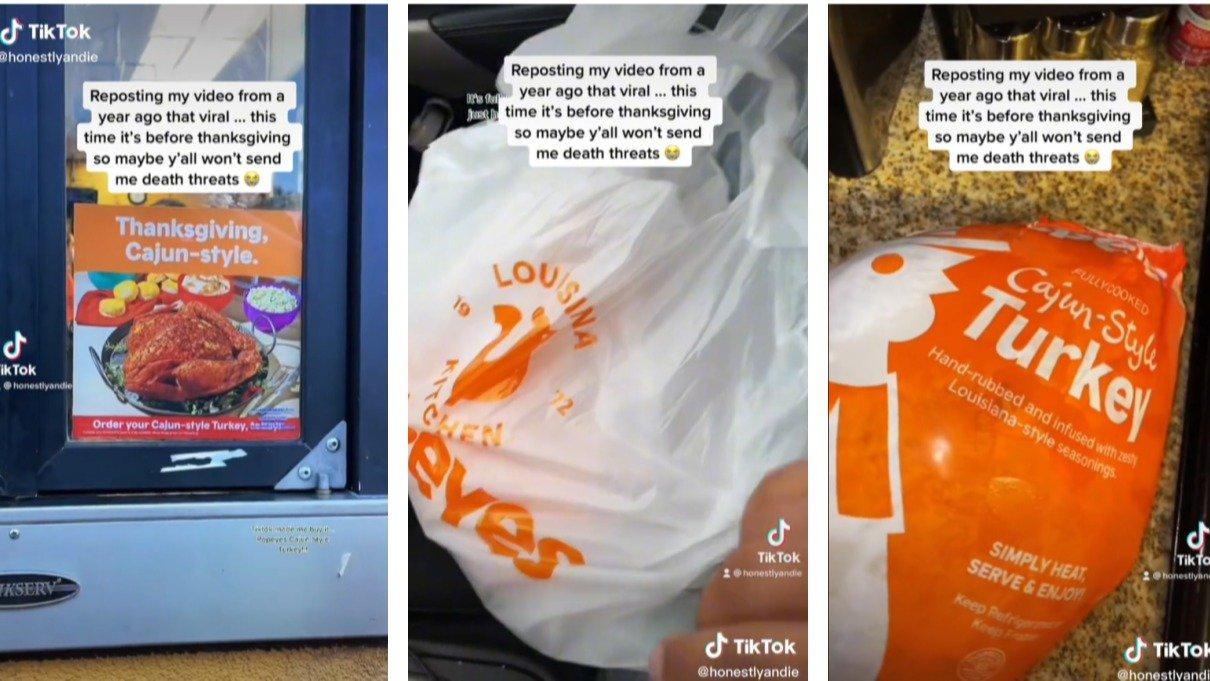 Popeyes Criticized Over Price Hike Of Cajun-Style Turkey Before Thanksgiving
Thanksgiving tables will be more expensive this year than it was last year, so people may have to skip buying a turkey from certain places. A TikTok user recently reminded people to start making early preparations for Thanksgiving by purchasing Popeyes' Cajun-style turkey. Unfortunately, nobody seems interested, considering the exorbitant price hike this year.
Keep scrolling for more information on the price hike on Popeyes' turkey and much more.
Article continues below advertisement
TikTok User Reminds People To Purchase Turkey For Thanksgiving
TikTok user Andie (@honestlyandie) purchased Popeyes' Cajun-Style turkey last year. She thought reposting the video of her making her purchase last year would encourage viewers to begin preparations for Thanksgiving. However, with the price hike this year, most people will not be adding Popeyes' Cajun-style turkey to their shopping list.
A Hike On Popeyes Cajun-Style Turkey
According to USA Today, Popeyes' turkey prices have reportedly increased. Cajun-Style Turkey was available to customers last year for a starting price of $39.99. However, this year, the price starts at $49.99. The good thing about this turkey is that customers only need to defrost and heat it to enjoy it because it has already been prepared. In addition to the price increase, Popeyes also reported that its Cajun-Style Turkey is currently unavailable online. However, it pointed out that customers may still place a pickup order for the turkey at their local Popeyes location. According to Axios, customers who still insist on ordering the turkey online would spend $94.99 plus tax.
Article continues below advertisement
Viewers Reactions
With this information about the price hike, viewers reacted differently to Andie's Tik Tok video.
"It's like $100 this year!! I'll pass," one viewer said.
"For that price it [better] cook itself [and] make all the sides," another commenter added.
"The price is way higher this year," commented another viewer.
While many viewers raved about the increase in price, they also admitted that they like turkey. Others added that they would only buy one this year because of the hike in price.
Reason For Price Hike
Customers may be critical of Popeyes for raising the price of its Cajun-Style Turkey, but it is not really their fault. According to reports from the American Farm Bureau Federation, turkey prices were to increase before Thanksgiving. According to the report, the price hike is due to inflation and bird flu. When compared to 2020, the average price for a 16-pound turkey jumped by 14% to $23.99, or nearly $1.50 per pound, according to statistics from the previous year.
Veronica Nigh, a senior economist with the American Farm Bureau Federation, offered her opinion on the cause of the price increase. She stated during an appearance on Good Morning America that bird flu and inflation are especially difficult for the production of turkeys because it takes a very long time for a turkey to reach its market weight of roughly 30 pounds.