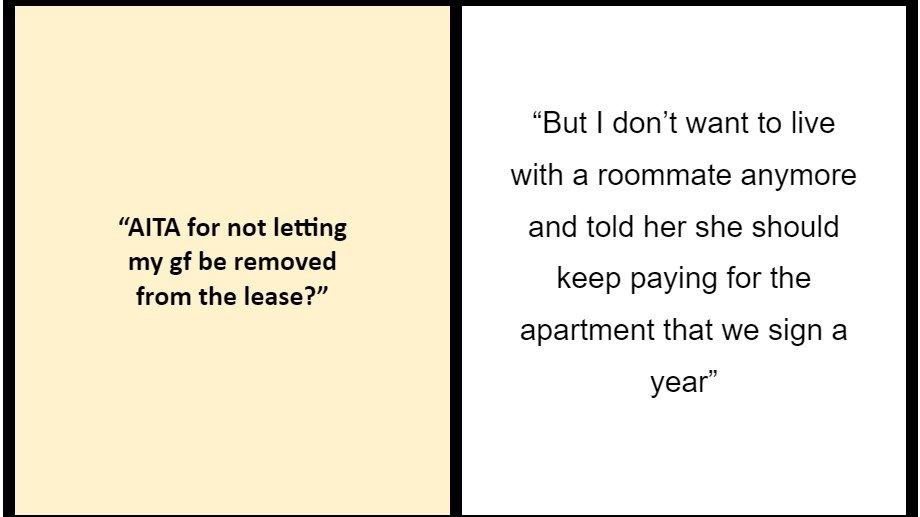 Boyfriend Gets Slammed By Redditors For Refusing To Take Girlfriend Off The Lease
Reddit's sub-thread Am I The A-hole is one of the most popular communities on the platform, and it's notable for posing thought-provoking philosophical questions with its members' everyday problems.
From questions of proper behavior in marriage to relationship drama and work issues, AITA keeps Redditors engaged. The latest debate is relationship-based, with a boyfriend asking if his behavior toward his girlfriend.
The problem comes from walking the line between selfishness and self-preservation. It's a question: "When is it wrong to keep someone on a lease despite them moving out?" Keep reading for more insight.
Article continues below advertisement
Legal Vs. Emotional Decisions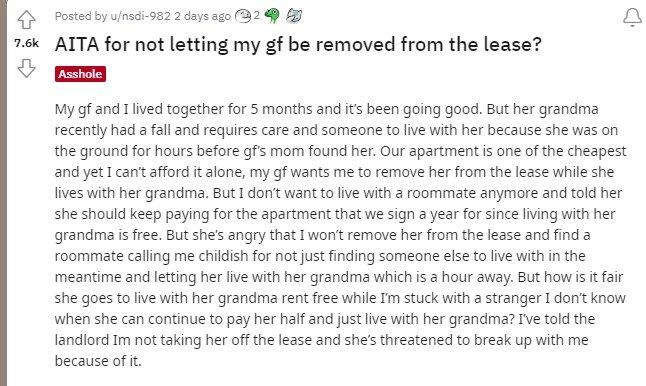 OP Admits To Being An A-Hole

Article continues below advertisement
The Gist Of The Matter
Original Poster (OP) and his girlfriend signed a one-year lease and moved in together after five months of dating. Unexpectedly, her grandmother had a nasty fall and required a live-in caregiver, so the girlfriend stepped up.
OP claims he can't afford to pay the lease on the apartment despite being cheap, so he insists on the girlfriend paying her half of the fee. Now here's the tricky part, the girlfriend isn't living with him anymore, so she wants out of the lease.
The Redditor also thinks (ignorantly) that living with her grandma would be rent-free, so she doesn't have "heavy responsibilities." He'd rather she pay half the lease than live with a stranger. He, however, insists she made a commitment and must see it through.
The Verdict Is In - OP Is A Jerk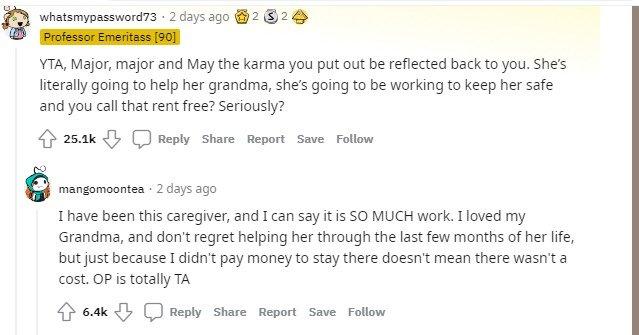 Article continues below advertisement
OP Has A Point From A Logical Point Of View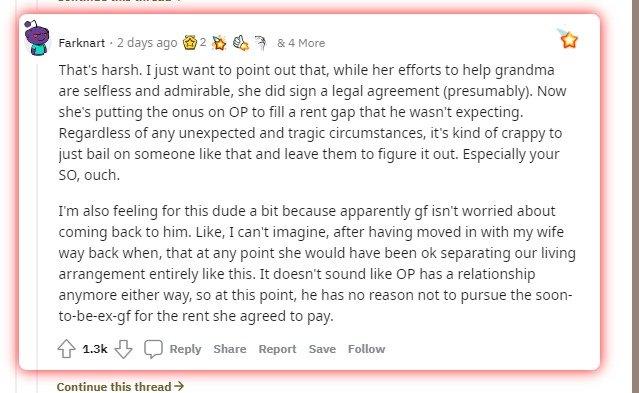 Being A Caregiver Is Not Lightwork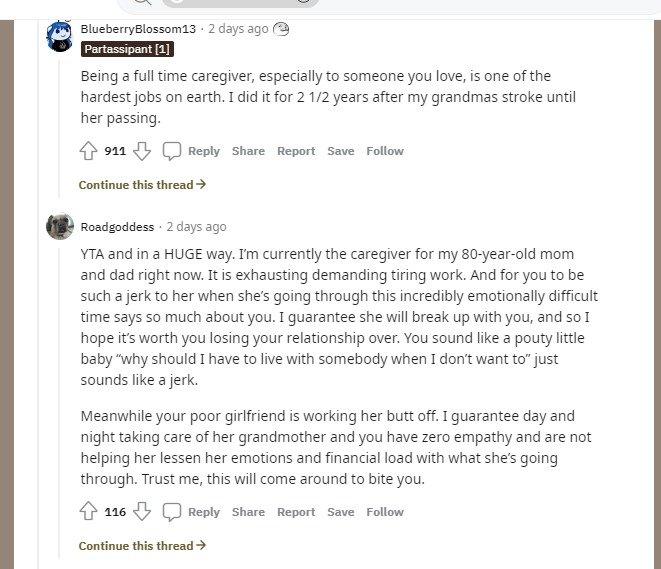 A Candid Opinion On Their Situation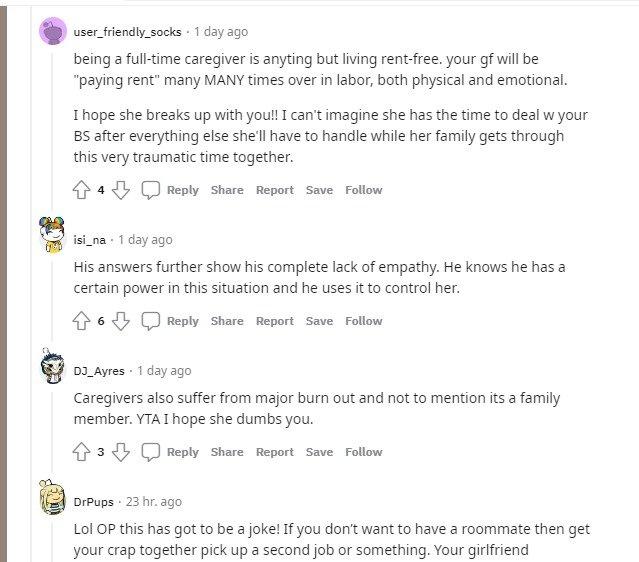 It's safe to say the comments ripped him to shreds as other Redditors highlighted his lack of empathy for his girlfriend. Here's a candid opinion on this situation.
While many couples marry within days and weeks of meeting each other, leading to long-lasting unions, they're only a minority. This couple moved in together after five months of dating, and that's why a drastic change such as this has thrown them for a loop.
Even though the OP claims the girlfriend threatened to break up with him if he insisted on keeping her on the lease, it's clear she mentally checked out of that situation and can see the bold red flag!
As several commenters said, the labor investment and financial contribution towards her granny's recovery would be more expensive than her half of the cheap lease. It should've been a no-brainer for the Redditor to accommodate her situation, but they don't know each other well enough or care for each other as much as madly in-love couples should.
For the lady, this is the best time to run for the hills; for the man, he should cut his losses and move on. If he wants to maintain a relationship with the girlfriend, however, he needs to start by apologizing and taking her off the lease as she requested.
Then understand her relationship with her granny and lend a helping hand when necessary. She needs support right now, not more antagonism.