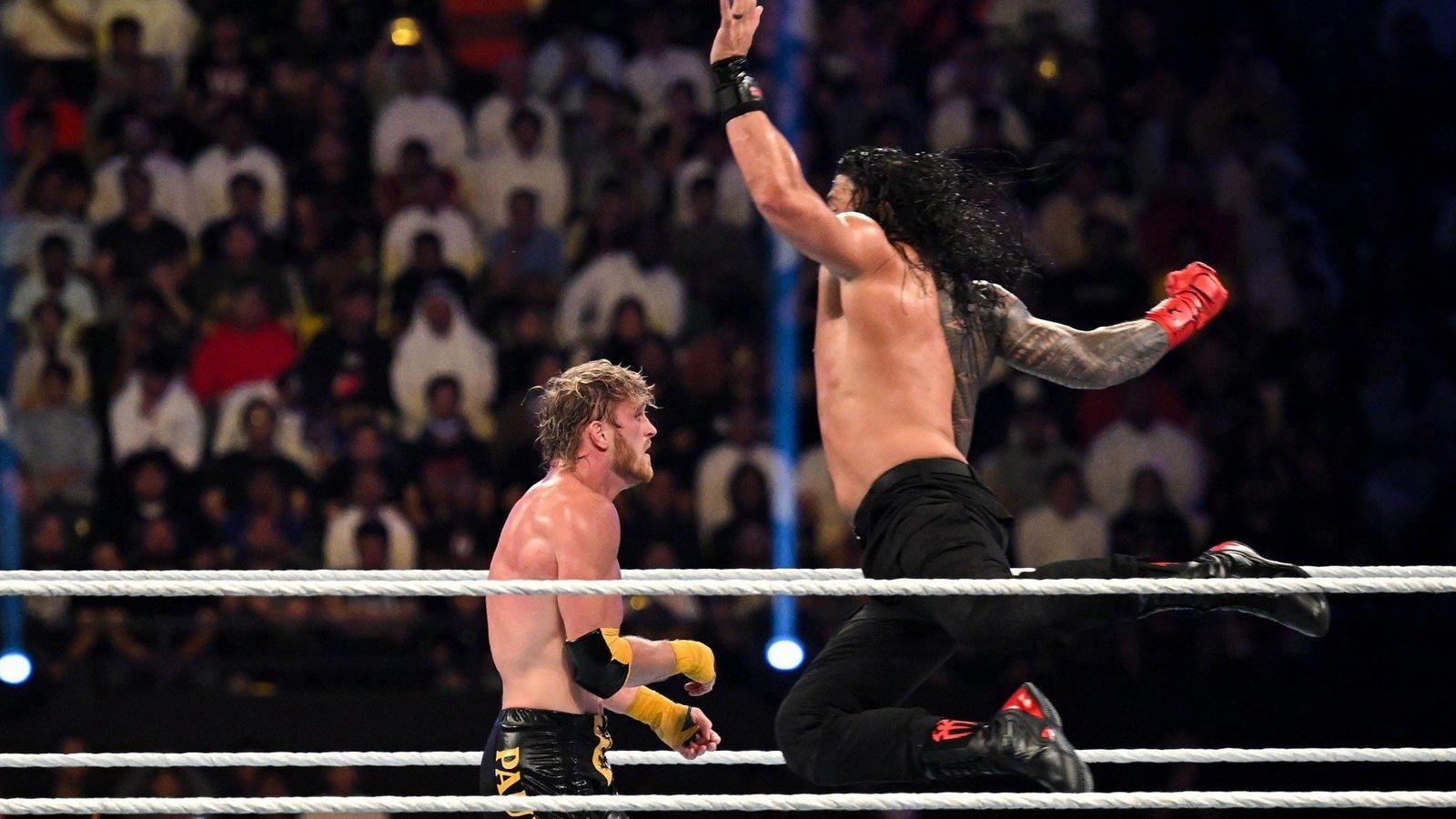 How The Rivalry Between WWE's Roman Reigns And Logan Paul Started
Roman Reigns and Logan Paul are two of the most spoken about WWE Superstars at the moment. They went into battle over the WWE Undisputed Championship at Crown Jewel 2022.
The world watched as the two Superstars tried to bury the other with Superman Punches, Splashes, and Spears.
However, do you know how this rivalry started? Let's take a look at how Roman Reigns and Logan Paul wound up in the same ring.
Article continues below advertisement
Logan Paul Called Out Roman Reigns
Back on September 13th, 2022, Reigns appeared on Paul's podcast - IMPAULSIVE. After Reigns left, Paul and others discussed the idea of him going after the Undisputed title.
On the following SmackDown on September 16th, 2022, Paul revealed he set up a press conference at Las Vegas, Nevada, and invited Reigns to show up and face him.
Roman Reigns Promised To Smash Logan Paul At Crown Jewel
The Tribal Chief was present at the press conference, and so was Triple H. After HHH made the match official between Reigns and Paul for the Undisputed Universal Championship, Reigns took to the mic to reveal that if Paul goes through with this, he would get smashed.
Additionally, he revealed that Crown Jewel is where Roman Reigns would show everyone what God-mode truly is like.
On the other hand, Logan Paul turned his alpha-mode on and revealed that Crown Jewel would be his match and The Tribal Chief will acknowledge him.
Article continues below advertisement
Logan Paul Tried To Cause Problems With The Blood Line
It's a given that The Usos would interfere in a match where Roman Reigns is involved. Paul's best option was to take The Usos away from the match by drawing a comparison between Jey Uso and Roman Reigns.
On October 7th, 2022, he referred to Jey Uso as The Tribal Chief, which irked the cousins. An agitated Jey Uso came down with all his wrath on Paul but composed himself when Roman Reigns turned his cold gaze towards him.
Logan Paul Displayed The Effect Of 'One Lucky Shot'
From the beginning, Paul had claimed that he just needed that one lucky shot to dethrone The Tribal Chief. On October 21st, 2022, when Jey Uso ambushed him in the ring, Paul threw a punch and knocked him out.
The fact that Logan Paul knocked out Jey Uso with one punch urged Paul Heyman to do some research. On October 28th, Heyman informed Reigns that Paul has steel inserted in his hands which helps him with the knockout punch.
However, The Tribal Chief was done being silent and listening to everyone talk about Logan Paul. When he arrived on WWE Raw on October 31st, 2022, he showed everyone what he can do and knocked out The Miz with a Superman Punch!
The Aftermath Of Logan Paul's Challenge
At Crown Jewel 2022, Logan Paul put up a great fight. He almost pinned Reigns more than twice, but that was not enough to keep him down.
While he punched Roman Reigns, none of them were his lucky shot!
Considering Reigns defeated Paul and is still the WWE Undisputed Champion, it does not seem he will go easy on Logan Paul at all!