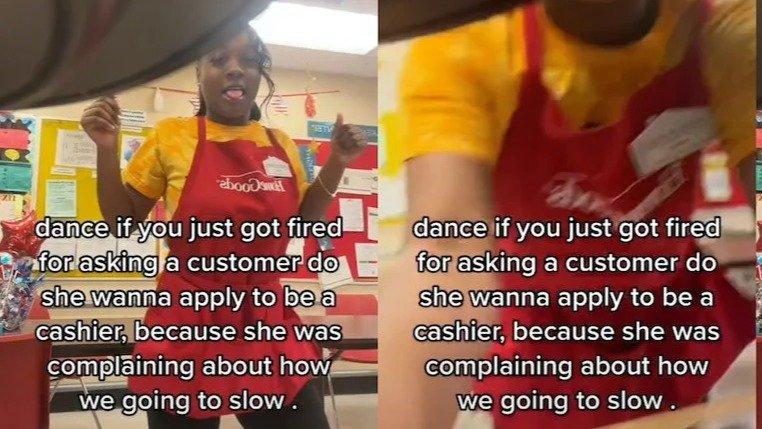 A HomeGoods Employee Loses Her Job After Responding To A Rude Customer
Most people who have worked in some aspect of customer service have, at some point, encountered a rude customer. While some customers may lose patience with the employee, others may get frustrated with situational inconveniences. Whatever the case, it can be incredibly stressful for employees to deal with rude behavior from customers.
As a result, some employees don't always comply with the customers' rudeness. Unfortunately, due to the saying that "a customer is always right," these employees sometimes are punished for their retaliatory actions. This was the case for a certain HomeGoods employee, who responded to a rude customer and eventually got fired. Here are the details.
Article continues below advertisement
The Reply That Got The Employee Sacked
Recently a HomeGoods cashier took to TikTok to share her ordeal after replying to a customer. In the short clip, the user @riyeaauniquee2.1 was clad in her work clothes and seemingly looked unbothered while moving her body to a fast beat. Alongside the dance video, the netizen shared a text overlay that read:
"Dance if you just got fired for asking a customer do she wanna apply to be a cashier, because she was complaining about how we going [too] slow."
After @riyeaauniquee2.1 shared the clip, it went viral. Currently, the video has amassed over 1.1 million views and 200,000 likes. In addition, almost 1,000 netizens have trooped to the comments area to air their thoughts.
TikTokers Offer Support
Following her post, the TikTok user got tons of support from viewers, as many revealed they could relate to how she felt and have, at some point, told off a rude customer. According to one netizen:
"Even before having a customer service job, I knew not to be rude to workers. Why is that a hard concept for some people."
Another respondent shared the first user's sentiments, noting that there was no reason to fire @riyeaauniquee2.1 for her comments. According to the TikToker, the poster's response was valid, as many organizations cannot be fully staffed.
A third user noted: "Everyone still is recovering from the pandemic and short staffed still and people still being mean."
Article continues below advertisement
Employee Receives Criticism
While most netizens backed @riyeaauniquee2.1 and condemned HomeGoods's actions, some users felt the poster deserved what she got. One TikToker asked the poster to do her job, adding that if people like her worked as hard as they complained, they would not get called out.
A second respondent wrote: "Clearly you put the 'cuss' in customer service. Funny you got fired for [being] rude to the very people that allow you get paid… PFT BYE."
Life After Getting Fired
Besides offering support to the poster, many netizens genuinely wondered if she would get another job. Thankfully, in the comments section, @riyeaauniquee2.1 revealed she got another job that week. Also, from her most recent TikTok update, she appears to be doing okay.