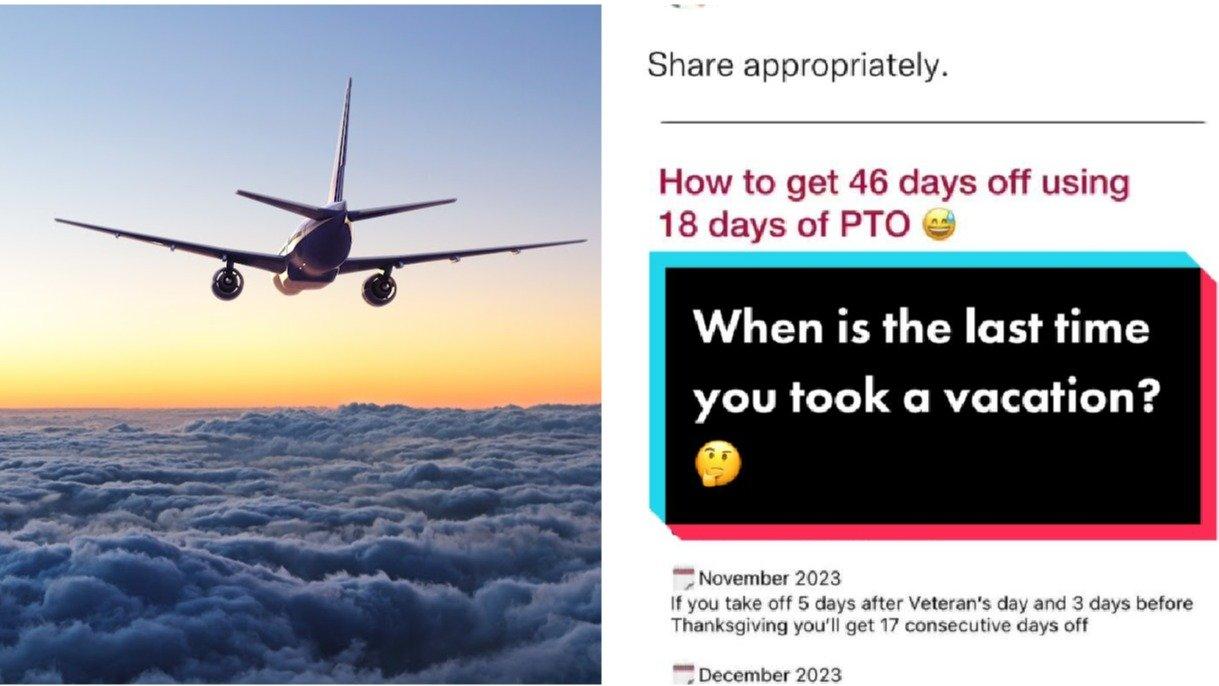 TikTok Hack Allows Corporate Workers To Get 46 Days Off Using 18 Days Of PTO
Working hard is good for business, but people are starting to work smarter, and things are just getting better with this new TikTok hack that is going around. Because it provides a hack that all employees will want to utilize, a Tiktok with 9 million views is still trending.
A Tiktoker shared a meme titled "How to get 46 days off using 18 days of PTO."
Keep reading to find out more.
Article continues below advertisement
Corporate Life Hack
Meeting deadlines and working around the clock can be exhausting. This tiredness will be very recognizable to everyone who has a job. These people are aware of the value of vacation days, and in the twenty-first century, obtaining a sufficient number of paid days off can be a difficult problem. Fortunately, @fandomfanboi chooses to save the day with this hack. He displays a tweet from @afashola_, a Twitter user who published the meme from @mba ish's Instagram profile. Although the genesis of the meme is unknown, it was already popular on Facebook before @mba ish posted it.
The real meme is a calendar of annual occasions where employees can intentionally use PTO to maximize the number of consecutive days off. This entails, among other things, taking a 10-day holiday during the four days off before Good Friday and another 10-day vacation during the four days out between Christmas and New Year's.
Mixed Reactions In The Comments
The users' appreciation and satisfaction with the hack were evident in the comments sections. Some people closed their comments with a simple "Thank you" since they were so overcome with emotion and speechlessness.
Because most Americans have yet to receive 18 days of PTO, numerous people claimed that this advice wouldn't necessarily apply to their company. Some employees receive a maximum of 10 to 14 days of paid time off, while others receive none at all.
Article continues below advertisement
Do Employees Enjoy Holidays?
A 2022 infographic by Namely indicates that individuals typically take their longest holidays in summer. But at the most delightful season of the year – the holidays – employees request time off the most, with December being by far the most popular month. Given that so many people have diverse views on how to spend their limited free time, the subject gave rise to a contentious discussion among TikTokers.
The Next Big Thing!
With TikTok's evolving dynamics, an increasing number of young people are utilizing it as a search engine to get answers to inquiries, instructions on how to perform tasks, and suggestions for restaurants, recipes, movies, books, and other things.