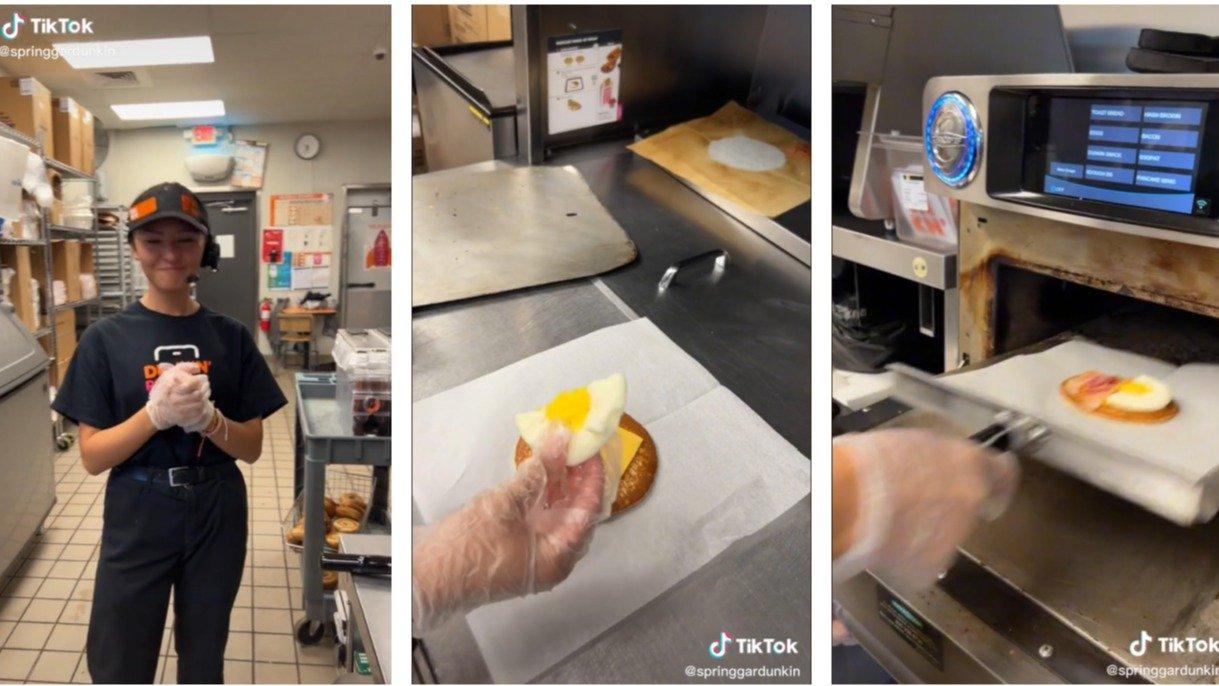 Dunkin' Donut Worker Sends Customers Into A Frenzy After Showing The Pancake Wake-Up Wrap
TikTok user @Springgardunkin shared a new viral breakfast combo sold at Dunkin' Donuts, Florida, this November. They say breakfast is the day's most important meal, so it's no surprise to see these fast food chains revamping their menu to keep customers interested.
According to comments on the now-viral post, the Pancake Wake-Up Wrap combo is yummy and has become a customer favorite. Never mind that it looks small and can barely fill the tummy - the taste makes up for it.
Article continues below advertisement
The New Pancake Wake-Up Wrap
The Pancake Wake-Up Wrap combo consists of a single pancake, half sunny side up fried egg, an American cheese slice, and two bacon strips. The attendant places the cheese slice on the pancake, then adds the egg and bacon strip before placing the combo into an oven for a few minutes.
Then, he removes the heated combo and wraps the pancake over the filling before serving it in a paper bag.
It's A Commercial Hit
The comment section is buzzing with reviews from customers who took his advice and other Dunkin Donuts employees asking for tips on making famous menus. One commenter called the combo "majestic," although another was skeptical about the bacon looking uncooked.
Many users requested a syrup serving alongside the Pancake Wake-Up Wrap, saying, "Syrup," "Serve it with Syrup," and other variations. Someone suggested trying the meal with sausages as it elevates the combo, while others pointed out that the pancake looked like a fried chicken.
One user asked if the pancakes were the same recipe as the Pancake Mini's own "because those were absolutely terrible."
Article continues below advertisement
Competing With The McGriddles
This Pancake Wake-Up Wrap combo may overtake McDonald's McGriddles in popularity if the flavors "slap" as they claim. However, there's much to be said about its size, which alone gives the McGriddles an edge over it.
The McGriddles came in 2003 and have been one of the fastest and bestselling breakfast meals in McDonald's. It's a pancake sandwich with bacon, eggs, cheese, and sometimes beef patties fillings.
New Festive Menu
At least this Pancake Wake-Up Wrap combo is taking the heat off Dunkin' Donuts for messing up customers' orders, especially with mobile drinks and signature seasonal donuts. There's more where that came from as the company introduced new combos for the festive season, including Cookie Butter Cold Brew and Cookie Butter Donut.
The Pancake Wake-Up Wrap is the third in the trio of new recipes set to redeem its image.