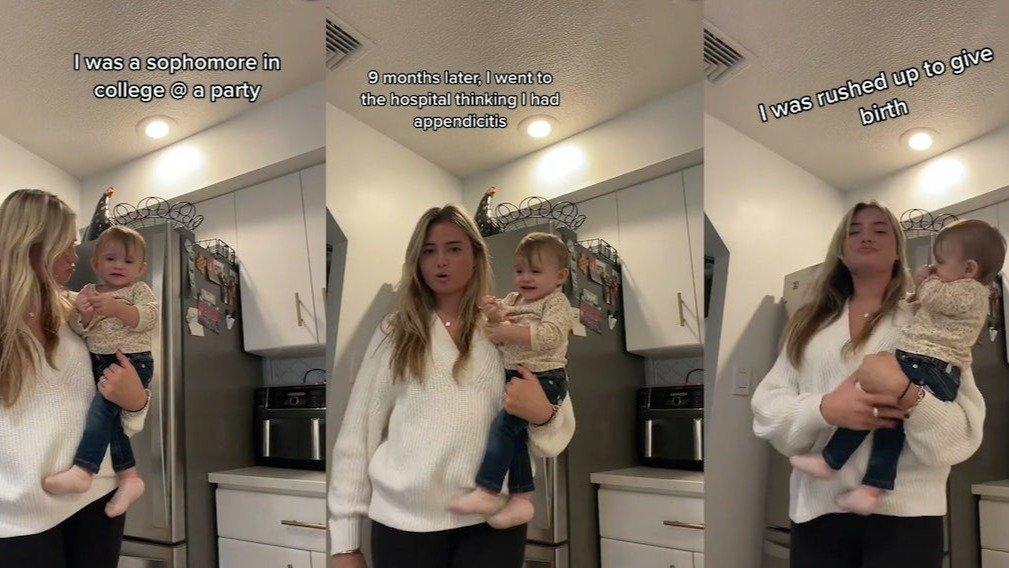 'New Fear Unlocked!' TikTokers React To Woman Who Didn't Know She Was Pregnant Until She Was Giving Birth
Think about being nine months pregnant and not knowing anything until the baby is born. Frightening, yes! People are opening up more often to share their experiences, and Tiktoker Simpson has done the same in a now-viral video.
In a video she released last week on TikTok, Kayla Simpson (@kaylanicolesimpson) described how, nine months after attending a college party as a sophomore, she rushed to the ER believing she had appendicitis. She was discovered to be expecting via ultrasound, and 15 minutes later, she gave birth to a baby girl. More than 16 million people have viewed TikTok.
Article continues below advertisement
Unexpected Delivery
The story has received over 16.5 million views, and people are horrified by it. According to Simpson, Madi Simpson was delivered 15 minutes later. 2 days later, she returned home with her closest friend and a baby who was in wonderful health, as suggested in her comments.
Two days later, she returned home with her closest friend and a baby who was in wonderful health, as suggested in her comments. Simpson started using the hashtag #fratbaby in posts about having a surprise baby in November and about a storytime. Her devoted fans were now slightly better informed, but that didn't make the new TikTok any less terrifying.
Tiktok Reactions
The post has gathered over seven thousand comments and twenty-five thousand shares so far; most of the comments have been people's shocking reactions to Simpson's story, one said;
I seriously cannot comprehend how this happens to people. I knew I was pregnant at 3 weeks lol,
-
while another comment read;
"Stories like this is why i feel like i need to take a pregnancy test every month lmao," said one commenter. Others came at it from a different POV: "All these people saying this is their worst fear and I'm over here thinking this is the only way I could handle pregnancy."
-
Article continues below advertisement
Are Cryptic Pregnancies Real?
As Simpson might not be the only person in a situation like this, Tiktok has already documented cases of cryptic pregnancy. A woman claims in a popular video from last year that she gave birth at home when she was a teenager because she didn't realize she was expecting. Some people believed they had kidney stones or cysts. More than 147 million people have viewed the cryptic pregnancy TikTok tag.
It's difficult to tell whether some of these tales are true: Even if a recent TikTok that claimed to show a woman learning she was pregnant while in an ultrasound lab turned revealed to be faked, it nonetheless received more than 19 million views.
A Cryptic Pregnancy
Simpson might have had a cryptic pregnancy, according to the story.
According to WebMD, a cryptic pregnancy occurs when a woman discovers she is pregnant only later in the pregnancy or at the moment of delivery.