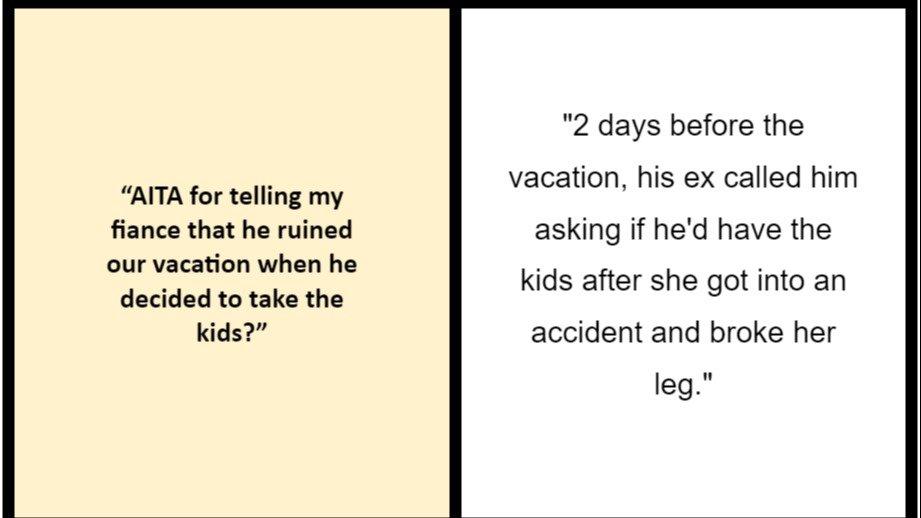 Redditor Needs Opinions On Whether She's A Jerk For Telling Fiancé He Ruined Their Vacation By Taking His Kids
Today on another season of "Am I The A-Hole" on Reddit, we see a Redditor get mad at her fiancé for being a good parent, and for the first time in a while, we get lots of downvotes saying she's a jerk.
Dating divorcees and single parents come with different rules than dating single-single people. It's important to know these rules before diving head-first into a relationship with such individuals.
Rule Number One: You're dating their kids too! It sounds arbitrary, but it's true, especially if they're good parents. Read the story below before we explain how this works and how you can navigate said situation.
Article continues below advertisement
Not The First Time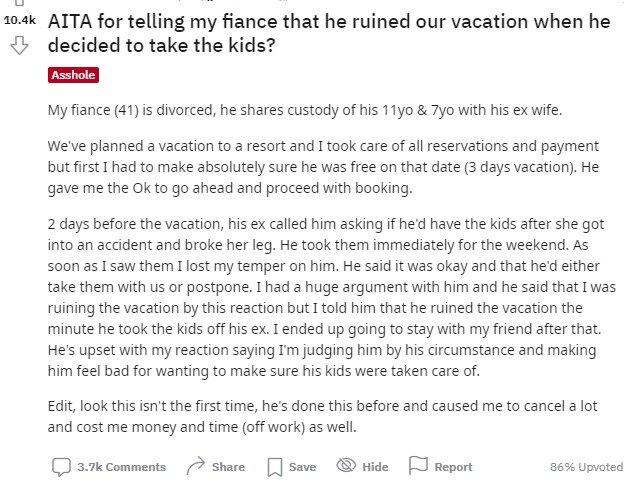 OP Admits Her Faults

Article continues below advertisement
How To Date A Divorced Or Single Parent
Now that you're up to speed, let's dissect what was wrong in this post that made the Original Poster (OP) the a-hole. Remember rule number one of dating a divorce with kids or a single parent? The OP didn't get the memo.
It doesn't help her that the children are under 18, so they can't legally fend for themselves. It would've been a different case if they were at least teenagers who could live alone without needing adult supervision (and even that is under advisement).
The 41-year-old fiancé could've hired a babysitter if the outing was for hours or even a day. However, leaving his children with a stranger for three days is risky, so that option was out the window. Emergencies come up, and we can do nothing as good parents.
He could've sent the children to a relative if he had more time (prior notice). Again, everyone doesn't have supportive families, so we wonder if doing that was an option. We're also not forgetting the broken leg situation wasn't planned.
The right thing to do here was roll with the punches and hope for another plan. At least, the fiancé could've refunded half or the full cost of the vacation as a sign of good faith.
The Fiancé Is A Parent First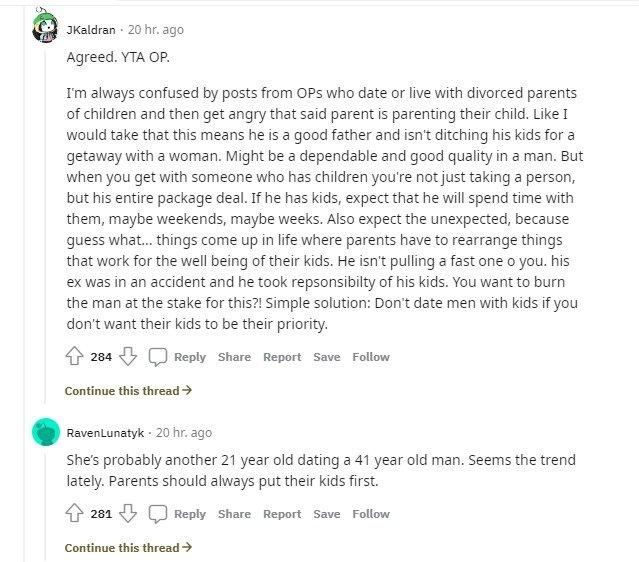 Article continues below advertisement
OP Isn't Cut Out For Dating A Divorced Parent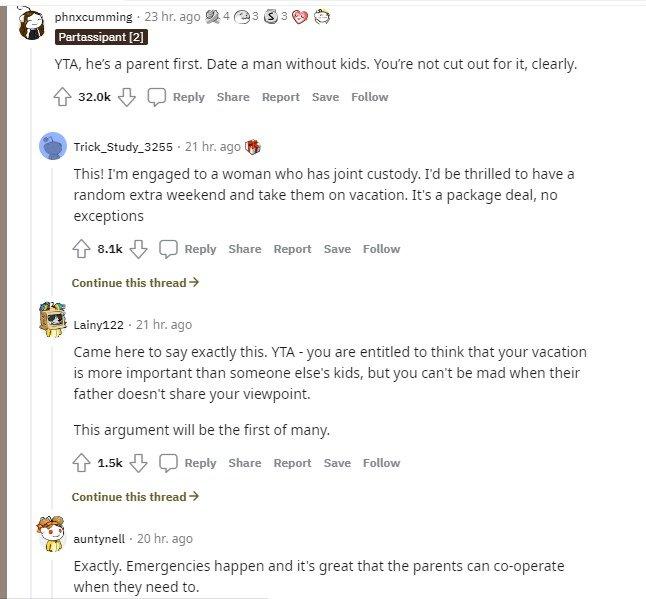 Deal With The Heat Or Leave The Kitchen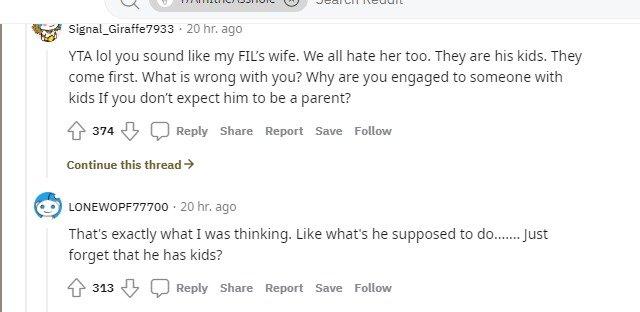 It's Time To Let Go Of The Relationship
Something that stood out in the entire thread was the OP insisting it wasn't the first time. It then begs the question, "Did the ex lie about her emergency?" We're ruling out the possibility of her purposely breaking her legs because that's insane.
However, if every time the OP and her fiancé have something romantic planned, the ex comes up with a story, then it becomes suspicious. Other than that, she needs to learn to accommodate those children or say goodbye to the relationship.